POLITICAL/SUBJECTIVE MAPS: ANNA BELLA GEIGER, MAGALI LARA, LEA LUBLIN AND MARGARITA PASKA
The Institute for Studies on Latin American Art (ISLAA) presents Political/Subjective Maps: Anna Bella Geiger, Magali Lara, Lea Lublin, and Margarita Paksa. It will explore how these four visionary Conceptual artists have appropriated the visual language of maps to highlight entrenched power structures; mine social, political, emotional, and personal subjects; and imagine new ways of apprehending the world.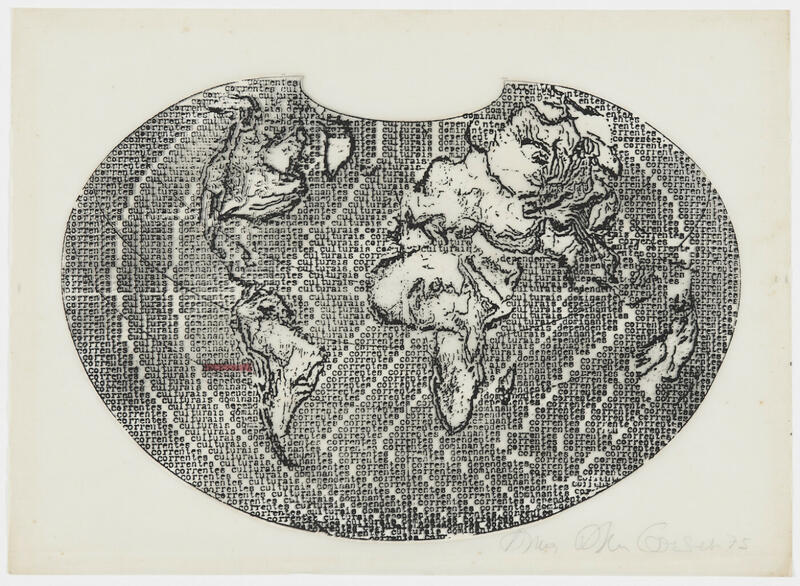 Curated by Cecilia Fajardo-Hill, the exhibition will bring together key works by Anna Bella Geiger (Brazilian, b. 1933), Magali Lara (Mexican, b. 1956), Lea Lublin (French Argentine, 1929–1999), and Margarita Paksa (Argentine, 1933–2020).
Maps have an extensive legacy in the history of Latin American art—from Joaquín Torres-García's América Invertida (1943) to Juan Downey's Map of America (1975)—and have offered productive terrain for confronting the colonialist systems underpinning international dynamics. Whereas maps are often accepted as neutral, depoliticized, and scientific, artists have emphasized their origins as constructed and symbolic representations, informed by the biased viewpoints and covert objectives of their creators. From the ancient period through the European conquests to the present day, cartography has been used to cement hierarchies, demarcate territory, and visualize power relationships through elements such as scale, positioning, and orientation.
Engaging a variety of mediums and conceptual approaches, Geiger, Lara, Lublin, and Paksa have challenged the colonialist and patriarchal perspectives embedded within map making in their work. Geiger defies neocolonial categories in her reconceived maps, while Paksa examines histories of state violence in Uruguay and Argentina in series such as Diagramas de batallas (1970–76). In opposition to the scientific rationality of ordering systems such as charts and atlases, Lara addresses intimacy, emotion, and desire in her drawings and watercolors. By contrast, Lublin constructed interactive environments such as Fluvio Subtunal (1969) that sought to generate new, liberatory ways of experiencing art.
By presenting these diverse projects side by side, Political/Subjective Maps illuminates the multifaceted uses of the map as a tool for challenging, distilling, and understanding sociopolitical and personal experience. Through their distinct conceptual practices, Geiger, Lara, Lublin, and Paksa have pushed the visual language of cartography in new directions. By reframing their work in relation to this subject, this exhibition provides unique opportunities for further study of the role and importance of mapping in their individual practices, building a foundation for additional research and scholarship.
Anna Bella Geiger (Brazilian, b. 1933) is a multidisciplinary artist whose work excavates the systems governing knowledge and experience. From her early experiments in video to her exploration of bookmaking as an art form, she has produced a groundbreaking body of conceptual work that confronts hegemonic structures, geopolitical dynamics, and the hierarchies of the art world.
Magali Lara (Mexican, b. 1956) is an artist and writer whose evocative work across painting, drawing, and other media often probes feminist, personal, and biographical subjects. Her early work in painting referenced the organic forms of the natural world, while her collages represented introspective themes and events. Inspired by a life-long commitment to writing, Lara has also incorporated text into her visual art throughout her career.
Lea Lublin (French Argentine, 1929–1999) was a Polish-born French Argentine artist whose multimedia work addressed feminist issues and challenged the boundaries of art. She began her career in Buenos Aires, where she was associated with the experimental art center Instituto Torcuato Di Tella, and spent most of her life in Paris, turning to sculpture, installation, and performance in the mid-1960s. In the 1970s and '80s, Lublin developed several research-based projects, inspired by psychoanalysis and feminist theory, that included examining art historical motifs and interviewing members of the public about art and gender issues.
Margarita Paksa (Argentine, 1933–2020) was a key figure of conceptualism in Argentina, whose work in installation, drawing, and other media explored communication, language, and politics. She began her career as a ceramicist and began producing sculptures using iron and found objects in the early 1960s. Influenced by critic Oscar Masotta, her work in the 1960s and '70s engaged with philosophy, linguistics, communication theory, and the idea of the dematerialization of the art object, leading to her experimental use of sound and technology.
Subscribe
to receive the latest news and articles written by experts
May interest you