POWER AND PROTECTION. LYZ PARAYZO IN CASA TRIANGULO
From 11/17/2022 to 01/21/2023
Parayzo
São Paulo, Brasil
Propelled by this vital need for self-representation, Parayzo was conceived as an immersive installation that encourages the visitor's physical and intellectual participation through the creation of an interactive ecosystem.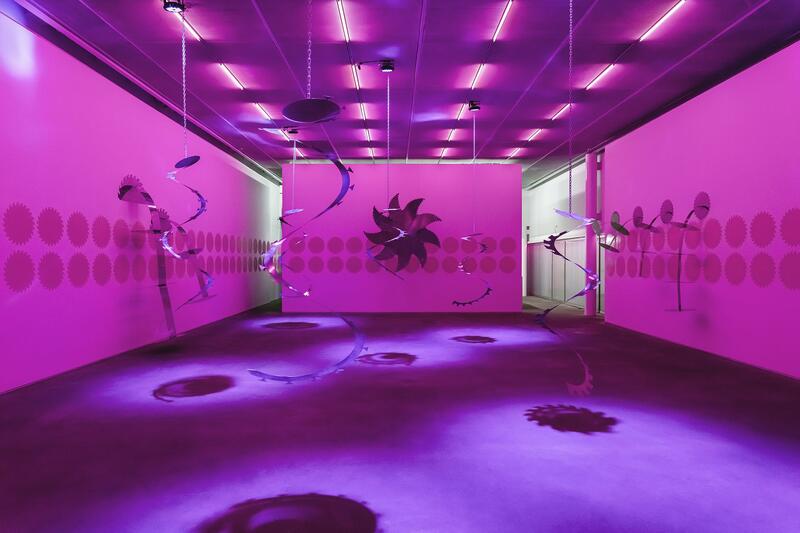 For artist and activist Lyz Parayzo, the world is a battlefield, and her art, ammunition. In dealing with the violences that her feminine trans identity catalyses on a daily basis, her tactic has been to infiltrate spaces of power in order to amplify and diffuse her ideas to a wider audience. To this end, she took on the challenge of conceiving artworks that could be catalogued, exhibited and acquired by collections, while simultaneously providing a suitable medium to highlight and question the absence of dissident bodies in such spaces.
The exhibition encapsulates an organism of biological architectures in which each of its cells is formed by the rotation of a line, relying on an organic interpretation of geometric abstraction. It marks the culmination of years of exploration into the domain of sculpture and jewelry-making with metal, a material which the artist dextrously recuperates from the hyper- masculine realm of welding in order to blur binary conceptions of gender.
On the other hand, this new research on movement is not only a continuation of her series of self- defence objects (which plastically cite concrete aesthetics based on concepts such as gestalt, cut and fold), but is also an attempt to spatialise her work and create new areas of tension and attention within the exhibition space. In her re-interpretation of kinetic and optic sculpture, she draws from an international constructivist heritage — a heritage that is not, like its Neo-concrete iteration in the Brazilian context, related to the public's collaboration, but rather in the opposite intention to make the spectator active through the simulacra of danger. In so doing, she likewise appropriates a territory that is historically reserved for cis-heteronormative elites.
"Parayzo hinges on a belief in the construction of new imaginaries to ultimately shape the lived realities of marginal bodies. It erects an expositive labyrinth that is highly aestheticised yet decidedly political — itself a tangible imaginary of the artist's own ideation. In constructing this microcosm, Lyz Parayzo strives to materialise and display quotidian experiences of violence from an autobiographical perspective. Through the exercise of self-determination, she continues to defy and denounce the political structures that have fostered and enabled such violence to persist unchecked", explains curator Julia Tavares.
Lyz Parayzo is a multidisciplinary artist who works with audiovisual, jewelry, sculpture and performance. Parayzo has the body as its main work support and its daily performance as a research platform. She currently has developed objects for self-defense ranging from silver jewelry to aluminum armor, shields and weapons.
Parayzo. Solo exhibition by Lyz Parayzo.
Until Janyary 21st, 2022.
Galería Casa Triangulo. Rua Estados Unidos 1324, São Paulo, Brazil.
Subscribe
to receive the latest news and articles written by experts
May interest you