THE TRAVELER'S RHYTHM – PAULO NAZARETH EXHIBITS "VUADORA" AT PIVÔ
The exhibition VUADORA presents for the first time in a Brazilian institution a great overview of the work of Paulo Nazareth, one of the most important artists of his generation. The exhibition, curated by Fernanda Brenner and Diane Lima, includes a combination of approximately 180 iconic works from the last two decades - such as the series Cadernos de África and the collection Produtos do Genocídio - and works specially commissioned for the occasion.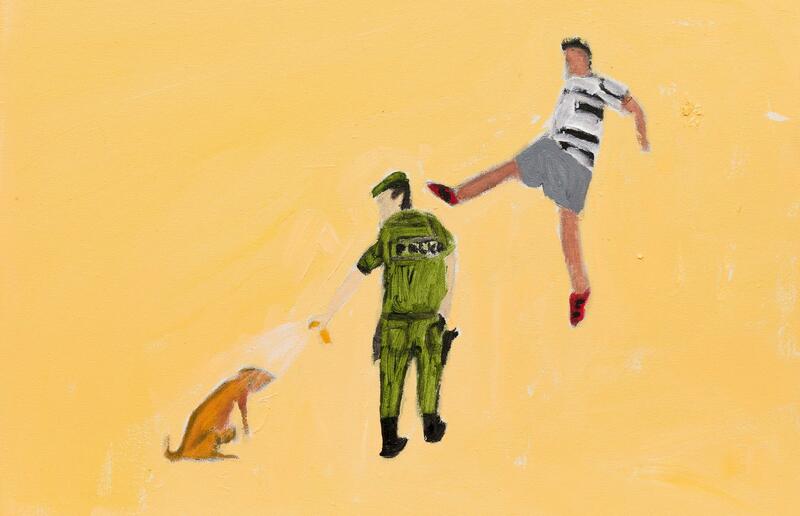 In 2011, Paulo Nazareth left Minas Gerais on a journey of thousands of kilometers to the United States, where he would participate in an exhibition at Art Basel Miami. Instead of "flying" to one of the most important international contemporary art events, Nazareth chose to travel by foot from what is conventionally called Latin America to reach his destination.
Described by the artist as a residence in transit - or perhaps an accidental residence - the project Notícias de América is the result of a year of intense experiences and exchanges with the people he met along the way, recorded in a broad combination of images, diaries, and found objects. In 2022, eleven years after the initial milestone of a working methodology that the artist has been adopting ever since, Pivô invites him to revisit his condition as a wanderer in the face of increasing restrictions on mobility imposed by economic, sociopolitical, and, more recently, health frontiers in the second decade of the 21st century. By traveling long distances, Nazareth investigates and exposes the social, political and affective structures of the territories he travels through.
His personal journey is also a portrait of the contradictions and deleterious effects of colonialism, racism and global capital in Latin America and Africa, where he was born and where his ancestors came from. Upon leaving his hometown, Paulo Nazareth took only five items with him: his life, his passport, a hard drive and some personal items. He reports that he lost everything but his life, his wallet and his optimism. Nazareth is a radical nomad, an artist who takes the binomial art-life to its ultimate consequences, always putting his own body and his experiences at the service of a broad discussion about ancestral injustices and, through art, makes perceptible what would then remain hidden.
Paulo Nazareth (Governador Valadares, Minas Gerais, 1977) lives and works throughout the world. Nazareth's oeuvre is often the result of precise and simple gestures, which bring about broader ramifications, raising awareness to the pressing issues of immigration, racialization, globalization, colonialism, and its effects in the production and consumption of art in his native Brazil and the Global South. While his work may manifest in video, photography, and found objects, his strongest medium may be cultivating relationships with people he encounters on the road — particularly those who must remain invisible due to their legal status or those who are repressed by governmental authorities. In certain aspects, Nazareth deliberately embodies the romantic ideal of the wandering artist in search of himself and universal truths, to unveil stereotyped assumptions about national identity, cultural history, and human value.
Vuadora - Paulo Nazareth
Until May, 28th
Curated by Diane Lima and Fernanda Brenner
Pivô
Edifício Copan, loja 54 – Avenida Ipiranga, 200
São Paulo, Brasil
Related Topics
Subscribe
to receive the latest news and articles written by experts
May interest you