L'ARC DE TRIOMPHE, VICTIM OF ART
By next Saturday, September 18, visitors will be able to view Christo and Jeanne-Claude's completed artwork L'Arc de Triomphe, Wrapped, Paris, 1961-2021. In accordance with Christo's wishes, the artwork is being completed by his team in partnership with the Centre des monuments nationaux (CMN) and with the support of the Centre Pompidou and the City of Paris.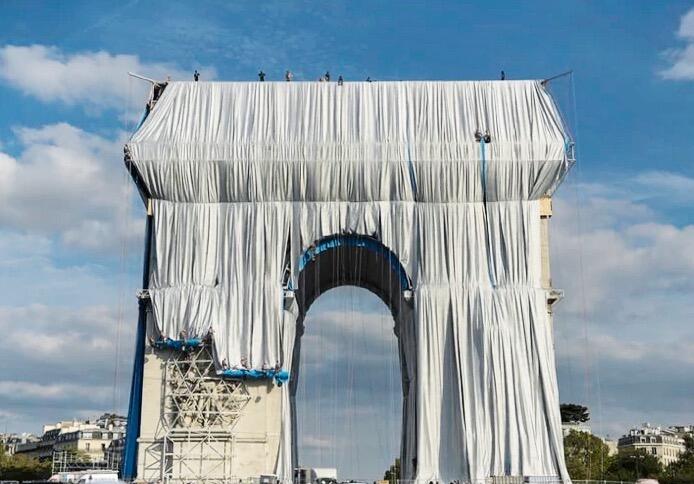 "It will be like a living object which will move in the wind and reflect the light. With its moving folds, the monument's surface will become sensual. People will want to touch the Arc de Triomphe," Christo said.
Christo (Christo Vladimirov Javacheff), was born in 1935 in Gabrovo, Bulgaria and died in May 2020 in New York City, USA. Jeanne-Claude (Jeanne-Claude Marie Denat-de Guillebon) was born in 1935 in Casablanca, Morocco and died in November 2009 also in New York City.
In 1961, three years after they met in Paris, Christo and Jeanne-Claude began creating temporary works of art in public spaces. In 1961, Christo imagined wrapping the Arc de Triomphe. In 1962-1963, he created a photomontage with L'Arc de Triomphe, Wrapped, seen from Avenue Foch, and again featured the Arc de Triomphe wrapped in a collage in 1988. He began actively developing this project in 2017, and now 60 years later, it will finally be realized.
Over 1000 workers will have contributed to the realisation of the project, which is now entering its final stage. "Today we are unfolding fabric from the top of the monument and this is one of the most spectacular moments of the installation", said Vladimir Yavachev, director of the project. "L'Arc de Triomphe, Wrapped begins to come alive, more visibly approaching the vision of what was a lifelong dream for Christo and Jeanne-Claude. Early on September 18th , once we have finished adding all the ropes and the final details, the fences will be removed to allow the public to come, see and touch the artwork for free. Making their art accessible to everyone was always essential to Christo and Jeanne-Claude."
This project rests on the professional talent and craftsmanship of approximately thirty companies, which include Les Charpentiers de Paris, who were also the builders for the wrapping of the Pont-Neuf in 1985; Réseau Jade, a French company specialising in rope access; the German engineering and design studio Schlaich Bergermann Partner (SBP); and the German membrane engineering company Büro Für Leichtbau. "Our job is to bring to life Christo's imagination expressed in his drawings, which we did in this project, creating the fabric and the ropes based on our engineering knowledge" said Jörg Tritthardt, CEO of Büro Für Leichtbau, who previously worked on The Wrapped Reichstag. "Every visual step of the adaptation of his drawings was approved by him, and it's fantastic to realize this project. It's a gift to each of us."
The Arc de Triomphe monument is wrapped in 25,000 square meters of recyclable silvery blue polypropylene fabric and 3,000 meters of recyclable red polypropylene rope.
The project is entirely funded through the sale of original works of art by Christo, including preparatory studies and collages, models, artworks from the 1950s and 1960s and lithographs. Like all of Christo and Jeanne-Claude's projects, it received no public funds or sponsorships.
L'Arc de Triomphe, Wrapped is free for everyone to experience and enjoy throughout the project. No tickets are needed to see, approach, and touch the work of art. Christo and Jeanne-Claude have always prioritized access to their works in public spaces. Over 300 welcome monitors will be on site to greet visitors and answer questions about the project. They will also hand out free fabric samples.
Related Topics
Subscribe
to receive the latest news and articles written by experts
May interest you