CHRISTO, KNOWN FOR HIS MONUMENTAL ENVIRONMENTAL ARTWORKS, HAS DIED AT 84 YEARS OLD
Christo Vladimirov Javacheff passed away Sunday 31 May, according to a statement made on the artist's official twitter account: "Christo passed away today, on May 31, 2020, at his home in New York City. Christo and Jeanne-Claude have always made clear that their artworks in progress be continued after their deaths. L'Arc de Triomphe, Wrapped (Project for Paris) is still on track for Sept. 18–Oct. 3, 2021"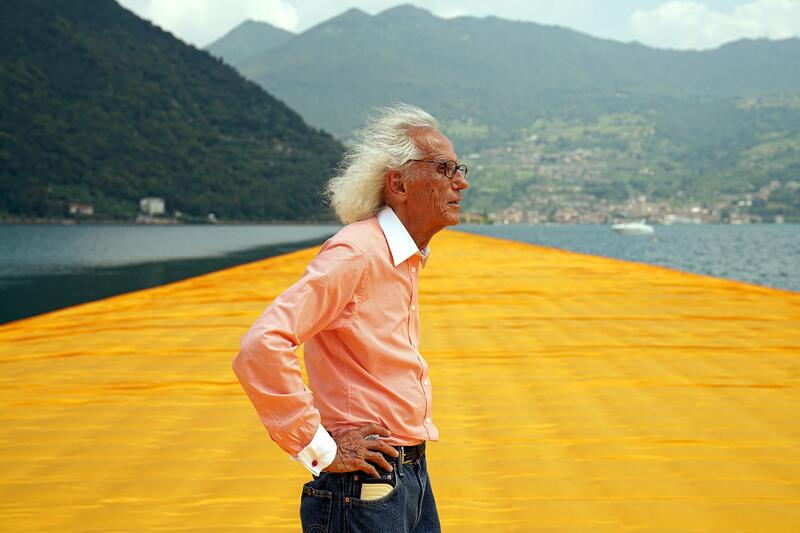 Christo and his wife Jeanne-Claude were born on the same day on June 13, 1935 -- Christo in Bulgaria and Jeanne-Claude in Morocco. For decades, the couple only used Christo's name, until 1994 when Jeanne-Claude was added retroactively to many works as his collaborator.
Encountering Christo and Jeanne-Claude's temporarily altered land and cityscapes could be an ebullient, perception-altering experience, and they required years -- and sometimes decades -- to pull off. Outfitting the Reichstag took 24 years from concept to completion; the artists considered the preliminary work part of their art too, naming it the "software" period while the "hardware" period encompassed the time when the physical work was materialized.
In 1980, the pair began to plan "Surrounded Islands," renting 11 islands in Miami's Biscayne Bay from the city for nearly $13,000 in order to surround their perimeters in vivid pink polypropylene fabric. For three years, they tirelessly worked with their staff -- which included attorneys, civil engineers and a marine engineer, a marine biologist and a manatee specialist -- to bring their vision to life, facing a number of barriers to obtain permits and a federal lawsuit. "Surrounded Islands," was finally unveiled in 1983, and it has been considered crucial to Miami's rejuvenation in the 1980s as a cultural destination. The couple countered any criticism over environmental concerns for their works, insisting they restored each site to their original condition -- and in the case of "Surrounding Islands," cleaning the land of nearly 40 tons of garbage.
Subscribe
to receive the latest news and articles written by experts
May interest you