CECILIA VICUÑA RAISES AWARENESS ABOUT BIODIVERSITY IN NEW YORK'S HIGH LINE
High Line Art presents Insectageddon, a free day-long festival conceived by artist and poet Cecilia Vicuña. As a celebration of insects and call to action to address global insect die-off, Insectageddon will consist of interdisciplinary and interactive performances, poetry readings, workshops, and more throughout the High Line. Taking place on September 25, 2021.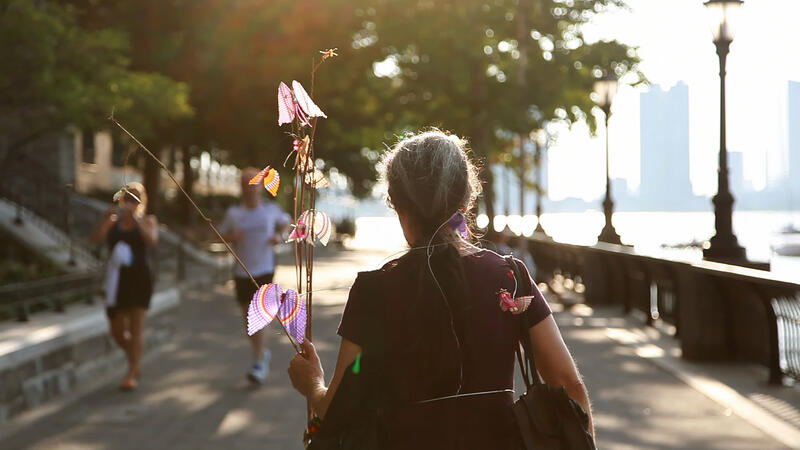 The event addresses the devastating loss of insect populations around the world due to the immense scale of toxic industrial farming, pesticides, and habitat destruction.
Insectageddon is a collective performance and call to action envisioned by Vicuña, celebrating the millions of insects that visit and make their home on the High Line every year. Vicuña uses the natural and lively landscape of the park to raise awareness of the importance of insects for maintaining the vegetal world, as well as all living beings that rely on plants to live.
For the event, Vicuña and the event's partners bring together artists, activists, citizen scientists, climate change scholars, entomologists, performers, and young people in an effort to both reflect and raise awareness of our interconnectedness in the web of life. Performances will be outfitted in colorful patterned insect costumes and sets designed by Gregory Corbino in collaboration with Vicuña.
Cecilia Vicuña is a poet, artist, filmmaker and activist. Her work addresses pressing concerns of the modern world, including ecological destruction, human rights, and cultural homogenization. Born and raised in Santiago de Chile, she has been in exile since the early 1970s, after the military coup against elected president Salvador Allende. Vicuña began creating "precarious works" and quipus in the mid 1960s in Chile, as a way of "hearing an ancient silence waiting to be heard." Her multi-dimensional works begin as a poem, an image that morphs into a film, a song, a sculpture, or a collective performance. These ephemeral, site-specific installations in nature, streets, and museums combine ritual and assemblage. She calls this impermanent, participatory work "lo precario" (the precarious): transformative acts that bridge the gap between art and life, the ancestral and the avant-garde. Her paintings of early 1970s de-colonized the art of the conquerors and the "saints" inherited from the Catholic Church, to create irreverent images of the heroes of the revolution. A partial list of museums that have exhibited her work include: The Museu de Arte Moderna do Rio de Janeiro, Brazil; The Museo Nacional de Bellas Artes de Santiago; The Institute of Contemporary Arts (ICA) London; Art in General in NYC; The Whitechapel Art Gallery in London; The Berkeley Art Museum; The Whitney Museum of American Art; and MoMA, The Museum of Modern Art in New York.
Related Topics
Subscribe
to receive the latest news and articles written by experts
May interest you