FLORENCIA BÖHTLINGK NOMINATED IN arteBA FOR THE EFG LATIN AMERICAN ART AWARD
The EFG Latin America Art Award, in partnership with ArtNexus, presented the nominated artist for its annual acquisition award. Florencia Böhtlingk, from HACHE Gallery, Buenos Aires, adds up to the list of selected artists. The winner will be announced at Pinta Miami during Art Week in Miami.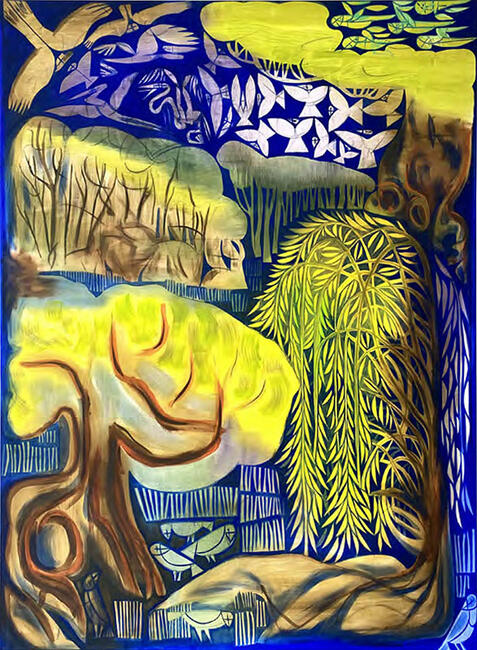 Florencia Böhtlingk is an Argentinean artist that has developed for over 20 years countless watercolors and oil paintings, most of which deal with the ecosystemic universe around the La Plata and Amazon rivers, thus crossing urgent issues in the Latin American and global ecological agenda. In her early stages, she developed works linked to local identifications with surrealism. Multiple pictorial traditions can also be recognized in her work, including Amazonian painting, the constructivism of Torres García, and the social muralism of the sixties.
Böhtlingk's work was selected as the arteBA's nominated artist with the collaboration of Solana Molina Viamonte, Director and Founder of Móvil, jointly with Celia Sredni de Birgbragher, Director and Editor of ArtNexus.
The EFG Latin America Art Award, now in its twelfth year, was created with the objective of supporting a Latin American artist, previously pre-selected through a juried process in Latin American contemporary art fairs running throughout each year. The award aims to promote Latin American visual arts production and increase awareness of regional fairs among collectors worldwide.
The nominated artists are selected at the fairs SP Arte, São Paulo; Pinta PArC, Lima; arteBA, Buenos Aires; Ch.ACO, Santiago de Chile, and ArtBO, Bogotá.
As in previous years, once each of the finalists in the participating art fairs are nominated, the winning artist will be selected and announced in Pinta Miami during Art Week in Miami. EFG Capital will acquire a work of art from one of the nominated artists to incorporate the permanent display collection at the EFG Capital's Miami offices.
Subscribe
to receive the latest news and articles written by experts
May interest you