BAphoto CELEBRATES A TRIBUTE IN LIFE TO LUCRECIA PLAT AND HOSTS A FANTASTIC ENCOUNTER
In this long-awaited edition, the outstanding photographer in Artista Homenaje is Lucrecia Plat from Argentina. Curated by Francisco Medail, the exhibition covers a large part of Plat's production in her forty years of work, among which the series of intimate portraits of Alejandra Pizarnik and the nocturnal records of the Buenos Aires elite stand out.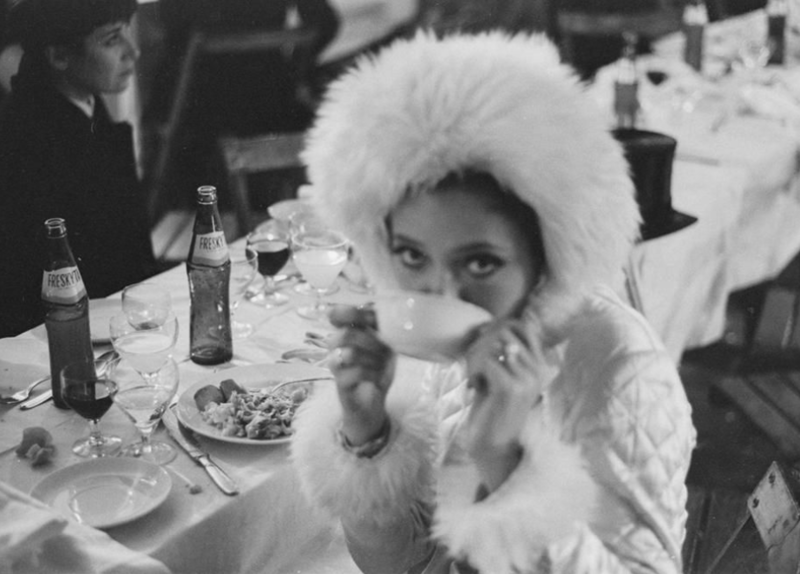 The tribute program within BAphoto was implemented in a sustained manner as of 2015. Curated by Francisco Medail, former artistic director of the fair and current curator of the Kirchner Cultural Center, this program aims to recover and value the figures within the photographic discipline whose production impacted local history. Since then, tributes have been made to Jorge Friedman, Juan Di Sandro, Frans van Riel, Pepe Fernández, Pedro Otero and Foto Estudio Luisita.
"It is a pleasure for us to pay tribute to a living artist", highlights Diego Costa Peuser, Director of BAphoto. "It is an opportunity to underline the important task of photographers who actively contribute to the Argentine visual identity."
THE WORKS AND THE NIGHTS
By Francisco Medail. Curator
1969. It's two in the morning and the phone rings. Lucrecia Plat answers. On the other side, a stumbling voice offers her a proposal: let's make a book about dolls together, I write the poems and you take the photos. The one speaking is Alejandra Pizarnik, whom Lucrecia had met years ago in a photo session for the Centro Editor de América Latina. That afternoon, Alejandra had been outgoing and fun, an attitude not very common for the poet. Much later, Lucrecia learned from a mutual friend that Alejandra was in a frank plan to seduce her.
The offer to make a photobook together came to nothing. Plat promised to call her, but was too busy with her recent motherhood to focus on unprofitable projects (little did she know that twentieth-century photo books among writers and photographers would be relics in today's art market). Lucrecia Plat is, above all, hard-working; her approach to photography was primarily to earn a living. She had been a municipal employee but her partner at the time motivated her to change the office for the camera. Her father refused to let her be a photographer, a job frowned upon by the aspirational middle classes of those years. "Don't worry, no one is going to know that I'm your daughter," she replied, and changed her last name.
Lucrecia did everything. Weddings, publicity assignments, journalistic records for international media. She dreamed of having a stable salary so she tried entering the manly world of illustrated magazines. She had been with her camera at the Ezeiza Massacre but it was insufficient. As a woman, there was no experience or courage worth. For the Latin American Publishing Center, Boris Spivacow gave her a single assignment: that the portraits of writers be unconventional. This explains, for example, the photo of Roberto Juarroz standing on the ledge of the Faculty of Philosophy and Letters, in its old headquarters on Calle Independencia. At the end of the 70s, she was hired by the newspaper La Nación to cover social events, where she photographed the night parties of the Argentine oligarchy, which between cocktails and cigarettes celebrated the new economic direction of the country. Lucrecia didn't wait for people to pose, she fired the shutter and kept going. Mind you, she was careful. Being a photographer during the military dictatorship was a risk.
Time after, she opened her own advertising studio, although she quickly got bored. Technical perfectionism and creativity did not go hand in hand with her. With the plate camera that she bought at that time, she made the Women's Wallets series, her main approach to conceptual photography. After closing the studio, many assignments followed. She never stopped taking photos.
Lucrecia was always aware of the testimonial value that her images would have; They record important people and moments in our history. Today she looks at them and double-checks, never imagining she would be payed tribute at an art fair.
As part of the tribute, and in celebration of the long-awaited in-person meeting, BAphoto organizes a conversation with Lucrecia Plat. With the participation of Clara Nerone and Bruno Dubner, and moderated by Francisco Medail, curator of the section, the conversation "The works and the nights" will take place on Friday, October 15 at 6:30 pm at BAphoto. (Casa Basavilbaso, Basavilbaso 1233, CABA)
Francisco Medail (b. Entre Ríos, 1991) is an artist and cultural manager. He has obtained scholarships, awards and grants from different institutions, such as the National Fund for the Arts (2016) and the Metropolitan Fund for Culture, Arts and Sciences (2016, 2018). He did residencies at the Cité Internationale des Arts (Paris, 2018) and Fonte (Sao Paulo, 2018).
Among his solo exhibitions, Extimidad (2013), Parte (2015) and Photographs 1930-1943 (2017) stand out. His work is part of public and private collections, including the National Museum of Fine Arts, the Emilio Caraffa Provincial Museum and the Getty Research Institute. Between 2015 and 2020, he was artistic director of the BAphoto fair. He currently directs the collection of theoretical books on photography Imperfect Preterites and is curator of the Archives Area of ​​the Kirchner Cultural Center.
Related Topics
Subscribe
to receive the latest news and articles written by experts
May interest you