NATURE TRANSLATED INTO SCULPTURE - ON DIANA MUÑOZ' EXHIBITION AT NO LUGAR GALLERY
By Mercedes Abella
No Lugar and Proyecto N.A.S.A. (L) present Noetic, by the Ecuadorian artist. Curated by Pily Estrada Lecaro, the proposal brings together works in sculpture, photography, objects, videoperfomance and interactive installations to reflect on the relationship between art, nature and technology. Open until Saturday June 19.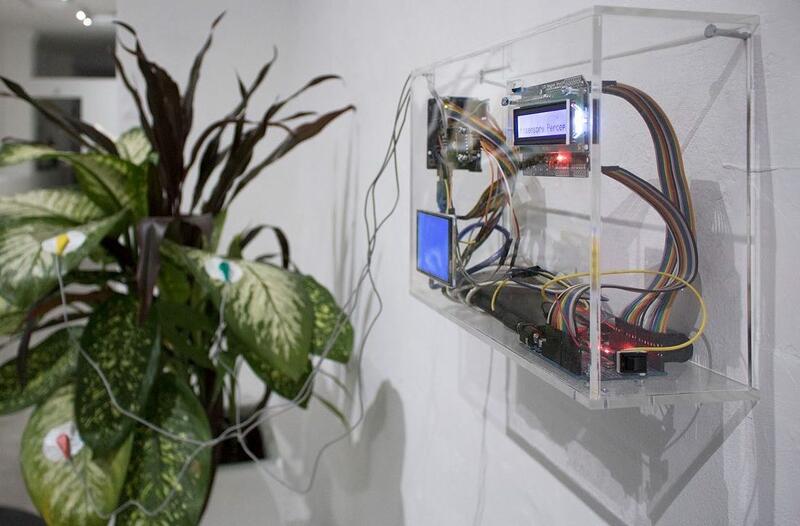 The works exhibited function as channels of communication with nature, conceiving it as the complex system it is and taking plants in their perceptual and conscious character. During the pandemic, Dia Muñoz carried out the task of understanding them, of learning to listen to what they had to say about the world around them.
"Her curiosity to understand the secret life of these plants, added to Dia's interest in biotechnology, led her to build a machine with sensors that she placed on the leaves of one of her plants to generate a bioelectric reaction that act as the plant's voice. The result of that reaction-conversation, which she documents on video, allowed her to translate in two dimensions -like an electrocardiogram- what the plant transmits through vibrations." describes Pily Estrada Lecaro.
From there, the artist created sculptures that translate these messages into matter and volumes. In this way, she provided a three-dimensionality that refers to physical elements of nature: mountains, dunes, geographical features, geological layers. Estrada Lecaro adds that it is "as if the plant, which represents all the plants, describes its history, its surroundings and the landscape on the surface of each elevation."
It is not by chance that the artist uses laminated wood for her sculptures, thus symbolizing the assembly of events, relationships and exchanges that occur in and between trees, containing "the genetic memory of the trees that inhabited the planet."
The title of the show, Noetic, refers to the meeting point between philosophy, knowledge, and intuition. In this way, Muñoz's deliberate and artistic actions pay homage to the abstract but inescapable connection one has with nature, which is transcendent and immanent at the same time.
Dia Muñoz (Guayaquil, 1989) is a multidisciplinary artist whose research addresses the intersection between humanity, nature and technology. In this sense, her work is built from the relationship with the natural environments where she lives using means, knowledge and tools linked to biotechnology and bio-mimetics. "We all share a universal consciousness, an ancestral and evolutionary biophilia; and that affects our behavior and way of thinking. I am interested in discovering what is hidden between us and nature".
She earned a BFA from the School of Visual Arts (New York) and an MA (Material Futures) from Central Saint Martins (London). She founded Cuatroh (New York), a space for interaction and exhibition of emerging artists, and her work has been exhibited in New York, London, Milan and the Netherlands. In 2021 she inaugurated her first solo show at Proyecto N.A.S.A. (L) (Guayaquil, Ecuador).
She lives and works in Guayaquil, Ecuador.
Noetic is the first collaboration between No Lugar and N.A.S.A. (L) - New South American Association of Artists (Locos) - project founded and directed by Mauricio Aguirre. Understanding collaborations as a strategy that stimulates the local artistic ecosystem, this exhibition (which has already happened in the city of Guayaquil), arrives in Quito with new works that adapt to the exhibition space that hosts them. In this sense, No Lugar and N.A.S.A. (L) propose a second edition of Noetic as a way to support the circulation and dissemination of emerging artistic practices.
No Lugar – Arte Contemporáneo
Vicente León N9-40 y Esmeraldas
Barrio La Tola, Centro Histórico, Quito-Ecuador
Related Topics
Subscribe
to receive the latest news and articles written by experts
May interest you