LUIS CAMNITZER: ARBITRARY ORDER
From 01/19/2023 to 02/25/2023
Alexander Gray
New York, Estados Unidos
Exhibited in Alexander Gray, Associates Luis Camnitzer: Arbitrary Order is the artist's seventh one-person show with the gallery. It debuts A to Cosmopolite the first installment of an ongoing series in which Camnitzer annotates the dictionary using Google Maps.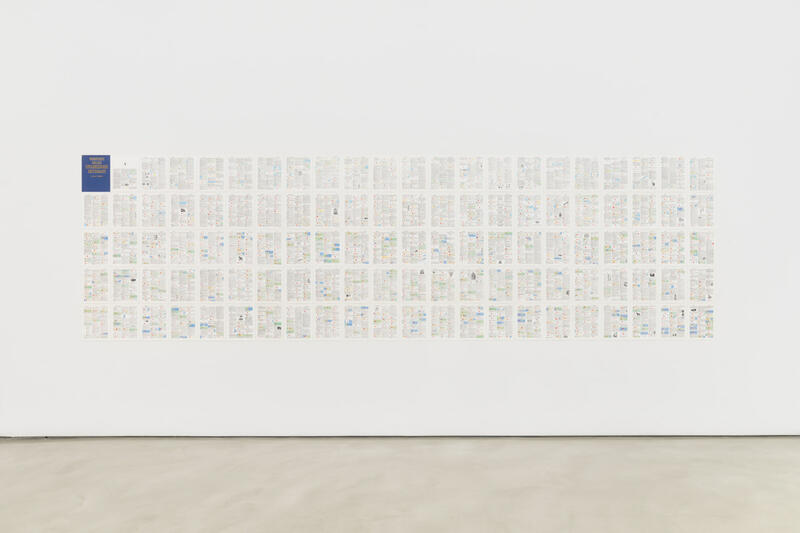 Camnitzer began this new body of work in 2020 as a form of virtual travel amid the isolation wrought by the Covid-19 pandemic. It constitutes an unconventional portrait of the artist as generated by machine learning algorithms. The eclectic results are global in scope but skew to Camnitzer's personal search history and the location of his Long Island home.
A to Cosmopolite begins with a 1972 Webster's unabridged English dictionary. Word by word Camnitzer searches each entry in Google Maps. From there he captures a screenshot of the first result and incorporates that image onto the page alongside its corresponding definition. The outcome is a mapped dictionary that is less functional than either system on its own.
His combination of these reference tools questions cartography and lexicography as definitive systems of order, underscoring his career-long interrogation of authoritative systems.
Most of the pairings between words and their locations are straightforward. Searches for "accountant" and "attorney" direct Camnitzer predictably to local professionals providing those services. However, revealing patterns and anomalies materialize across the breadth of the 678-page installation. Prejudiced terms like "aborigine" and "blackface" have physical sites—Aborigines Gully and Blackface Lake—that betray language as an instrument of subjugation and the map as an index of colonization. Language is less direct in other examples. A query for "arrest" does not point to legal aid but to an exterminator called Arrest-a-Pest. Instead of providing resources for treatment, searches for "addict" and "addicted" turn up Hair Addict beauty salon and Addicted to Ink tattoo parlor, respectively. Characterizing his deadpan approach, Camnitzer does not editorialize these results. Rather, his "illustrated geography of meaning" beckons the viewer to reflect on how they use language to navigate the physical world.
Several works by Camnitzer dating back to the 1960s are also on view. Like A to Cosmopolite, they address the relationship between language and geography to question how, and by whom, meaning is formed. As Camnitzer declares, "More often than not, we end up believing that the order we create to make sense of things is in fact reality itself, and the system becomes our referent, rather than what has been systematized."
Subscribe
to receive the latest news and articles written by experts
May interest you