MoMA: ARCHITECTURE AND DESIGN EXHIBITION PROGRAM
MoMA presents newly conceptualized installations and reveals major new presentations to bring artwork together in different combinations, exploring new artists and ideas, specifically for architecture and design.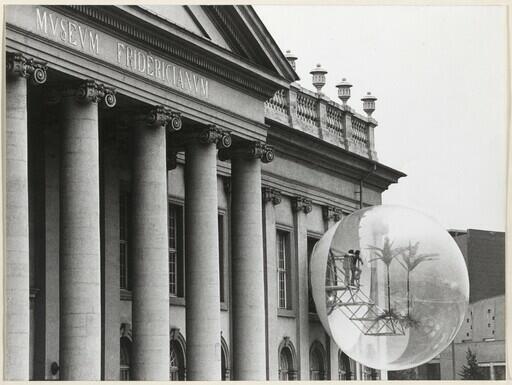 Transparency in Architecture and Beyond (Gallery 417) prominently features a floor-to-ceiling fragment of the United Nations Secretariat Building in New York, one of the first realizations of the ideal of a fully transparent architecture. As the Secretariat Building rose on the East edge of Manhattan in 1950, it was meant to communicate the aspiration of a transparent institution, an intergovernmental organization that would be guided by ethical principles and unafraid to "expose" its inner workings.
Architects—such as Lucio Costa, Le Corbusier, and Oscar Niemeyer in their Ministry of Education and Health (1937–42) in Rio de Janeiro—engaged with the aesthetic potentials and symbolic pitfalls of transparency throughout the 20th century. Using transparency as a metaphor, the architects uncovered hidden power structures and demanded accountability from institutions—from privately owned museums to multinational corporations.
Bauhaus and Beyond (Gallery 519) presents works produced at the German school of art and design during the fourteen years of its existence, alongside objects by former Bauhäusler created across multiple geographies in the decades that followed its premature dissolution. Walter Gropius, the founder of the Bauhaus, described the school's curriculum as "a reunion between creative arts and the industrial world." Conceived as a laboratory for radical artistic experimentation, students who excelled in the school's preliminary course, or Vorkurs, went on to join workshops in ceramics, metalwork, cabinetmaking, weaving, and typography, among others. Following this interdisciplinary spirit, the exhibition brings into dialogue artworks by Bauhaus faculty such as Paul Klee, and Lázló Moholy-Nagy, with design objects by figures such as Marianne Brandt, Marcel Breuer, Grete Heymann Loebenstein Marks, or Marguerite Wildenhein.
Reuse, Renew, Recycle: Recent Architecture from China continues to be on view in the Streetfront Gallery on the Museum's ground floor. After years of urban megaprojects and spectacular architectural objects, many of which were designed by Western firms, a new generation of independent Chinese architects have challenged this approach. This exhibition highlights their commitment to social and environmental sustainability. The exhibition presents eight projects that speak to a multiplicity of architectural approaches—from the reuse of former industrial buildings, the recycling of building materials, and the reinterpretation of ancient construction techniques, to the economic rejuvenation of rural villages and entire regions.
The Museum of Modern Art (MoMA)
11 West 53rd Street
New York, NY 10019
USA
Related Topics
Subscribe
to receive the latest news and articles written by experts
May interest you