RICHARD GARET: FRAME COMPOSITIONS
By Capucine Jenkins | November 15, 2021
Recently, Richard Garet, a multimedia artist based primarily in New York City, opened a solo exhibition titled "Frame Compositions" with 1stDibs NFT marketplace. The eponymous show exhibits 29 vibrant NFT works and explores the relationship between color, light, surface and form. Garet's practice encompasses sound installations, performance, computer applications and other mediums. Adhering to strict parameters, he creates compositions by carefully selecting high-definition 1080x1080-pixel square frames one-by-one and then collating 60 per second using computer applications. Because each work contains 1800 frames squeezed into a 30 second time period, the eye can no longer identify individual frames, thus, creating moving images.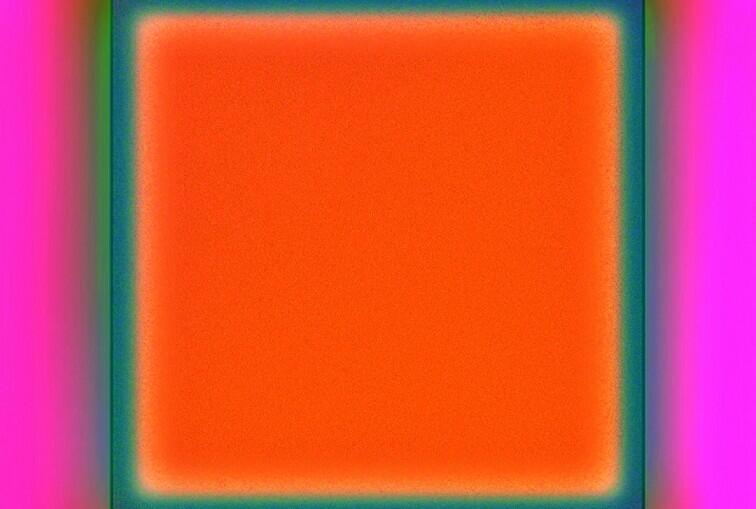 Visually, these moving images fall roughly into three types: noise, distortion and light emission. Each type prioritizes a different formal relationship. Light emission, for example, studies the multitude of ways color and light relate under specific conditions. Resembling one of Garet's previous projects, "Perceptual: Sonic Landscape / Midnight Moment," the frames generated in this type emit a strong underlight giving the illusion that vibrant fluorescent squares regress in towards the background and back out again. In contrast, the images associated with noise focuses on the formal elements of surface and light and navigate what Garet characterizes as "visual debris," or unwanted visual information. Additionally, distortion types experiment with the compositional limitations of form and color. Together, these works demonstrate that the principles of physical art have the capacity to extend into the domain of digital art.
To create a frame composition, Garet employs the process of meticulously layering saturated colors and overlaying square frames until the work fits the parameters. At 60 fps, the image streams the frames in "a constant and non-repeating state of excited motion." On the visual purpose behind the work's parameters, the artist writes, "The perimeter balanced or conflicting across strict boundaries approaches a kind of incandescence through their saturation and combination. The moving image comprising frame compositions has the quality of an actual source of light, bridging the worlds of reflective and emanative luminous phenomena."
As the frames move rapidly over time, they emanate a luminosity that magnetizes and pulls the viewer into the work. "Each piece," the artist explains, "emerged from flash instants in a continuous stream of generative video imagery exploring the qualities and potentials of time modulation and light emission." The computer generated nature of the frame compositions mirrors the manual craftsmanship that artists who create physical objects exert by hand.
Undeniably, the works in "Frame Compositions" show Garet's knowledge of modern and contemporary masterpieces of the physical art world, and comparisons to iconic series, like the experiential light installations by James Turrell, Color Field oil paintings by Mark Rothko and neon light sculptures by Dan Flavin, are hard to escape. Although the artist shares a stylistic kinship with these blue-chip artists, he distinguishes his practice by expanding formal explorations of color, light and surface onto the digital canvas. Turrell, Rothko, and Flavin have created decades of work extensively about the art of making physical art. Garet, on the other hand, considers the pictorial significance of color, form, surface and light specifically within the domain of digital art.
Richard Garet works with sound and visual arts. His materials emerge from ontological investigations of background noise and the decadence and decay of technological utilities. He finds inspiration in observing isolated situations of everyday life and from interactions with found materials that explore further possibilities of automation, discarded utility, function and defunctionalization, commodity and environment.
The artist holds an MFA from Bard College in New York. Recent projects include CTM Festival 2020, Berlin, Germany; Primitivo, Casa Hoffman, Bogotá, Colombia; The Festival of the Image, Manizales, Colombia; CIFO Grants & Commissions Program Exhibition 2017, Florida; RED- Splice, Fridman Gallery, New York; Midnight Moment, site specific work created for the electronic billboards of Times Square, New York; Meta-residue: Input Material, Space, Studio 10, New York; Adrenalina, Red Bull Station, São Paulo, Brazil; International Biennial of Contemporary Art of Cartagena de Indias, Colombia; Queens International, Queens Museum of Art, New York; Soundings: a Contemporary Score, Museum of Modern Art, New York; 5x5 Real Unreal, Museum of Art Acarigua-Araure, Venezuela; EAC: Espacio de Arte Contemporáneo, Montevideo, Uruguay; Fine Arts Museum of Montreal; San Francisco Museum of Modern Art; Museum of Contemporary Art of Barcelona, Spain; Art Museum of Puerto Rico, San Juan, Puerto Rico; and El Museo del Barrio, New York.
His sonic constructions have been published through sound art labels such as 23five, And-Oar, Non Visual Objects, Winds Measure Recordings, Unframed Recordings, Con-V, Leerraum, White_Line Editions, OBS, Line Imprint and Contour Editions.
Related Topics
Subscribe
to receive the latest news and articles written by experts
May interest you