SELECTED ARTISTS FOR THE ARTPACE 2023 RESIDENCY
The three selected artists chosen for the Artpace San Antonio Spring 2023 International Artist-in-residence program are Yuliya Lanina, Reynier Leyva Novo and Nohemí Pérez.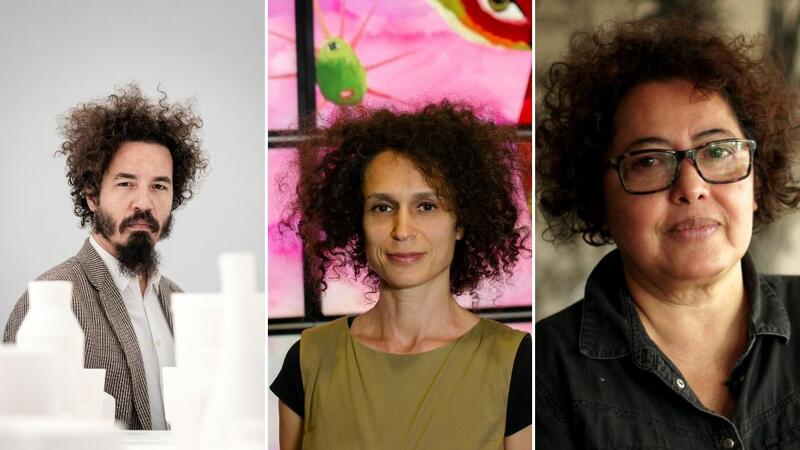 Yuliya Lanina is an interdisciplinary artist whose work exists at the intersection of visual art, performance, and technological innovation. She creates alternate realities in her works—ones based on trauma, sexuality, loss, and identity. A secular Jew of Ukrainian descent who was born and raised in Moscow, Lanina arrived in New York in 1990 as a political refugee. There, she established herself as a pioneering artist on the cutting edge by combining digital technologies with handmade media.
Lanina has exhibited and performed extensively both nationally and internationally, including SXSW Interactive, Texas; Seoul Art Museum, Korea; SIGGRAPH Asia, Japan; 798 Beijing Biennial, China; Cleveland Institute of Art, Ohio; Patrick Heide Gallery, London, UK; Teatro Santa Ana, Mexico; Blanton Museum of Art, Texas; and Moscow Museum of Modern Art, Russia. Her recent solo show at Xposed gallery on New York's High Line was viewed by more than 1,000 people per day over three weeks. The screening venues for her animations and films include Museum of Contemporary Art, Florida; Austrian Film Museum, Vienna, Austria; El Museo Cultural, New Mexico; Museum Ludwig, Germany; Project Arts Centre, Lithuania; and Le Carreau du Temple, Paris, France.
Reynier Leyva Novo is one of Cuba's leading conceptual artists. Working across media, Novo combines anthropological research with cutting-edge technology to examine the psychological and sociological effects of complex issues throughout the history of Cuba and the Caribbean. He develops his projects through mining historical data and official documents, transforming their contents into minimalist and conceptually charged sculptures and multimedia installations that are at once visually engaging and intellectually provocative.
Novo's work challenges ideology and symbols of power, questioning notions of an individual's ability to affect change. Among the artist's most recognized series is The Weight of History (2014-15), a project in which he actualized a software to compute the mass and volume of ink used to print key ideological texts underpinning five totalitarian regimes that shaped the 20th century, including Cuba. Novo's commitment to deconstructing myths while highlighting the fragments of reality and lived experiences that generate them has led him to political activism through art. Participating in the ongoing social movement in Cuba working to reclaim freedom of expression as well as civic and political rights, he is an active member of the artist-activist group 27N.
In recent years, Novo has secured his position as a rising star of the international art world through participation in biennials and exhibitions worldwide, as well numerous exhibitions and acquisitions of his work by major institutions. Novo's work has been presented at the Liverpool Biennial, Venice Biennale, Havana Bienal, Bienal de Shanghai, Ghetto Biennale in Port-au-Prince, Haiti, Aichi Triennial, among others. His artwork is in the collection of institutions such as the Bronx Museum, Hirshhorn Museum and Sculpture Garden, Walker Art Center, Perez Art Museum, and Art Gallery of Ontario. In 2020, he was selected for 20 for the 20s, a publication highlighting the 20 Latin American artists who will define the next decade.
Nohemí Pérez is a Colombian artist, born in Tibú, Norte de Santander. She lives and works in Bogotá, Colombia.
The work of Nohemí Pérez, multidisciplinary, revolves around the relationship between men and nature; the conflicts, tensions, and genesis that arise from this constant friction. Based on the notions of architecture, cinema, and sociology, the artist proposes a rereading of the Catatumbo territory; a geographical region with a very particular natural and sociocultural ecosystem. Nohemí mainly uses charcoal in her work as a reference to mining; With charcoal, she aims to make visible the exploitation of natural resources and the violence that these events trigger. A particular interest in Nohemí's work is to draw new symbolic and geographical maps that correspond to the various realities of the Catatumbo to allow it to appear on the scene of reconstruction and peace.
Some of her solo exhibitions are El Bosque en Llamas at Instituto de Visión Gallery, New York; El lecho del bosque, SCAD Museum of Art, Savannah, USA; Al este del Paraíso, Galería Nueveochenta, Bogotá; Catatumbo, Museo de Arte Moderno de Barranquilla; Babilonia, Alonso Garcés Galería, Bogota. Her work is part of public and private collections such as ARCO Foundation, Portland Art Museum, Museum of Contemporary Art of Chicago, University of Chicago, Banco de la República Art Collection, Luis Ángel Arango Library Collection, Museo de Arte Moderno de Cartagena, CAF Corporación Andina de Fomento – Caracas Venezuela, Museo de Arte Moderno de Barranquilla, and Kadist.
Related Topics
Subscribe
to receive the latest news and articles written by experts
May interest you