"POEMS BY TWO | BURNT LETTERS" AT FONTE ART RESIDENCY
Drawing from possibilities of artistic creation through affectations, the artists Marcelo Amorim and Nino Cais present a joint exhibition at FONTE, an independent art and residency space they founded in 2013. With curatorship by Ana Roman, "Poemas a Dois e Cartas Queimadas" (Poems by Two and Burnt Letters) investigates the male body and its relations of nearness and distance with violence and love.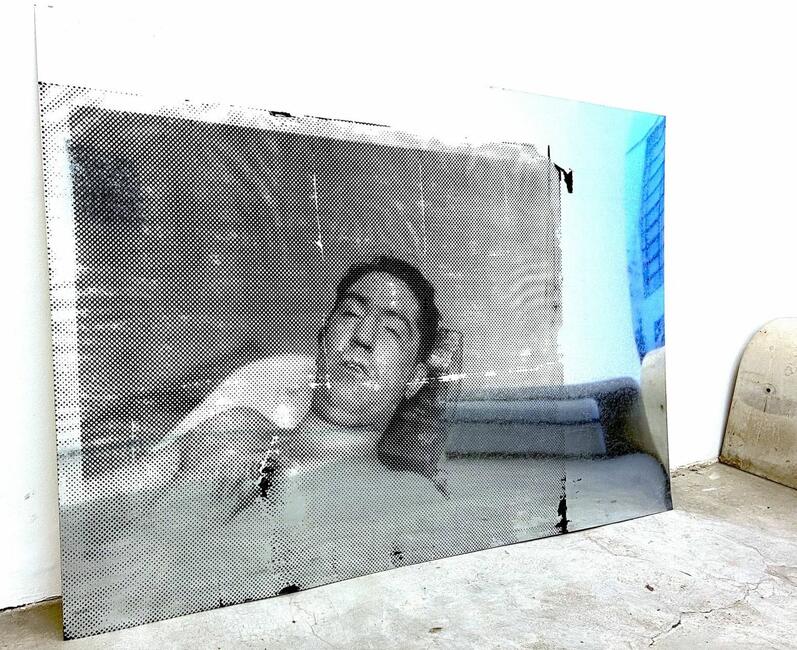 The joint exhibition arises from mutual interests and concerns of the artists who have built a relationship of friendship and collaboration spanning more than 15 years. "The complexity of their bond can be seen both in the convergence between themes present in the artists' works and in shared creation procedures, such as appropriating and dissecting images, and a confrontation with a kind of pedagogy about male bodies and about masculinities that are inscribed in them. When I was invited to be the curator of the exhibition, I proposed to weave a kind of intertwined narrative in which the two poetics move closer together and farther apart", says Roman.
Inspired by "Canção de Amor", by writer Jean Genet, which tells the story of a romance between two prisoners who try to communicate through the wall that divides their cells, actress and filmmaker Bárbara Paz produced the video Burnt Letters (2021). Directed by the duo, the film is an analogy to the studio space where Marcelo and Nino work side by side but also to the lockdowns brought forth by the pandemic. The video is an excerpt of a feature film still in process that Paz has been creating collectively with other visual artists.
The works presented converge to a questioning of the historical constructions of maleness. Nino Cais exhibits novel sculpture-objects and the "earrings" series, composed of images of jewelry placed over photographs of male nudes. Marcelo Amorim, in turn, presents the series Indefesos (2021) and Trote (2021), both created from images in which the male body is (or was) subjected to situations of naturalized violence within the historical creation of masculinities.
Seeking the creation of new contexts and provocations for this new era of FONTE, the exhibition is part of an ongoing project that highlights homo-affectivities in order to promote the circulation of artworks and research - affectionate approaches and practices regarding the theme.
Marcelo Amorim (Goiânia, Goiás, Brazil, 1977) lives and works in São Paulo. His research encompasses lost or suppressed historical information and aims to make it physically present once again in order to reveal cultural values and their evolution over time.
Amorim held solo exhibitions at MARP, Ribeirão Preto (2019); Sem título Arte Arte, Fortaleza (2018); Zipper Galeria, São Paulo (2016); Paço das Artes, São Paulo (2014); Galeria Jaqueline Martins, São Paulo (2012); Galeria Oscar Cruz, São Paulo (2010) e Centro Cultural São Paulo, São Paulo (2008). He has also participated in group shows in São Paulo and Rio de Janeiro, Brazil; New York and Cincinnati, USA; Madrid, Spain; Brussels, Belgium; Porto, Portugal. Prizewinning at the Salão Nacional de Artes de Itajaí (2012), his work is present in institutional collections such as those of the Fundação Cultural de Itajaí, Santa Catarina; Museu de Arte de Ribeirão Preto, Ribeirão Preto; Instituto de Cultura Contemporânea, São Paulo; Instituto Figueiredo Ferraz, Ribeirão Preto, among others.
Nino Cais (São Paulo, São Paulo, Brazil, 1969) lives and works in São Paulo. He appropriates common objects and gives them a new meanings and contexts, presenting them under new lights. His works manifest themselves in a suspended time and space, recognizable but seldom explored by the spectator, proposing a strangeness that is at the same time enticing.
He has held solo exhibitions at Fridman Gallery, New York, USA [2018]; Casa Triângulo, São Paulo, Brazil [2017]; Central Galeria, São Paulo, Brazil [2015] and Gachi Prieto Gallery, Buenos Aires, Argentina [2015]. Cais also exhibited in group shows in Rio de Janeiro and Porto Alegre, Brazil; Baltimore and New York, USA; Madrid, Spain. His works are part of the public collections of the Museu de Arte do Rio, Rio de Janeiro, Brazil; Museu de Arte Moderna de São Paulo, São Paulo, Brazil; Pinacoteca do Estado de São Paulo, São Paulo, Brazil; Museu de Arte Contemporânea da Universidade de São Paulo, São Paulo, Brazil, among others.
Founded in 2013 by visual artists Marcelo Amorim, Nino Cais and Simone Moraes, FONTE is an organization based in São Paulo that offers residencies for international artists, housing for artists from other states of the country and temporary workshops for young artists. It provides free public programming including lectures, workshops, performances, video art projections and open studios. The space has already hosted artists such as Adrián Balseca (Ecuador), Nani Lamarque (Argentina), Pilar Quinteros (Chile), Sandra Gamarra (Peru), Gabrielle Goliath (South Africa), brazilians Rodrigo Braga and Antonio Sobral, and has partnered with the institutions Associação Cultural Videobrasil, Paço das Artes, Instituto Tomie Ohtake, among others.
Subscribe
to receive the latest news and articles written by experts
May interest you