WILLIAM OSORIO IN EL ESPACIO 23
LnS GALLERY announces the inclusion of The Face of Leviathan (2021) by William Osorio into the permanent collection of El Espacio 23. This work, which is inspired by the protests that erupted in Cuba throughout the summer while compositionally quoting Picasso's Guernica (1937), was acquired by the private collection and is set to debut early this year.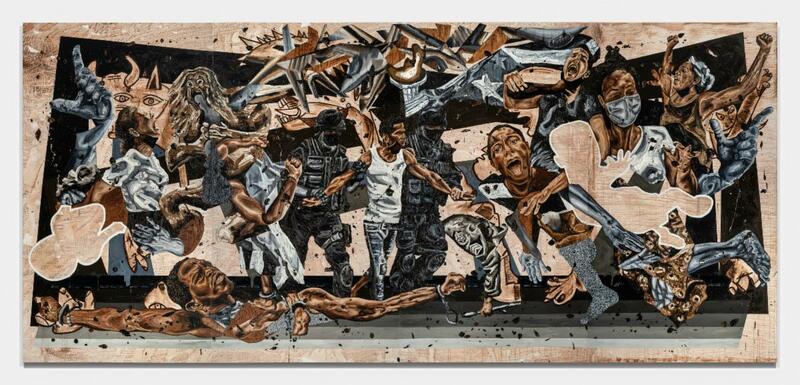 El Espacio 23 is a contemporary art space founded by collector and philanthropist Jorge M. Pérez. Located within a repurposed 28,000 square foot warehouse in Miami's Allapattah neighborhood, El Espacio 23 serves artists, curators and the general public with regular exhibitions, residencies and a variety of special projects drawn from the Pérez Collection.
As noted by LnS GALLERY co-director, Luisa Lignarolo, "We are so pleased that this historically potent work has found its home within a space that promotes dialogue surrounding our current moment. 'The Face of Leviathan' is William's stamp to immortalize an event in Cuban history close to his heart and relevant to our lives. We are grateful that Jorge Pérez and El Espacio 23 facilitated this opportunity for William's work to be seen by the public for years to come."
"Today's oppressors, indifferent to the suffering of history, have their hands stained with the blood and dust from the ground of Guernica. Totalitarian infamy is defined above all by a mistrust and disdain towards any free or creative act. I am honored to have a painting that is so personal and painful in such an important collection, and to have the support of Jorge Pérez and El Espacio 23," states William Osorio, the artist of the timely work.
The Face of Leviathan (2021) conjures palpable sensations of terror and destruction by paralleling the realities between physical battle, political warfare, and censorship through juxtaposing art historical iconography representative of these themes with Osorio's exemplary portraiture. Using Guernica (1937) as his arena, William Osorio tells the story of protest, suffering at the hands of oppression, hope, and chaos in this tetraptych. This tumultuous display of the times appears void of optimism, yet permeates the potential for change that comes with the bravery and determination forged through a collective will.
William Osoro is a Miami-based artist who was born in Cuba in 1989. Osorio began his artistic journey at a young age while in grade school. He initiated his studies at the School of Fine Arts in his city of Holguin later choosing to pursue his dreams by emigrating to the US. In the states, Osorio embraced becoming a self-taught artist, leading to a key factor in the spontaneity of his work. While in the US, the artist has participated in over 20 art exhibitions and group shows. He completed a residency through Oolite Arts at Anderson Ranch Arts Center (Snowmass Village, CO), and is currently an Artist-In-Residence at Bakehouse Art Complex (Miami, FL).
Related Topics
Subscribe
to receive the latest news and articles written by experts
May interest you