QUESTIONING AND REDEMPTION IN COLOMBIAN ARTIST ROBERTO OCHOA'S INSTALLATION
Questioning and redemption in an installation by Colombian artist Roberto Ochoa.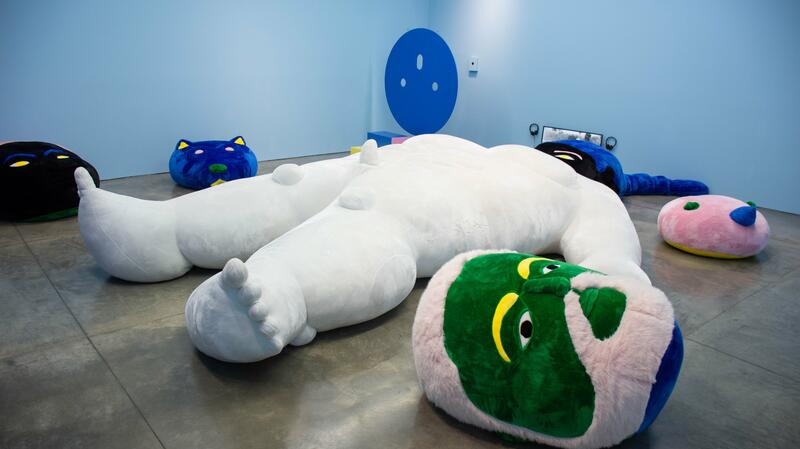 When in 1971 Cuban intellectual Roberto Fernandez Retamar wrote his famous essay "Caliban" –anagram of the word cannibal in Spanish– for Casa de las Americas magazine, he introduced the figure of the "savage" into the debate on identity in Latin America and the Caribbean in order to question the historical formation of the region. Retamar's anthropophagic use of the term, more distant from Shakespeare's The Tempest or Montaigne's essayism (where it had its origins), and closer to the emancipatory ideas of the West Indian thinkers Aimé Césaire or George Lamming, proposed to invert the image of Latin America that had been forged since the colonial process. Caliban was for the Cuban essayist a possibility of emancipation with respect to the hegemonic centers of power.
This exhibition takes the power of this image, in which the cannibal rebels to question history and identity, with the intention of proposing a reading that allows us to question the imaginaries inherited in Antioquia after the process that, mainly between the nineteenth and twentieth centuries, was known as "Antioquian colonization" and that contributed, among other things, to the displacement and elimination of indigenous communities that were closely related to the Caribbean.
Caliban is an invitation to think, unlearn, transform and recompose the patriarchal, disciplined and industrialized imaginary while rescuing another Antioquianity that has been marginalized. How to decolonize a colonist? This question refers us to a condition of possibility and reminds us that the figure of the colonist in Antioquia is not pure, but diverse. In this mixture lies the power of a new imaginary that is nourished by new forms, more fun, promiscuous, tender and collective. We propose to think of the inverse process to that of the colonization of Antioquia: a decolonization that assumes in plurality and heterogeneity a critical perspective with respect to the values that have prevailed throughout our own history.
The exhibition is conceived as a playground. It is a playful installation that mixes sculptural furniture and videos created from the recombination of symbols of modern Antioquia. Roberto Ochoa takes as a starting point two references in which visuality has been produced as a function of the imaginaries of Antioquia: the sculptural work of Fernando Botero and the film Bajo el cielo antioqueño (1925).
Roberto Ochoa. Aspiring master's degree in visual arts from the Universidad Nacional Autónoma de México. His work has been exhibited at the 45 Salón Nacional de Artistas (Apoyo Mutuo, Proyecto Colectivo, Bogotá, 2019), Museo Casa de la Memoria (Medellín, 2018), Galería Progreso (CDMX. 2017), Biquini Wax (CDMX. 2018), Autorreconstrucción -A project by Abraham Cruzvillegas- (Museo Universitario de Ciencias y Artes, UNAM, CDMX, 2018), Video Sur (Palais de Tokyo, Paris, 2018), 44 Salón Nacional de Artistas: AÚN (Pereira, 2016), Les Rencontres Internationales (Berlin, 2014) and Screening program (Palais de Tokyo, Paris, 2014), among others. I have been part of several collective processes, among which stand out the independent art space Lengua Negra, AT Radio Club and Tropa de Asalto.
Related Topics
Subscribe
to receive the latest news and articles written by experts
May interest you