NEXT STANDS OUT AT PINTA PArC FOR ITS CREATIVE LANDSCAPE
Curated by Florencia Portocarrero, the NEXT section brings together seven galleries that are committed to visibilizing the work of young and/or emerging artists. The section seeks to function as a window, for the public of the fair, to the various cities of Latin America in which the gallery projects are registered; such as Buenos Aires, Cusco, Lima, Cholula, Rosario, Quito and Santiago.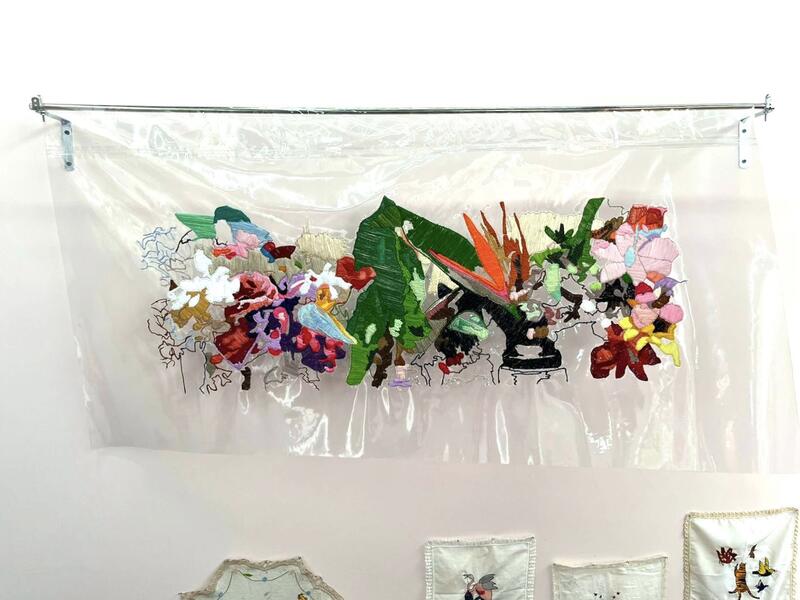 After two years of withdrawal due to the pandemic, the artists selected in this edition of NEXT invite the viewers to immerse themselves in long-term projects in which manual work and a perspective at exterior and interior landscapes are predominant.
The heterogeneous conglomerate of artists chosen for this edition brings with it an intercultural richness that panoramically highlights the manual work of the region and the contemporary vision of new artistic generations.
Fotos 1-6
As an incentive for gallery owners and exhibitors, the courrier and logistics company DHL offers a prize for the best proposal in the section. This year, the winner was Subsuelo gallery, with works by Alicia Nakatsuka and Daniela Arnaudo
Fotos 7-11
The participating artists and galleries are: Jaime Nuñez Del Arco, Juan Miguel Marín and Martín Samaniego with +Arte (Ecuador); Carlos Cima and Josefina Alen with Constitución (Argentina); Colomba Fontaine, Josefina Valenzuela and Pilar Elgueta with NAC (Chile); Alejandra Ortiz de Zevallos, Florence Goupil and Verovcha with Paseolab (Peru); David Gagnon, Nat Comel and Jun Olman with Art Base Platform (Mexico); Alicia Nakatsuka and Daniela Arnaudo with Subsuelo (Argentina); CJ Chueca, Leslie Esgusquiza and Musuk Nolte with Vigil Gonzales (Peru).
Fotos 12-15
Florencia Portocarrero (Lima, 1981) writes, gives conferences and organizes both exhibitions and public programs. Her research interests focus on the rewriting of Art the History from a feminist perspective and the questioning of hegemonic forms of knowledge. Between 2008 and 2010, she completed a Master's degree in Theoretical Studies in Psychoanalysis at the Pontifical Catholic University of Peru. Later, from 2012 to 2013, she participated in the "Appel Arts Center" curatorial program in Amsterdam and in 2015 she completed a second Master's degree in Theory of Contemporary Art at the University of Goldsmiths in London. She has participated in several conferences internationally and her writings about art and culture appear regularly in specialized journals such as Atlantic Journal, Artishock and Earthquake. In 2017/2018 she received the Curating Connections Scholarship awarded by the DAAD Artists-In-Berlin Program and the Kfw Stiftung. In Lima, she worked as a curator of the Public Project Program (2015-2020), was an advisor to the Acquisitions Committee of the MALI - Lima Art Museum (2018-2020) and is co-founder of Bisagra, where she organizes the experimental educational project "Shared Destinations and Omens Program". Recent curatorships include: "As it heals, as it lifts, as it flowers" (2021), Louidgi Beltrame's solo show at Mac Lima, and "Ser Pallay", textile installation by artists María Jose Murillo, Verovcha and artists Tejedorxs del Cuzco in the gallery Vigil Gonzales in Urubamba, Cusco.
Subscribe
to receive the latest news and articles written by experts
May interest you