MEDIA POINT IN PINTA PArC – LIVE TALKS, VIDEOS AND MORE
With the curatorship of Verónica Santalla and the collaboration of Miguel López, this meeting space is proposed in a hybrid format, combining in-person talks at the Pinta PArC auditorium and audiovisual content.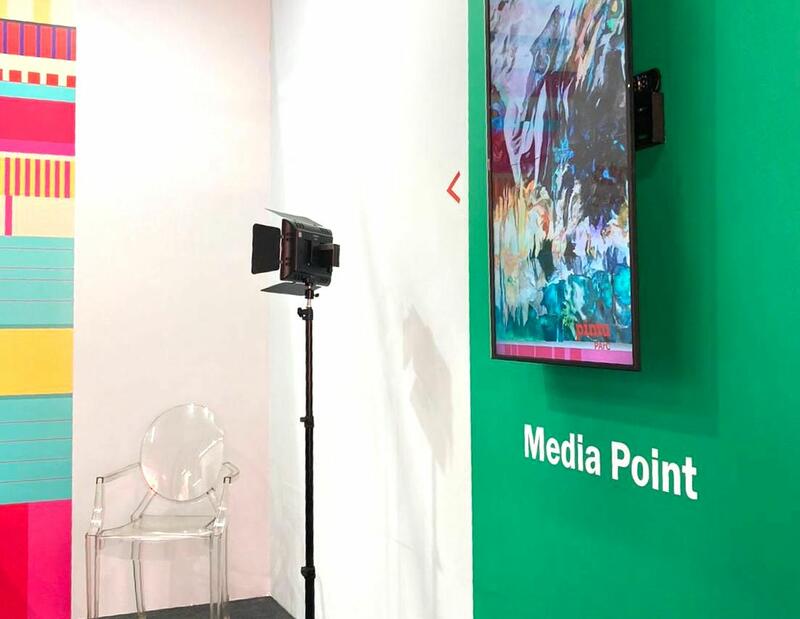 Live Talks is the title of the conversation segment with collectors, gallery owners, curators and artists linked to the field of Latin American contemporary art, who will reflect on how the artworld has changed after the pandemic, the ethics of collecting, the convergences and divergences between the art and design, thought and photographic vision, among other topics of interest.
Regarding audiovisual material, Media Point will add artists to its Open File repertoire. In this video series, artists share details, anecdotes, and personal perspectives on their most recent works. Among the more than 20 artists who participated are Andrés Denegri, Ruby Rumié, Dagoberto Rodríguez, Macelo Brodsky, Glenda León and Paula Otegui. The complete series is on YouTube.
For Pinta PArC 2022, the artists included in the Open File series will be: Iosu Aramburu (80m2 Livia Benavides - Lima, Peru), Ana González (La Cometa, Madrid, Spain), Augusto Ballardo (NOW: Lima, Peru), Daniela Arnaudo (Subsuelo, Rosario, Argentina) and Hernán Salamanco (Smart Gallery, Buenos Aires, Argentina)
LIVE TALKS PROGRAM
1
"Photography. State of the Matter"
Thursday, April 21 - // 5.30 pm // Pinta PArC Auditorium
Thought and photographic vision pose questions whose answers we find in the works that photographers as authors carry out. We should ask ourselves the following: If a photograph is an answer, what question does it answer to? This is precisely what allows us, at the same time, to put order and avoid confusion within the proliferation of images that are currently produced and reproduced in all kinds of the photographic universe.
Participants: Mariano Zuzunaga and Alejandro León Cannock
Moderator: Carlos Caamaño.
2
How do museums narrate their collections?
Thursday April 21 - 7 pm. // Pinta PArC Auditorium
One of the most important roles of museums has been to build collections and safeguard the cultural and social memory of different contexts. Institutions also have different ways of acquiring and incorporating works into their collections. How are they telling their stories? This table pays attention to three museums in Latin America that have undertaken a review of the axes that organize their collections.
Participants: Magalí Arriola, director of the Tamayo Museum, Mexico City;
Maria Wills, Director of Arts and Collections at Banco de la República, Bogotá;
Sharon Lerner, director of the Lima Art Museum, Lima;
Moderator: Miguel A. López, curator.
3
What has changed for the arts after the pandemic?
Friday April 22 – 4.30 pm. // Pinta PArC Auditorium
This table tries to think about the effects of covid-19 crisis on the artistic ecosystem. What structural aspects, problems and inequalities have become more visible at this juncture? What initiatives have been launched to deal with this situation?
Participants: Marina Reyes Franco, curator of the Museum of Contemporary Art of Puerto Rico, San Juan; Dulce Pizón, visual artist and founder of ArtBase, Cholula/Montreal;
Venuca Evanan Vivanco, visual artist, Lima.
Moderator: Miguel A. López, curator
4
Ethics of collecting
Friday, April 22 – 6 pm // Pinta PArC Auditorium
In recent decades, the art world (and beyond) has undergone a significant transformation in which ethical questions around the role of art and art workers are being debated. There is an awareness that the art sector has historically operated with a level of disconnection from some of the basic concepts of professional ethics. Consequently, opacity and power/dependence are often the norm, although transparency, accountability, integrity and fairness are necessary in any large-scale market. This implies that those who own works of art have a set of ethical duties towards said works, their authors and the professional environment that surrounds them.
Participants: Benedicta Badia, collector, Chicago / Buenos Aires; Natalia Majluf, former director of the Lima Art Museum; Iosu Aramburu, visual artist, Lima.
Moderator: Miguel A. López, curator
5
Presentation of the book ¨Noche Abierta¨ by Pabli Stein
Friday, April 22 - 7.30 pm // Pinta PArC Auditorium
Noche Abierta [Open Night] is a publication that covers 10 years of the work of Argentine artist Pabli Stein where the procedures used by the artist in his creative process are reconstructed; an important printed record of his works on paper and collage. It is a book that works as a key to approach the depth of the young Argentine artist's work and thought
Participants: Pabli Stein, artist, and Oscar Roldán-Alzate, curator.
6
¨Convergences and Divergences between Art and Design¨
Saturday, April 23 - 4 pm // Pinta PArC Auditorium
What has the artist modified in his activity to become a designer? What is still artistic in design? What is art?
Participants: Joan Ulloa "Entities", Yerko Zlatar, Jerry B. Martin
Moderator: Carlos García Montero
7
How has the pandemic impacted the market?
Saturday April 23 - 5.30 pm // Pinta PArC Auditorium
This table pays attention to the impact of the pandemic on the market and on the dynamics of art collecting. What challenges have galleries faced in a time of global slowdown? How has the pandemic forced the rethinking regarding the ways of collecting and support for local dynamics?
Participants: Martín Fernández, Constitución gallery, Buenos Aires; Alexandra Bryce, collector, Lima; Oscar Roldán-Alzate, curator, Medellín.
Moderator: Florencia Portocarrero, curator, Lima
8
Presentation of the Book ¨Paraguas Existencial¨ by Juan Javier Salazar
Saturday April 23 - 7 pm // Pinta PArC Auditorium
Jorge Villacorta Chávez, editor, shares: "Paraguas Existencial [Existential Umbrella] is a book that allows a first approach to the Peruvian artist Juan Javier Salazar (1955-2016).
In the 448 pages, it brings together more than 200 images with reproductions of his work in his color and contains essays by Mirko Lauer, Rodrigo Quijano and Rodrigo Vera, as well as an interview with the artist by Andrés Hare. In its pages you can also find 21 testimonies, reminiscences and comments written by generational friends, relatives, young artists who admired him and whom he called "nephews", as well as people who did not know him, but who have felt touched by his work. It is essentially a celebratory volume that raises the debate about what it means to be a contemporary artist in Peru."
Participants: Janine Soenens, Alina Canziani Amico, Víctor Ruiz Velazco (Editor of Editorial Planeta)
Moderator: Mirko Lauer
ABOUT THE CURATORS
Vero Santalla (Buenos Aires, 1973).
With a degree in Social and Cultural Anthropology from the Institute of High Social Studies of the National University of San Martín (UNSAM), she trained in photojournalism at the Argentine Association of Graphic Reporters (ARGRA). Since 2011 she has been developing and coordinating strategic projects and content applied to contemporary art for public and private institutions at national and international fairs, biennials and festivals such as BAphoto, Valparaíso Arts Festival, Bogotá Ibero-American Theater Festival, Encontro de Artistas Novos, PArC and Gallery Day.
Miguel A. López (Lima, 1983)
Miguel is a writer, researcher, and independent curator. Between 2015 and 2020 he worked at TEOR/éTica (Costa Rica), first as chief curator, and since 2018 as co-director. His recent curatorial projects include "Sila Chanto and Belkis Ramírez: Aquí me quedo / Here I Stay", Institute for Contemporary Art, ICA-VCU, Richmond, 2022; "And if I devoted my life to one of its feathers?", Kunsthalle Wien, Vienna, 2021; "There is something inedible in the throat. Antipatriarchal poetics and new scene in the nineties", ICPNA, Lima, 2021; "Cecilia Vicuña: Seehearing the Enlightened Failure" at the Witte de With, Rotterdam (2019), MUAC-UNAM, Mexico City (2020), CA2M, Madrid (2021), and Banco de la República, Bogotá (2022). He is the author ofFicciones disidentes en la tierra de la misoginia (Dissident Fictions in the Land of Misogyny) (Pesopluma, 2019) and Robar la historia. Contrarrelatos y prácticas artísticas de oposición (Stealing History. Contrastories and artistic practices of opposition (Metales Pesados, 2017). His texts have been published in magazines such as Afterall, Artforum, E-flux Journal, and ArtNexus, among others. López is co-founder of the independent space Bisagra, active in Peru since 2014. In 2016 he was awarded the Independent Vision Curatorial Award from the ICI, Independent Curators International, New York. He lives and works in Lima.
Subscribe
to receive the latest news and articles written by experts
May interest you