LATIN AMERICAN GALLERIES AT ART BASEL 2023
Art Basel 2023 featured over 200 leading galleries and more than 4000 artists, where Latin-American galleries from Colombia, Mexico and Brazil, among other countries, participated.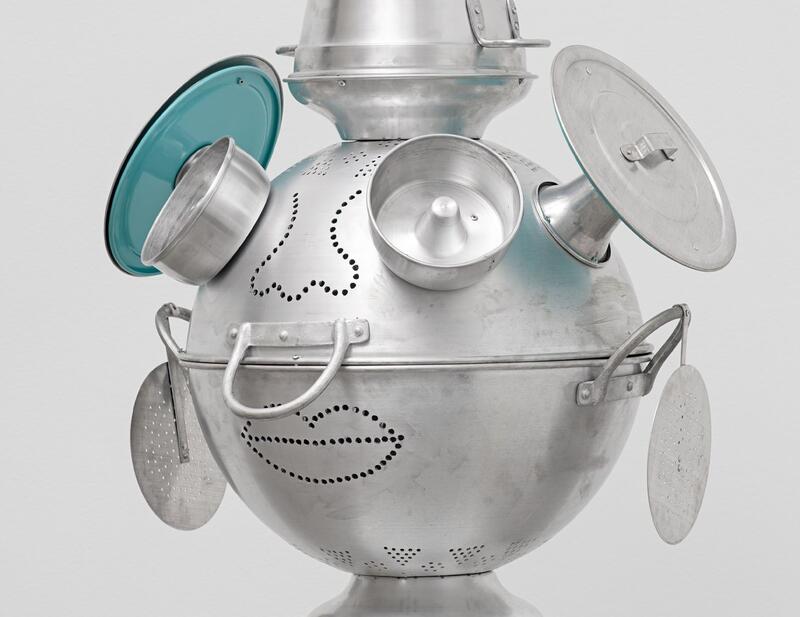 Casas Riegner – Colombia.
The gallery presented a captivating cabinet of curiosities. This contemporary interpretation of a 16th century Wunderkammer invites introspection into the fears, desires, obsessions and wonders of humanity. Through intervened objects, surrealists' ceramic relics futuristic toy sculptures and paintings, the cabinet will bring together works by artists Beatriz González, Feliza Bursztyn, Débora Arango, Luz Lizarazo, Luis Roldán, Icaro Zorbar, Bernardo Ortiz and Carlos Alfonso. Through their innovative body of work, these artists boldly address issues often considered off limits, shedding light on important questions that must be reiterated to the world.
Fortes D'Aloia & Gabriel – Brazil.
Márcia Fortes, Alessandra D'Aloia and Alexandre Gabriel celebrate over two decades of activity with a roster of 44 artists, of whom 31 are Brazilian. The gallery is committed to longstanding and devoted relationships with its represented artists, encouraging emerging voices, cultivating established careers and relevant expressions, as well as fostering liaisons with museums and curators worldwide.
Kurimanzutto – Mexico.
Nature and abstraction, be that representations of leaves or water, are recurring ideas which Gabriel Orozco and Oscar Murillo have been returning to in newer bodies of work. Similarly, representations of animals have begun to feature in the works of Anri Sala and Nairy Baghramian, looking at how they can be abstracted and reimagined through different material investigations of painting and sculpture. The collaging of non-traditional materials is present in the work of Haegue Yang, Damian Ortega and Danh Vo, ranging from hanji paper, to cement bags, to gold leafed cardboard beer boxes. In a different direction, explorations between the human and the machine take centerfold in the works of Adrian Villar Rojas and WangShui, looking to explore the realm of machine learning and machine production. Shifting away, materiality and tension are felt in the sculptural works of Abraham Cruzvillegas and Damain Ortega, whilst signaling the importance of abstraction and experimentation. In differing ways, portraiture and the human figure are points of departure for Paulina Olowska, Roberto Gil de Montes, Sarah Lucas and Serguei Eisenstein, ranging from fashion photography and mysticism, queerness and identity, or imaginative musings of the figure in various states of compromise and confusion. Finally, a special Kabinett presentation of new works by Petrit Halilaj concludes Kurimanzutto's proposal.
Labor – Mexico.
For Labor's second participation in Art Basel's Galleries section, the gallery will present a selection of recent works by international artists with medium and long careers: American Artist, Antonio Vega Macotela, Claudia Gutiérrez Marfull, Daniel de Paula, Irene Kopelman, Jerónimo Elespe, Nicholas Mangan, Pablo Vargas Lugo, Pedro Reyes and Roger White.
These ten artists will exhibit works in a variety of media that share a common element: the earth. Embodied both in its elemental form and in its political and economic quality, the presence of this material is in some cases suggested by mineral or vegetable elements, while in other cases the works highlight scenarios in which the collective spirit is marked by the threat of climate change and the over-exploitation of resources.
Borrowing references and methodologies from science, history and literature to propose new forms of social and political organization, the works in Labor's booth explore the artist's ability to transform and propose new alternatives for our environment. By interweaving alerts and enablers of change, this selection of works reconsiders the cycles of history, and how these patterns speak to the present, while suggesting new perspectives for the future.
OMR ­– Mexico.
The Mexican gallery will be exhibiting for the first time Claudia Comte and Sebastian Silva, as well as new works by Yann Gerstberger, Jorge Méndez Blake, Gabriel Rico, Troika, Pia Camil, Atelier Van Lieshout, Eduardo Sarabia, Matti Braun and Jose Dávila. For this presentation, the artists reflect together on global warming, raising awareness about how our current and future relationship with our local and global environment will be affected, while promoting an attitude of resistance and resilience in these demanding times. Parallel to their booth in the main section of the fair, they will also be at Art Basel Unlimited with a large-scale mural by Jorge Mendez Blake inspired by T.S. Eliot's "The Wasteland", which offers a reflection on the current global humanitarian crisis and ecological emergency.
Galeria Luisa Strina – Brazil.
Galeria Luisa Strina gathers a selection of works that emphasize unique approaches in the field of contemporary art. Bringing together artists who are fundamental for the national and international circuits, the gallery features work that question historical, spatial, conceptual and political context.
Exploring different ways of occupying and interacting with space, the works of Alexandre da Cunha, Marcius Galan, Mateo López and Leonor Antunes stand out. Based on ideas about interdisciplinarity and installation, we feature works by Juan Araujo, Alfredo Jaar and Cinthia Marcelle. The selection is complemented by an investigation of materials and gestures, with works by Tonico Lemos Auad, Cildo Meireles, Mario García Torres, Anna Maria Maiolino, among others.
Travesía cuatro – Mexico.
The Mexican-Spanish gallery featured works by Ana Prata, Mariela Scafati, Teresa Solar Abboud, Donna Huanca, Álvaro Urbano, Eleonore Koch, Mateo López, Jose Dávila, John Isaacs, Jorge Eielson, Sara Ramo, Gonzalo Lebrija, Milena Muzquiz and Jorge Méndez Blake.
Millan – Brazil
The gallery's proposal consists on the emblematic work by artist Ana Amorim entitled Large Canvas 4. Curated by Gabriel Pérez-Barreiro, the project aims to contextualize and showcase Amorim's singular practice to a global audience.
The work consists of 318 strips of cloth, of daily registers during the year 1991, when it was produced. In each of these strips, she drew her daily trajectory in two colors: black for the everyday routes and red for the new ones. Each strip of cloth also contains a piece of fabric, cut out from personal items and a Counting Seconds performance of the 3,600 seconds that make up an hour, in the artist's own time.
Related Topics
Subscribe
to receive the latest news and articles written by experts
May interest you