COLOURS AND SHAPES. MATTI BRAUN'S EXHIBITION AT OMR
From 05/13/2023 to 06/24/2023
OMR
Mexico City, Mexico.
La ku is German-Finnish artist Matti Braun's new exhibition at gallery OMR. He traces the intersection of research obscurities, exquisite materiality, and conceptual art to create richly beautiful paintings and objects that address understudied and unseen narratives of cross-cultural exchange and slippage.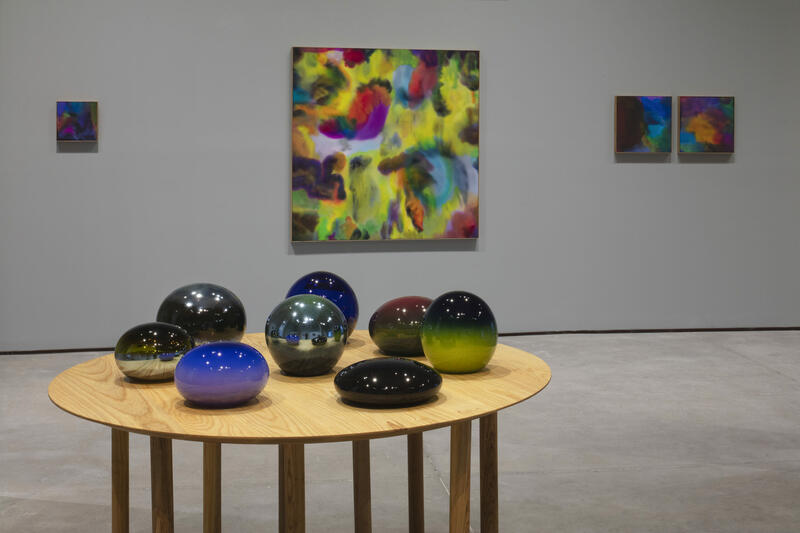 For this exhibition, the artist offers a new direction in his long-standing exploration of silk and glass. Beth Citron writes: "Braun approaches his work scientifically, even alchemically, while valuing the poetics of grace and chance. His technical processes generate unique compositional and color constellations to reveal the potential of various grounds and mediums, evoking the oblique and rhizomatic histories that he references. He has returned time and again to glass and silk, in part for how they reflect and absorb light, and honoring their importance and ubiquity across cultures and times. Braun's works in these materials also challenge conventional categorizations and hierarchies of painting, sculpture, and craft.
Braun's experiments with varied scales among the silk works in this exhibition show the dramatic power of the miniature and reflect on the complex relationships between the human and cosmic. These silks also reflect two different formal approaches: one marked by seamless saturated gradients and the other by bold colors layered into painterly, fluid patches. The latter structure is evocative of oil-filled "space fidgits," a novelty children's toy popular in the 1970s and 80s. Through the handheld memory of an often-leaking plaything, a record of the vibrant palette of a moment, we return to moon landings and long-sought independences, a metonym of the end of modernism".
Matti Braun's work investigates the unexpected, often little-known effects of cross-cultural dynamics, making visible patterns of artistic migrations and cultural misrecognitions. The artist's exhibitions have often been organized around a specific example of such appropriation, taking for instance an elaborate web of interdisciplinary associations spun around the Indian physicist Vikran Sarabhai that include Mahatma Gandhi, Le Corbusier, the development of the Indian space program, the Ulm School of Design and Lynda Benglis as point of departure for displays that included textile works, objects, photographs and large-scale installations. Matti Braun's work is characterized by a constant negotiation between concrete references and general allusions, between poetic ephemerality and an uncanny sense of visceral immediacy.
La ku. Solo exhibition by Matti Braun.
Until June 24th, 2023.
OMR Gallery. Córdoba 100, Roma Norte, Mexico City, Mexico.
Subscribe
to receive the latest news and articles written by experts
May interest you