JEAN TERRA NOMINATED IN SP ARTE FOR THE 2023 EFG LATIN AMERICAN ART AWARD
The EFG Latin America Art Award ­–together with ArtNexus– presented Jean Terra, from Anita Schwartz Galeria de Arte from Rio de Janeiro (Brazil), as the SP ARTE fair selected artist for its annual acquisition award.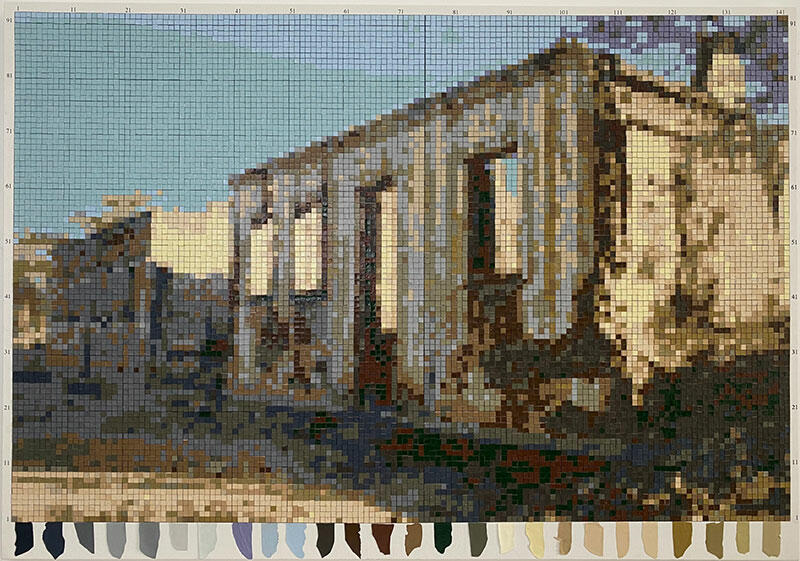 Jeane Terra researches the subjectivities of memory, the nuances of the transitoriness of cities and the debris of a time, urban erasure, and the unbridled growth of cities. Terra works on painting, sculpture, photography, and video art. Often self-referential, her work gravitates towards the noisy factory, from where her memory comes to the surface. Terra uses rubble and "paint skin," a technique she developed from mixing acrylic paint and binder, which, made in thin layers, takes on the appearance of skin. The artist uses ink "skins" to produce her paintings, which are sewn together – some using the cross-stitch technique – or cut and pasted directly onto the canvas—a kind of body painting.
Terra's work was selected as the SP ARTE's nominated artist for the EFG Latin America Art Award, with the collaboration Fernando Oliva, professor, and curator at Museu de Arte de São Paulo Assis Chateaubriand - MASP, jointly with Celia Sredni de Birbragher, Director and Editor of ArtNexus.
EFG Latin America Art Award, now in its thirteen years, was created to support a Latin American artist whose work is pre-selected through a juried process in Latin American contemporary art fairs throughout each year. The award aims to promote Latin American visual arts production and increase awareness of regional fairs among collectors worldwide.
This year, the nominated artists will be selected at the fairs: SP Arte, São Paulo; PArC, Lima; arteBA, Buenos Aires; Ch.ACO, Santiago de Chile, and ArtBo, Bogotá.
As in previous years, once each of the finalists in the participating Latin American art fairs has been nominated, the winning artist will be selected and announced in Pinta Miami during Art Week in Miami. EFG Capital will acquire a work of art from one of the nominated artists to incorporate the permanent display collection at the EFG Capital's Miami offices.
Subscribe
to receive the latest news and articles written by experts
May interest you