IOSI ARAMBURU IS arteBA 2023'S ARTIST NOMINEE FOR THE EFG LATIN AMERICAN AWARD
EFG Latin America Art Award, in collaboration with ArtNexus, presented arteba 2023's nominated artist. Iosu Aramburu is one of the finalists for the annual acquisition award, which will be announced at Pinta Miami during Miami Art Week.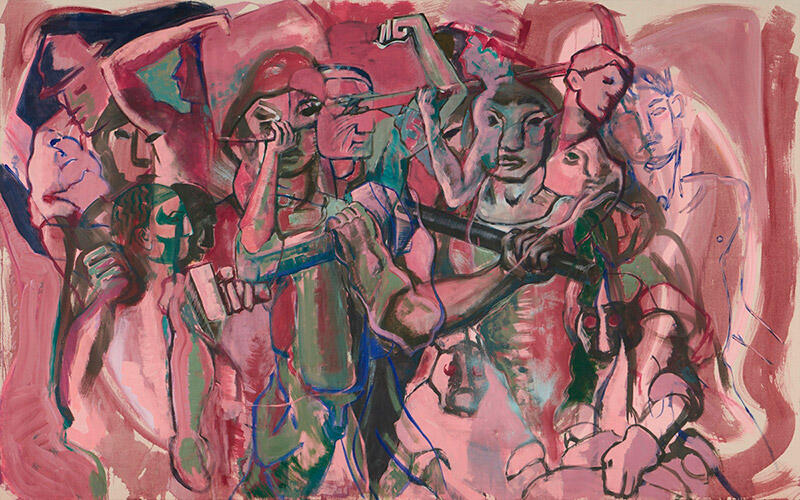 The artist Iosu Aramburu, represented by Pasto Galería, returns to Andean modernity and finds, in that past time, images capable of emitting a new brilliance today. In his paintings and sculptures, he takes hold of some of the motifs, scenes and repertoires of the history of Peruvian art of the first half of the twentieth century to make them speak in the present. In the selected work X106 (Ghosts) (2022), Aramburu painted arms, faces and raised fists that symbolize the workers' struggle and strength. These fragments of bodies do not resolve into a single figure or character, but rather organize the image of a common, communal struggle that affects everyone and rekindles the promise of more just and egalitarian societies.
The work was selected at arteba 2023 with the collaboration of Florencia Malbrán, independent curator, and Celia Sredni de Birbragher, director and editor of ArtNexus.
The EFG Latin America Art Award, now in its thirteenth year, aims to support the production of Latin American artists, previously pre-selected through a jury process at the Latin American contemporary art fairs held each year. The award aims to promote the continent's visual arts production and regional fairs among collectors worldwide.
As in previous editions, once the finalists are selected at the participating Latin American art fairs, the acquisition will be selected and announced at Pinta Miami during Miami Art Week. EFG Capital will acquire a representative work of art by the winning artist to be permanently displayed at EFG Capital's Miami offices, along with the company's art collection.
Subscribe
to receive the latest news and articles written by experts
May interest you