GABRIEL CHAILE AT HIGH LINE
The wind blows where it wishes is Gabriel Chaile's adobe sculpture on the High Line at 24th Street.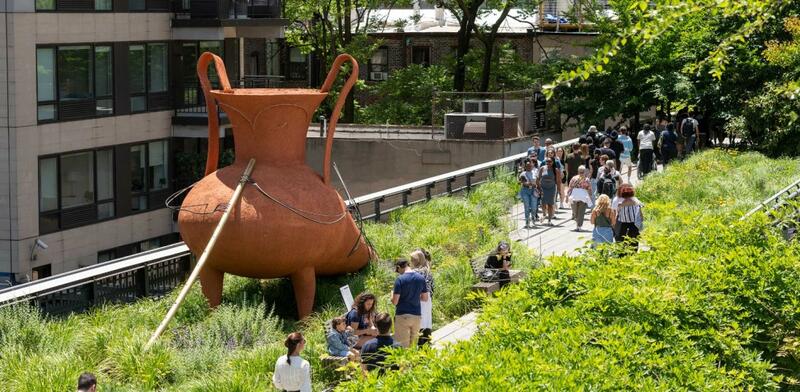 The wind blows where it wishes is the title for Chaile's large adobe sculpture conceived for the High Line. The work is the result of numerous observations, including Leonardo da Vinci's nature drawings, Biblical passages about the wind as a transmitter of forces, and representations of natural phenomena in art history: rain, steam, and speed in Caspar David Friedrich's paintings, spatial continuity in Umberto Boccioni's paintings and sculptures, and Hayao Miyazaki's film Nausicaä of the Valley of the Wind. Above all, the artwork is the result of Chaile's observations of pre-Columbian archeological ceramics from northwest Argentina, gathered in a small museum in Tucumán. These ceramics, from cultures including Candelaria, Aguada, Cóndor Huasi, Tafí, and Santa María, have inspired the artist to imagine them as ceremonial objects, wind instruments, kitchen containers, planters, and so much more.
Combining these inspirations, Chaile conceived of an artwork for New York City and the High Line. Wanting to avoid competition with the surrounding skyscrapers and extreme weather found on the High Line, Chaile intends for his sculpture to come to life through its interactions with surrounding natural forces: wind, rain, snow, and vegetation, which will create music when in contact with the sculpture. The artwork is a sculpture-manifesto, one that plays with the wind's memory as a transmitter of poetry.
Gabriel Chaile creates large sculptures, drawings, and installations based on his ongoing research into rituals and popular communal gatherings occurring on the periphery of cities. He uses archetypal materials, forms, and symbols associated with pre-Columbian cultures to create objects and installations that blend Indigenous mythologies and contemporary social themes in a poetic and humorous way. Raised in the northern city of San Miguel de Tucumán in Argentina, with Spanish, Afro-Arabic, and Indigenous Candelaria heritage, Chaile has created a theory he refers to as "the genealogy of form," which is based on the history of objects that change over time and maintain a genealogical line. Working with bread ovens and large kitchen objects, Chaile is interested in relationships built around food, support, collaboration, and community activities.
Gabriel Chaile (b. 1985, San Miguel de Tucumán, Argentina) lives in Lisbon, Portugal. Chaile's work has been featured extensively in solo exhibitions across Argentina, at institutions including Museo de Arte Moderno de Buenos Aires, Buenos Aires, Argentina (2017); Centro Cultural San Pablo T, San Miguel de Tucumán, Argentina (2016); Centro Cultural Recoleta, Buenos Aires, Argentina (2015); and Fondo Nacional de las Artes, Buenos Aires, Argentina (2014). Notable group exhibitions include Pés de Barro, Galeria Municipal do Porto, Porto, Portugal (2021); Memorias urgentes, BIENALSUR, Espacio de Arte Contemporáneo, Montevideo, Uruguay (2019); La civilización perdida, Centro Cultural Recoleta, Buenos Aires, Argentina (2019); Consternaciones / constelaciones, Casa Fernandini, Lima, Perú (2017); and Hacer con lo hecho, Museo de Arte Moderno de Cuenca, Cuenca, Ecuador (2015). Major international exhibitions include the 59th Venice Biennale, Venice, Italy (2022); The Sowers, Fondation Thalie, Brussels, Belgium (2021); the New Museum Triennial, New Museum, New York, New York (2021); Hopscotch, Art Basel Cities, Buenos Aires, Argentina (2018); and El espejo enterrado, 3rd Montevideo Biennial, Montevideo, Uruguay (2016).
Related Topics
Subscribe
to receive the latest news and articles written by experts
May interest you