FROM SAUDI ARABIA TO BUENOS AIRES: MUHANNAD SHONO IN BIENALSUR
The Saudi artist presents his work for the first time in Argentina in the framework of BIENALSUR 2021. Under the curatorial axis Politics of art, his solo exhibition "Silence still inhabits us" opened at the MUNTREF Sede Hotel de Inmigrantes. Its curator, Diana Wechsler, states that this exhibition reflects on the memory of culture and language, and surprises with a strongly poetic installation about words. Muhannad Shono's production includes intimate drawings, large-scale sculptures, and robotic and technological pieces, with a personal style characterized by versatility and disinhibition.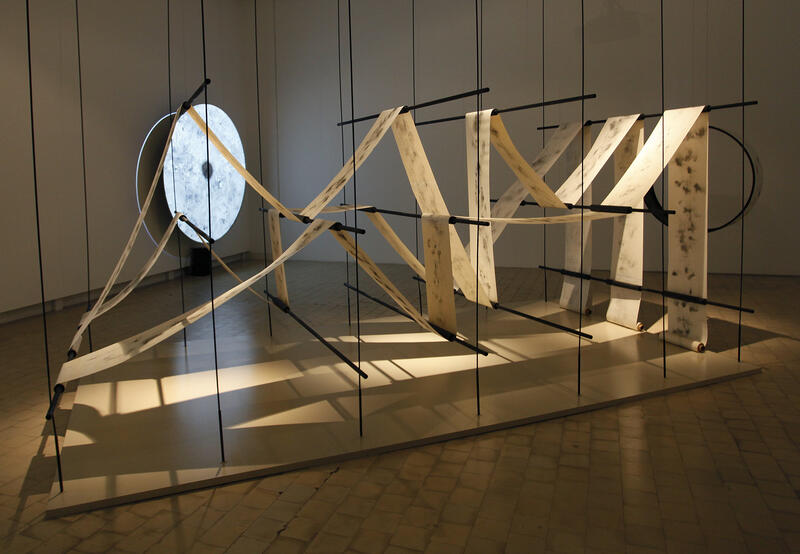 Shono is a conceptual and visual artist born and raised in Riyadh. The long migratory history of his family has had a strong impact on his production; From an early age, he discovered drawing and art as a way to recreate the world that he wanted to see around him. His multidisciplinary practice is catalyzed and structured by history, and also harnesses the power of narrative by creating and questioning personal and collective truths. Impacted by childhood memories, throughout his early career and to this day, the goal and expression of his work is based on exploring the existing and non-existent limits that have characterized his life. With a singular focus, his work amplifies the moment when impact, transmission and change occur. This results in the creation of relics and symbols that belong to a world of their own and are defined by a constant need and curiosity to challenge the imagination.
His solo exhibition "Silence still inhabits us" presents his work in Argentina for the first time and offers six of his creations in ink and charcoal, which take both the form of drawing and installation art. Through linguistic signs, and in a variety of media, the artist sketches distances both in plane and in volume. Likewise, he uses the dynamics of sound and evokes movements to question preconceptions and challenge the viewer to think of new structures of knowledge.
The exhibition can be visited from Tuesday to Sunday from 11 a.m. to 6 p.m., until the end of December. Visits to the MUNTREF Sede Hotel de Inmigrantes are made with prior reservation through the Museum View MUNTREF app or by writing to visitamuntref@untref.edu.ar
Related Topics
Subscribe
to receive the latest news and articles written by experts
May interest you