COSMIN COSTINAȘ AND INTI GUERRERO APPOINTED 2024 ARTISTIC DIRECTORS OF THE BIENNALE OF SYDNEY
The 24th Biennale of Sydney will take place March 9–June 10, 2024.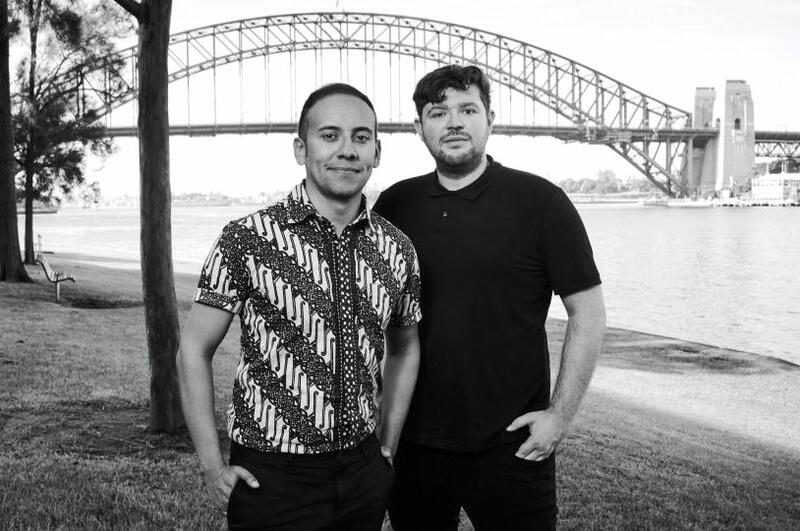 Over the past 10 years, Berlin-based Costinaș and Guerrero have co-curated a number of exhibitions together including A Journal of the Plague Year (Hong Kong, Taipei, Seoul and San Francisco, 2013-2015) Soil and Stones, Souls and Songs (Manila, Hong Kong, Bangkok, 2016–2017), Long Green Lizzards—Dakar Biennale, La Biennale de l'Art africain contemporain, Dakar (2018).
As co-curators, their exhibitions embrace the multiplicities of people's viewpoints, reflected in the unique experiences and possibilities that art can provide, inviting people to challenge and be challenged, to learn and celebrate together. For the 24th Biennale of Sydney (2024), Australia's vibrant communities will be central to their thinking, while seeing the biennale as a place that reaffirms the urgency for international dialogue.
Cosmin Costinaș and Inti Guerrero shared: "Artists are continuously challenging the codes of representation as well as the world that is being represented. It is our responsibility as curators to find platforms to reflect those varying ideas in an exhibition (as well as other formats and events) that welcomes and belongs to everyone. The previous Biennale of Sydney iterations have been pertinent because of their commitment to community and the current socio-political climate within a local and international context. Our vision for the 24th Biennale of Sydney is thus to create a space that examines the past and present through multiple art languages, from places of struggle and resistance to collective joy, while celebrating and respecting place. As exhibitions are reflections of different ways of seeing reality, the scenographic vocabulary of exhibition-making also needs to reflect the multiplicity of visual regimes that form the lived experience of most people in the world. Such an approach will challenge audiences to learn, celebrate, be inspired, and experience the awe and the magic art is capable of."
Cosmin Costinaș (Romania,1982) is currently the curator of the Romanian Pavilion for the 59th Venice Biennale (2022). He was the Executive Director and Curator of Para Site, Hong Kong's leading contemporary art centre and one of the oldest and most active independent art institutions in Asia. During his 11 year tenure (2011-2022) he oversaw the institution's major expansion and relocation, having curated numerous exhibitions including Garden of Six Seasons and A beast, a god, and a line. He was recently Artistic Director of Kathmandu Triennale 2022, the fourth edition of Nepal's premier international platform for global contemporary arts. Costinaș is a Curatorial Adviser at the Aichi Triennale (2022). He was Guest Curator at the Dhaka Art Summit '18 (2018), Co-curator of the 10th Shanghai Biennale (2014), curator of BAK, Utrecht (2008-2011), Co-curator of the 1st Ural Industrial Biennial, Ekaterinburg (2010) and Editor of documenta 12 Magazines, documenta 12, Kassel (2005–2007).
Inti Guerrero (Colombia, 1983) is currently tutor of the Curatorial Studies programme at the Royal Academy of Fine Arts-KASK, Ghent. He was the Artistic Director of bap—bellas artes projects, Manila (2018-2022), Curator of the 38th EVA International, Ireland's Biennial, Limerick (2018), Artistic Director of TEOR/éTica, San Jose (2011-2014) and the Estrellita B. Brodsky Adjunct Curator at Tate, London (2016-2020). In 2016, Guerrero was the inaugural curator in residence of the International Visiting Curators Program by Artspace and UNSW Art & Design, Sydney. As an independent curator, Guerrero has curated exhibitions across Asia, Europe and Latin America, including Institute for Tropical and Galactical Studies in the Yokohama Triennale 2020; A Chronicle of Interventions, Tate Modern, London (2014) and A Transatlantic Affair: Josephine Baker and Le Corbusier, Museum of Art of Rio-MAR in Rio de Janeiro (2014). He has edited and contributed his writing to numerous books, magazines, and exhibition catalogues and has taught and lectured at different universities, art academies, and institutions across the world.
Barbara Moore, CEO, Biennale of Sydney said: "I am thrilled to be working with Cosmin Costinaș and Inti Guerrero—highly respected curators both together and independently with a deep understanding of the international and Australian creative landscapes. The Biennale of Sydney is a participatory platform designed to present the best in contemporary art from around the world, inviting discussion and shared learning about the joys and challenges of our time. I look forward to seeing their collaborative vision develop and sharing their Biennale with our global community in March 2024."
Related Topics
Subscribe
to receive the latest news and articles written by experts
May interest you