A BRIDGE BETWEEN PAINTING AND ARCHITECTURE
The Sala Alcalá 31 of the Community of Madrid presents the exhibition "A bridge to stay" in which the artist Guillermo Mora dialogues with the architecture of the room and influences how this space is perceived and transited. A questioning of hierarchies and pre-established orders that leads to new ways of traveling, looking at and experiencing space and painting.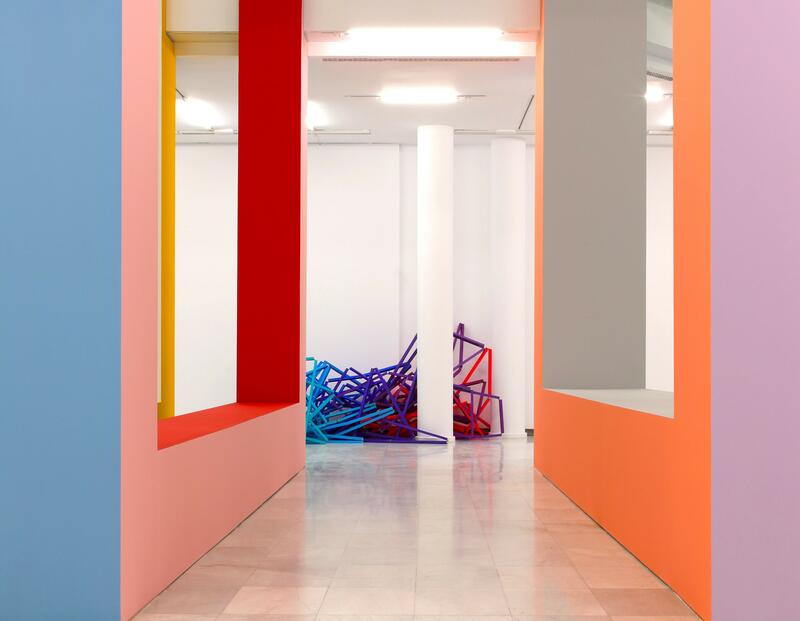 In this exhibition, the viewer will be able to walk through a large installation that draws on the architecture of the Sala Alcalá 31 and that encompasses the entire space. A work, made specifically for the exhibition, which is made up of 12 modules that cross the space from left to right and from top to bottom, redirecting the viewer's gaze. This installation, which modifies the linear path of the room with a zig-zag movement, favors the idea of ​​painting as a physical barrier, one of the themes that Guillermo Mora pursues within his artistic production.
The relationship of this installation with the rest of the pieces included in the exhibition establishes an evident game between the macro and the micro, between the expansive and the reduced. For this reason, "A bridge where to stay" calls into question the traditional limits of painting: two-dimensionality, frontality, representation, frame and wall, addressing at the same time other issues that transcend the pictorial and insinuate other ways of existing.
Guillermo Mora (Alcalá de Henares, 1980) is one of the most outstanding artists of his generation. In recent years he has cultivated a particular visual vocabulary, generating an abstract mode of communication that questions the protocols and procedures of painting.
Graduated in Fine Arts from the Complutense University of Madrid and from The School of the Art Institute of Chicago, his individual exhibitions include A day with you, Irène Laub Gallery, Brussels; Horizontal with Miquel Mont, Tabacalera, Madrid (2019); Los fondos remontan, Moisés Pérez de Albéniz Gallery, Madrid (2017); El escritorio circular with Teresa Solar, La Panera, Lleida (2016); No A Trio A with Pia Camil, La Casa Encendida, Madrid (2013), among others. His work is part of national and international collections such as the Museo Voorlinden (The Caldic Collection), Holland, The Margulies Collection at the Warehouse, Miami (USA), the La Caixa Collection, the CA2M Museum in Madrid and the DKV Collection.
Related Topics
Subscribe
to receive the latest news and articles written by experts
May interest you