THE WATER JETS: A NEW PROPOSAL THAT CROSSES BARRO GALLERY
From 03/11/2023 to 05/06/2023
Barro
Buenos Aires, Argentina
Chorros is Agustina Woodgate's exhibition at Barro Gallery in Buenos Aires, Argentina. The title of the show refers to the water purification and distribution system that penetrates the city's infrastructure, and precisely, the gallery.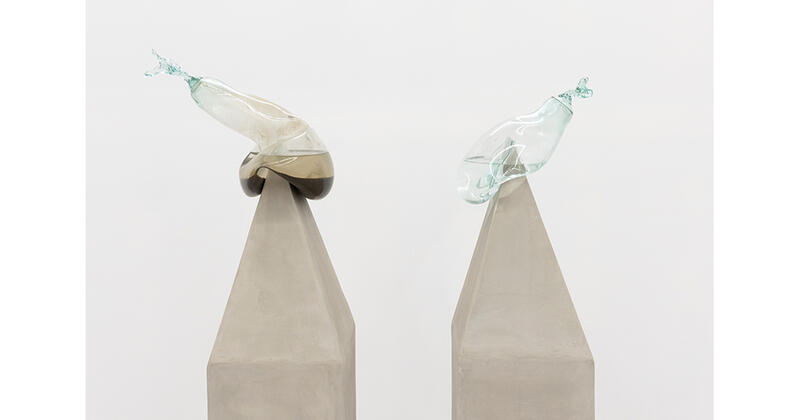 The proposal consists of three bodies of work: The Plant, The Bags and The Laundry. Barro is located four blocks from the Riachuelo, near the mouth of the Matanza-Riachuelo basin in the Río de la Plata. The Plant is an autonomous water treatment system that pumps directly from the water table above the Puelche Aquifer, the upper layer that forms a saturation zone fed by river water and urban infiltrations derived from human activities. It is, therefore, the most contaminated portion.
The drilling inside the gallery began on February 17, 2023. The drill went through the concrete floor, the soil, and then clay, sand and other layers. It was excavated about six meters below the natural ground level and a pump was installed to extract the water located there and bring it to the surface. The raw water passes through a reverse osmosis filter and is distributed into ten tanks of 1,000 liters each. Eight cream-colored water tanks contain purified water, also called "permeate water", and two gray tanks contain "reject water", which concentrates the heavy metals, salts and hydrocarbons removed during the treatment process.
The bags, ten clear glass containers that resemble garbage bags, contain the water from each of the tanks. All bags are sealed: eight bags with "permeate water", two bags with "reject water".
The Laundry is composed of ten light boxes framing plain white papers. When the light is on, a watermark becomes visible.
The watermark reveals puns in Argentine slang related to the water economy:
Canilla Libre, Todo Turbio, El Dólar Azul are some examples. These texts and others throughout the exhibition are written in classic porteño typography anchoring Chorros (Water stream in traditional Spanish and robber in Argentine slang) as a context-specific endeavor.
Chorros presents environmental, economic and legal risks. A monitoring well needs justification. No one authorizes drilling for water for artistic reasons ­–there is no legal framework for it. After two months, this well will be blinded again. Purifying water as polluted as this is an absurd proposition. Extraction advances to the edge of the water infrastructure to test its limits and showcase its work.
Agustina Woodgate's (1981, Argentina) practice focuses on the politics of landscapes and infrastructure as conceptual and public geography. Her work emerges from a logical process of discovery rather than invention, using displacement as a strategy.
Woodgate's approach is speculative, practical and sensitive to place and context, presenting critical possibilities to concepts about social orders, resource management and information distribution by bringing clarity, scale and accessibility. In 2011 she co-founded radioee.net, a nomadic, translingual, online radio station focused on mobility, migration and climate transformation as central themes. In 2015 she co-founded TVGOV, a media company offering green data visualization. And in 2018 she co-started PUB, an experimental publishing platform within Sandberg Instituut, Amsterdam. She is currently co-director of the collaborative Fanfare, a design platform and studio for interdisciplinary collaboration and visual communication in Amsterdam, NL and tutor in the Design department at Sandberg Instituut.
Chorros. Exhibition by Agustina Woodgate.
Until May 6, 2023.
BARRO Gallery. Caboto 531, City of Buenos Aires, Argentina.
Subscribe
to receive the latest news and articles written by experts
May interest you