MEXICO - LANAO EXHIBITS "TO EAT ONE'S EYE, TO METABOLIZE PAINTING"
The group show runs until August 26 at the laNao space in La Condesa, Mexico City. Curated by Manuel Sentíes, COMERSE EL OJO (TO EAT ONE'S EYE) revolves around painting. The artists Anaís Vasconcelos, Luis Figueroa, Lucas Lugarinho and Enrique López Llamas participate.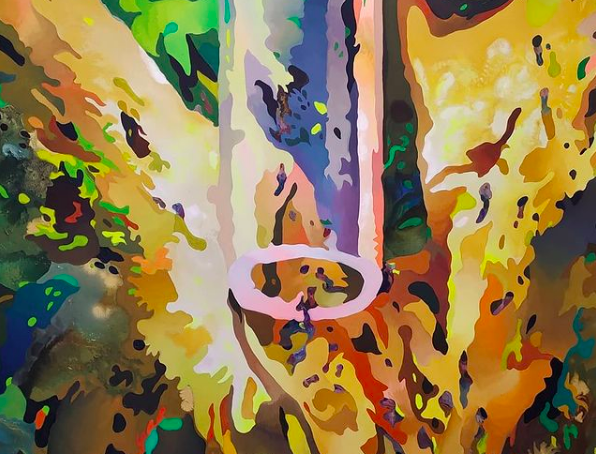 laNao inaugurates its second temporary exhibition of contemporary art entitled COMERSE EL OJO, para metabolizar la Pintura (TO EAT ONE'S EYE, to metabolize painting), which deals with current approaches to painting: overcoming the question of the specificity of the medium and seeking to account for this practice as a trans-media and relational space.
Anaís Vasconcelos (Tijuana, Mexico 1993) includes in her production, mostly paintings, themes such as daily life, the feminine, fetishes, the city and its uncertainties.
Luis Figueroa (Caracas, Venezuela 1993) investigates how fiction constitutes identity through painting. His pictorial work often consists of images of landscapes occupied by characters from historical events, collective imaginations, and personal experiences. The nature of his images seeks to refer to the fragility of the places we occupy. His work is complemented by an investigation on color, focused on its relationship with the spiritual.
Lucas Lugarinho (Rio de Janeiro, Brazil, 1992) lives and works in Mexico City. He studied Painting at the Escola de Belas Artes de Rio de Janeiro (2010 - 2016) and is a former student of Telecommunications (2007 - 2009), an experience that significantly influences his artistic practice: contextualizing his interest in scale computing global and the themes of digital culture, the virtualization of nature and the mutualism between images and humanity.
Enrique López Llamas (Aguascalientes, México. 1993) has a degree in Visual Arts from the University of Guanajuato and is a member of the Educational Program SOMA Generación 2021. His work explores current and personal phenomena through the appropriation of strategies and images in the history of art and political history of your country. He analyzes notions such as tradition, fiction, memory, humor and nostalgia, developing ideas that are translated into media such as painting, drawing, video, performance and installation.
laNao is a platform for the development and professionalization of emerging contemporary art in Mexico that seeks to encourage new collecting and provide a formal space for artists and curators. Located in a renovated space in La Condesa in Mexico City, laNao responds to a generation's needs of having access to formal places of production, exhibition, dissemination, sale and analysis of work through three lines of action: gallery , production incubator and a public program.
COMERSE EL OJO, para metabolizar la pintura
Until August 26th
laNao gallery
Av Michoacán 75, Hipódromo, Cuauhtémoc
06100, Mexico City, CDMX
Related Topics
Subscribe
to receive the latest news and articles written by experts
May interest you