LUIS HAMPSHIRE'S INFINITE ENSEMBLE. THE EXHIBITION AT KAREN HUBER
From 05/01/2023 to 08/01/2023
Karen Huber
Mexico City, Mexico.
CUERPO VASIJA (BODY VESSEL) is the exhibition at Karen Huber Gallery that presents a selection of recent works by Luis Hampshire.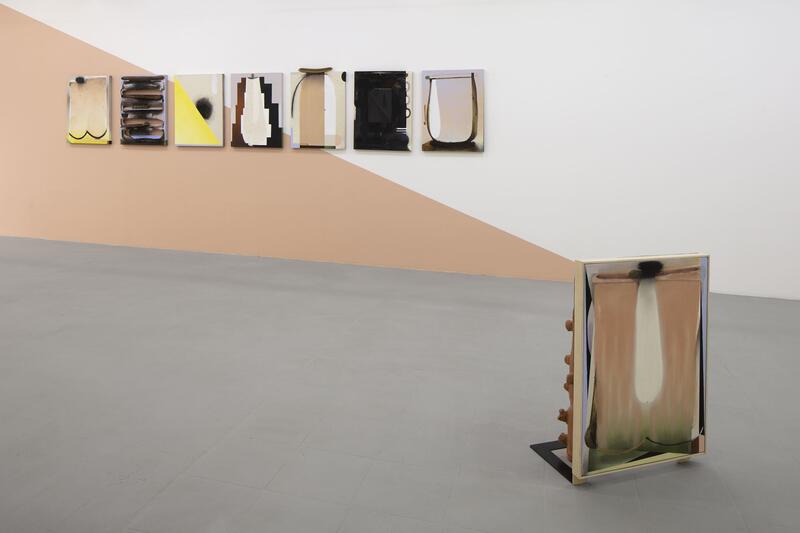 The artist understands his creative process as an infinite assemblage that, like the culture in Oaxaca, subverts a unique identity by offering complex spaces of relationship with other cultures and identities. In his third exhibition at the gallery, a hybrid and mutable body of work can be appreciated, full of details and poetic elements that project moments of consciousness and intuition of the artist's passage through the world.
Color is taken as space, as an event that propitiates the body to inhabit and be a moment in space. Painting as an awareness of the instant where everything flows and is and escapes, but leaves residues, detritus of the world for others to signify their world. Painting as a symbol of possible futures.
Ideas are made possible through the display of numerous canvases that stretch along the white walls, which are interrupted by the triangles of color that the artist painted. On the floor, four canvases contain elements that, between figurative and abstract, are reminiscent of vessels. Content translates into container, as the artist has turned the canvases into sculpture by holding them upright on a metal and clay structure.
Luis Hampshire's work has been exhibited individually and collectively, being his most recent exhibition amalgama, a solo show at the MUPO (Museo de los Pintores Oaxaqueños). Luis Hampshire stands out, not only for his pictorial production, but also for positioning himself as a prominent agent of contemporary art institutions; he was director of the Rufino Tamayo Plastic Arts Workshop in Oaxaca from 2011 to 2013, director of MUPO (Museo de los Pintores de Oaxaca) from 2013 to 2017 and, since 2009, he has been a professor of the Painting specialty and the Contemporary Art chair at the School of Fine Arts of the Benito Juárez University of Oaxaca (UABJO).
Cuerpo vasija. Solo exhibition by Luis Hampshire.
Karen Huber Gallery. Buccareli 120. Colonia Juárez/Centro Cuauhtémoc. Mexico City, Mexico.
Subscribe
to receive the latest news and articles written by experts
May interest you