WHAT HAPPENS WITH CHANGE? PILAR ELGUETA IN +ARTE
From 06/01/2023 to 06/23/2023
+ARTE
Quito, Ecuador
Tranquilos en medio, duermen (Quiet in the middle, they sleep) is Pilar Elgueta's first exhibition at +ARTE gallery, promoted by Galería NAC. It is a first pilot instance that kicks off its Latin American Residencies and Exchanges project, which seeks to expose, make visible and continue the internationalization of young artistic projects, thus enhancing dialogues and collaborations between different galleries, spaces and agents of Latin American contemporary art.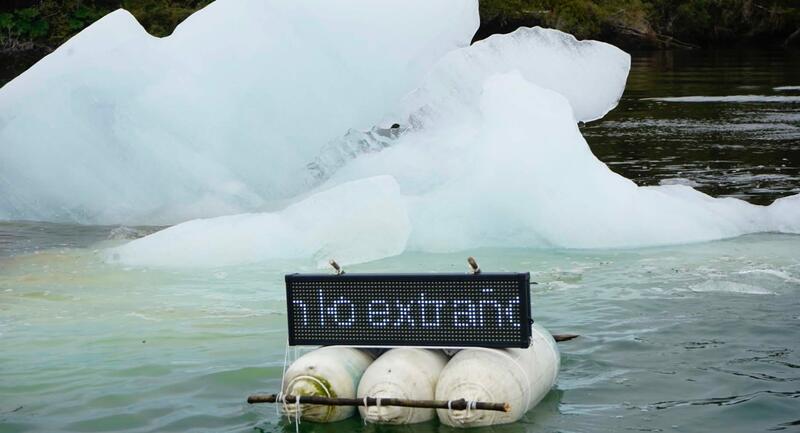 How do we form new and meaningful connections through art? How do we genuinely collaborate and create with each other? Since 2022, +ARTE gallery proposes a group of exhibitions that brings together the work of local and international artists to consider these questions and, through their respective work, reflect on reality. Pilar Elgueta's exhibition is part of the fourth proposal of this project.
Through a set of multimedia investigations, ranging from video art, sound installation and graphic and editorial projects, the artist uses and deconstructs landscapes, words, stories and symbols, guiding the viewer to an intimate and sometimes immersive experience; as if her works to some extent unveil keys or secrets of a greater whole, referring to a fragile, liquid or mutable balance. Small natural disasters in incessant loop; fragmented bodies of oxygen, ash or water, translations of moving images that never perish, explode or collapse completely, but rather breathe in dialogue and circular latency.
The exhibition was born as a reflection on the idea of change, no longer as an isolated event, but rather as a continuous and permanent state. Everything is an event at a time when the ecological, the political and the personal issues converge in a period of sustained planetary crisis that implies a new adjustment of meaning, on the one hand, and the overture of powers, on the other. How to raise and sustain new types of thinking to reconfigure our relationships with and on the earth, and thus, open the question about new ways of inhabiting –with and in relation– to the flow of time.
Pilar Elgueta (Santiago, Chile, 1989) is a graduate of the School of Art of the Pontificia Universidad Católica de Chile. She won first place in the 10th version of the MAVI Arte Joven Contemporáneo Award. Her work is part of public and private collections.
She has had exhibitions in Chile and abroad since 2011 to date; in places such as Museo de Arte Contemporáneo MAC (Santiago, Chile), Museo de Artes Visuales MAVI (Santiago, Chile), Sala Balmaceda Arte Joven in the framework of SACO6 (Antofagasta, Chile), Asia Contemporary Art Platform NON Berlin (Berlin, Germany), Ambos Mundos Gallery (Buenos Aires, Argentina), Espacio Lalitho (Oaxaca, Mexico), NAC Gallery (Santiago, Chile), Espacio 550 (Santiago, Chile), Centro Cultural Matucana 100 (Santiago, Chile), among others.
She has carried out research residencies and production of work from 2016 to date; in collaboration with the Museo de Artes Visuales MAVI, with Molten Capital at the Museo de Arte Contemporáneo MAC, with Ambos Mundos in Epecuén, Argentina and with Estudio Abierto in Oaxaca, Mexico.
Tranquilos en medio, duermen. (Quiet in the middle, they sleep). Solo exhibition by Pilar Elgueta.
Until June 23, 2023.
+ARTE. Av. 12 de Octubre N26-48 and Lincoln, Mirage PB Building, Quito, Ecuador.
Subscribe
to receive the latest news and articles written by experts
May interest you