LATIN AMERICAN ARTISTS IN WHITECHAPEL
From 02/09/2023 to 05/07/2023
Whitechapel
London, Reino Unido
Whitechapel Gallery presents Action, Gesture, Paint: Women Artists and Global Abstraction 1940-70, a major exhibition of 150 paintings from an overlooked generation of 81 international women artists.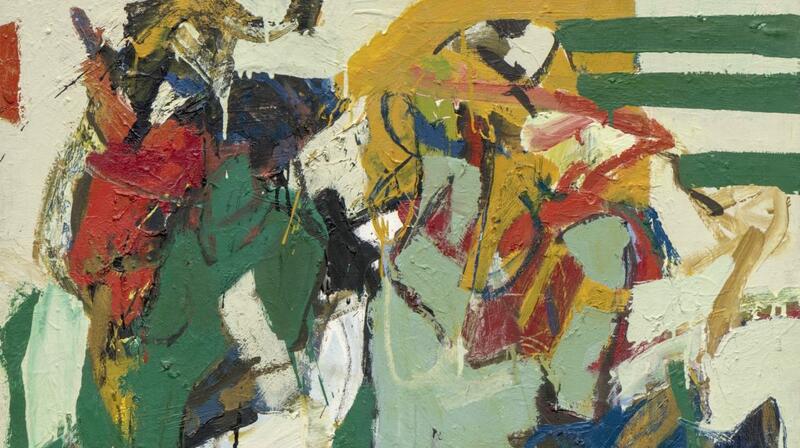 Reaching beyond the predominantly white, male painters whose names are synonymous with the Abstract Expressionist movement, this exhibition, produced in collaboration with the Fondation Vincent van Gogh, Arles, and Kunsthalle, Bielefeld, celebrates the practices of the numerous international women artists working with gestural abstraction in the aftermath of the Second World War.
It is often said that the Abstract Expressionist movement began in the USA, but this exhibition's geographic breadth demonstrates that artists from all over the world were exploring similar themes of materiality, freedom of expression, perception and gesture, endowing gestural abstraction with their own specific cultural contexts – from the rise of fascism in parts of Latin America and East Asia to the influence of Communism in Eastern Europe and China.
Regarding the catalog edited by Laura Smith, the Whitechapel website remarks: "At a time when the world was processing the anxieties of the Second World War and navigating a backdrop of deeply conflicted political climates, artists began to express their concerns in a new form of art that embraced personal and political freedom. Ironically, the reach of this 'freedom' has been limited to the white, male, and Western perspective. The overlooked narrative of gestural abstraction is kaleidoscopic, broad in its geographical breadth, in its definition and, crucially, it is female".
Essay contributors include Agustín Pérez Rubio, Griselda Pollock, Elizabeth A. T. Smith and Iwona Blazwick. The exhibition features well-known artists associated with the Abstract Expressionism movement, including American artists Lee Krasner (1908-1984) and Helen Frankenthaler (1928-2011), alongside lesser-known figures such as Mozambican-Italian artist Bertina Lopes (1924-2012) and South Korean artist Wook-kyung Choi (1940-1985). Among the late Hispano-American artists, the exhibition included works of the Spaniard Juana Francés (1926 - 1990), the Portuguese María Elena Viera da Silva (1908-1992), the Venezuelans Mercedes Pardo (1921-2005) and Elsa Gramcko (1925-1994), the Argentinean Sarah Grilo (1917-2007), and the Japanese-Brazilian Tomie Ohtake (1913-2015), and the Peruvian Gloria Gómez Sánchez (1921–2007). In this review for The Guardian, Adrian Searle wrote about her art: "In her short career, Peruvian painter Gloria Gómez-Sánchez produced dense, almost monochromatic works that often-incorporated detritus. They look like a kind of residue, a painting degree zero. In about 1970 she stopped painting altogether, and little of her work survives."
Of the 81 participating artists only few are still alive: Chinyee (b.1929), a first-generation Chinese-American artist who associates herself with the New York School of Abstract Expressionism; American Marta Edelheit (b.1931) known as a pioneering feminist artist whose work of the 1960s addresses skin as a double "canvas" for tattoo imagery; Audrey Flack, (b.1931), who pioneered the art genre of photorealism, as well as the Lebanese Nadia Saikalim (b.1936) who achieves gestural freedom after drawing inspiration from geological elements, and the Syrian Asma Fayoumi (b. 1941), whose current work "engages with Syria's political crises and features maternal figures and female mythological forms."
The renown African American Sylvia Snowden (b. 1942), who affirms "The first painting I ever did was a social statement", and the stellar figure of Geometric abstraction in Colombia, Fanny Sanín (b.1938), were the only two artist that assisted to the inauguration, but other Latin American pioneers are actively creating art: the Cuban Zilia Sánchez (b. 1926), who developed in the 60s the technique of stretching on hand-made wooden frames reliefs to evoke bodies and reconnecting geometry with the feminine topography of Eros; and the Argentinean Martha Minujín (b.1946), one of the greatest pioneers of the happenings and the performance in the continent.
Fanny Sanín's statement heads her biography in the valuable catalog: "My language bears no relationship with reality, it is just a language". The text recalls that in Mexico "she befriended the Rupture generation, who were exploring lyrical abstraction in tone with the gestural expressions evolving in Paris and New York (…) However, Sanín developed a new language of hardedges (…) She settled permanently in New York in 1971 and dedicated the last five decades to the pursuit of visual equilibrium through meticulous, colorful and geometric abstract compositions". Referring to the pieces Oil No 4, Watercolour No 4 (2) and Watercolour (No.8), all of 1968, Elizabeth A.T. Smith affirms: "In the use of both watercolour and oil, her handling is vigorous and assured; in both mediums she achieves density of colour and crisp relationships among adjacent shapes." By her part, Sarah Kent, wrote for The Art Desk: "Born in Colombia in 1938 and living in New York, Fanny Sanin is one of the few artists here who is still alive. Switching from oil to acrylic she produced hard-edged abstracts comprising clusters of vibrant colour in opaque and translucent washes."
Simultaneously, the Whitechapel is presenting the parallel exhibition Action, Gesture, Performance: Feminism, the Body and Abstraction, focused on pioneering dance and performance practices by women artists who were using their bodies to explore freedom of expression, subjectivity and politics. Alongside with Martha Graham (1884 – 1991), who developed a new language of movement, which influenced Abstract Expressionist artist Judith Godwin; or Pearl Primus (1919 – 1994), who created a new approach to movement based on African-American, Caribbean and African dance, the exhibition pieces by the Cuban pioneer who Ana Mendieta (1948 – 1985), who fused in a unique way land art and performance art and explored themes of violence against women and the physical and spiritual connection between her body and the Earth. The feminist art practices by artists like Australian Renate Bertlmann (b. 1943) and German Annegret Soltau (b.1946) are present as well as the first feminist happening in South Korea which took place in 1968 with Jung Kangja (1942 – 2017). The exhibition includes also the Brazilian artist Lygia Clark (1920 – 1988) which expanded abstract painting and sculpture into collaborative actions which blurred the distinction between art and life.
Subscribe
to receive the latest news and articles written by experts
May interest you