EDGAR DE SOUZA'S REFLECTION ON HOW WE COMMUNICATE TODAY
From 03/29/2023 to 04/29/2023
Vermelho Galeria
São Paulo, Brasil
Edgard de Souza is showing a selection of works made during the least three years, including two in pandemic seclusion, in his third solo show at Vermelho. In the exhibition, the artist presents a set of four new sculptures in bronze, one in carved mahogany, and a series of new embroideries.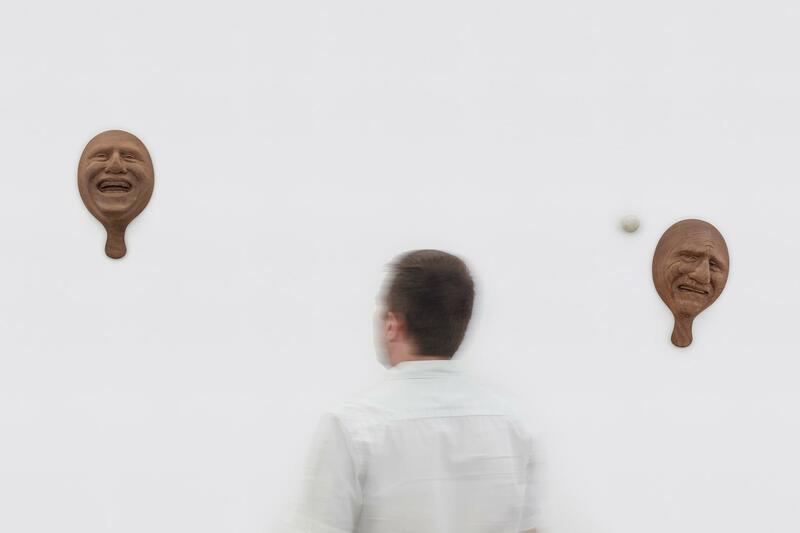 Edgard de Souza's sculptures subvert the elementary representation of the human body divided into head, body and limbs. In the bronze statue, two bodies appear joined at the torso in an ascending posture. The absence of specific particularities of the original model giving form to the work transforms this body into a model for the collective, a universal archetype characterized, according to the artist, by the distraction and impossibility of communication characteristic of our time.
Edgard de Souza's embroideries, handcrafted by the artist, dissolve into clouds of fragments, like a large collision of particles around a magnetic field. In the embroidery, we can observe the artist's body working, moving in a simultaneous movement of implosion and explosion, dissolution and evasion. The only figuration among the embroideries are cloud figures, in a comment on the search for images in gestural abstraction, which is similar to the game of looking for images in clouds.
"In times of intense denialism, rapid publications on the internet and fake news, we fail to communicate, we fail to listen. The dialogues turned into a violent ping-pong game, a dispute. In this context, the large bronze sculpture appears as a self-absorbed figure, a body reflected and enclosed in itself". Edgard de Souza.
Edgard de Souza's work starts from the decontextualization of everyday objects. With this operation, the artist seeks to destabilize concepts and conventions about art, proposing a new gaze at objects and forms that are around us, building new senses and meanings.
Another important aspect of his work is the production of objects and sculptures that refer to the human body. These are forms that approach the surrealist imagination, with signs and traces of ambiguous and fragmented corporeity, causing both estrangement and familiarity. Desire, sensuality, sexuality, and eroticism are aspects that acquire materiality in his works and provoke in the spectator the perception of himself and his human condition, his body, sensations, experiences and memories.
Edgar de Souza. Individual Exhibition.
Until April 29th, 2023.
Vermelho Galeria. Rua Minas Gerais, 350. São Paulo, Brazil.
Subscribe
to receive the latest news and articles written by experts
May interest you