A GEOLOGICAL REFLECTION ON QUEMAR LA TIERRA, THE EXHIBITION OF FABIANO KUEVA AND ROSELL MESEGUER
From 09/28/2022 to 10/21/2022
+Arte Gallery
Quito, Ecuador
A fusion of perspectives between artists Fabiano Kueva and Rosell Meseguer in Quemar la Tierra (Burn the earth), the exhibition at +Arte Gallery. Curated by Katya Cazar.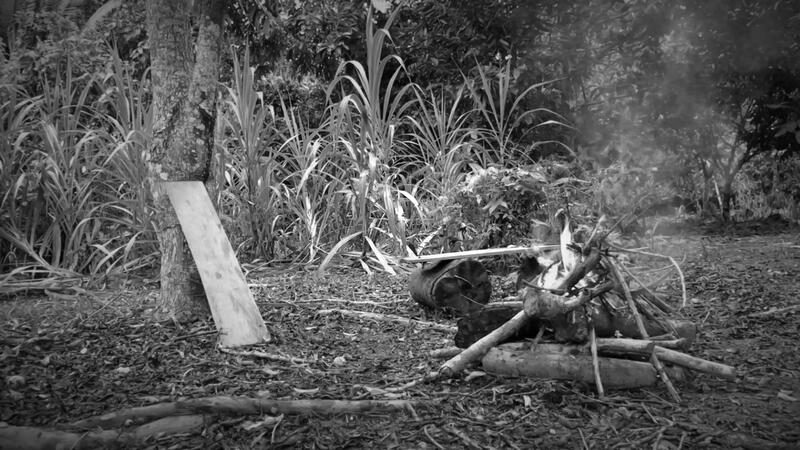 The joint exhibition by artists Fabiano Kueva and Rosell Meseguer explores the performative arts of "keeping and catching". While Meseguer delves into the archaeological layers of minerals to tell a story of the foundations, Kueva turns to fire because of its power to leave a mark.
Both search into the political, social and cultural implications of the geological elements they explore: mining, excavations, fires and the damage they cause. "Art starts from the elaboration of stories, it starts from the real presence; art is erected on previous vestiges and ruins; art, as a permanent gesture of protest, does not forget", says Katya Cazar, curator of the exhibition.
Fabiano Kueva is a member of the collectives Películas La Divina (1992-1997), Centro Experimental Oído Salvaje (1996-2016) and Laboratorios Solanda (2016-present). He participated in projects in museums, public spaces and community contexts; air, satellite and web broadcasts; several albums, books and published articles. He won the Radiodrama Award at the 3rd Latin American Radio Biennial (Mexico, 2000); Paris Award at the 9th International Cuenca Biennale (Ecuador, 2007); New Mariano Aguilera Award (Ecuador, 2007); New Mariano Aguilera Award (Ecuador, 2007).
Nuevo Mariano Aguilera (Ecuador, 2015); Best International Feature Film Chiloé International Film Festival (Chile 2021); Acquisition Award 15th Cuenca International Biennale (Ecuador, 2021). He was a participant in the 10th Havana Biennial (Cuba, 2009), 2nd Montevideo Biennial (Uruguay, 2014) and 56th Venice Biennial (Italy, 2015). He currently lives and works in Ecuador.
Rosell Meseguer was born in Orihuela (Alicante-Spain). Her relationship with the coast and the limits of space, as well as her childhood visits to the shipyards of Cartagena (Spain) and the mines of La Unión marked her themes of war, coast and mining and their relationship in the landscape. She is a visual artist and holds a PhD in Fine Arts from the Universidad Complutense de Madrid, where she currently teaches. Since 2005 she has been developing her professional activity between Europe and Latin America through collaborations with museum institutions, art galleries and workshops.
BURNING THE EARTH. Exhibition by Fabiano Kueva and Rosell Meseguer.
Until October 21.
+Arte Gallery. 12 de octubre N26-48 y Abraham Lincoln, Edificio Mirage, PB, Quito, Ecuador.
Subscribe
to receive the latest news and articles written by experts
May interest you