MAGDALENA FERNÁNDEZ WINS INTERNATIONAL CODAawards
When artists, designers, industry resources, and clients work together, common places are transformed into spectacular spaces. CODAworx, the hub of the commissioned art economy, has announced the winners of the ninth annual international CODAawards: Collaboration of Design + Art. The CODAawards recognize collaborations that result in outstanding projects which successfully integrate commissioned art into interior, architectural, or public spaces.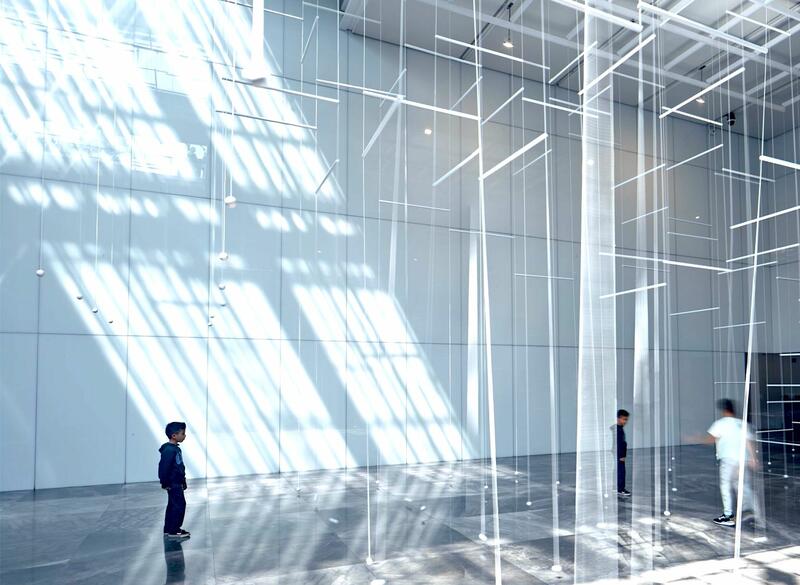 3i019, thesite-specific installation by Fernándezat Museo Amparo, received Merit honors in the Institutional category. The project was developed in collaboration with the Museum Amparo's team, in charge of the production, and Carlos Arturo Fernández as advisor. The project features a modular structure, made up of white cords and tubes placed at different heights, suggesting a light and mobile reinterpretation of the modular architecture of the building.
Several objectives were pursued simultaneously in the design of this installation. First, to thematise the modular structure of the building by expanding it transparently into the void, through the suspension of light materials creating a condition of "unstable equilibrium" that optimizes constant movement (the power of transformation) as a counterpoint to stability. Secondly, to convert this modular structure in movement into a kind of "skin" that manages to coherently unify the different spaces and places in the building, and that by occupying the entire space of the foyer, extending to the ceiling of the cafeteria, can be seen from the entrance, the intermediate floor and also the floor leading to the roof and cafeteria.
Magdalena Fernández (Caracas, Venezuela, 1964) lives and works in Caracas. Her studies began in the fields of physics and mathematics, and then she began to explore design graduating in Graphic Design in 1989 from the Neumann Institute in Caracas.
She has exhibited in Venezuela, Mexico, the United States, Spain, Colombia, Switzerland, Portugal, Italy, the United Arab Emirates, Guatemala, Turkey, Cuba, England, among others. Winner of numerous national and international awards, Fernández's work can be found in important collections and institutions such as the Museum of Contemporary Art (MoCA), Los Angeles, USA; Museo Nacional Centro de Arte Reina Sofia, Madrid, Spain; the National Museums Foundation. Caracas Venezuela; the Patricia Phelps de Cisneros Collection (CPPC), Venezuela / USA; Pérez Art Museum Miami (PAMM), USA.
"The CODAawards recognize the importance of collaboration, and honor the design and art professionals whose collective imaginations create the public and private spaces that inspire us," said Toni Sikes, CEO of CODAworx.
In its ninth year, the CODAawards received 374 entries from 19 different countries around the globe, representing over $463 million USD in commissions. The merit winners exemplify the best of what can happen when artists and design professionals collaborate to create artful spaces in our built environment.
Subscribe
to receive the latest news and articles written by experts
May interest you