THE LATEST ACQUISITIONS OF EDUARDO COSTANTINI
Eduardo F. Costantini adds key pieces of Latin American art to his collection, setting Wilfredo Lam and Remedios Varo records for the highest price in the first auction broadcast live from Sotheby's, adding to the 21 central works of Latin American art he acquired in the last year with an investment of more than 25 million dollars, most of which belonged to private collections and will be publicly exhibited again after 30 years.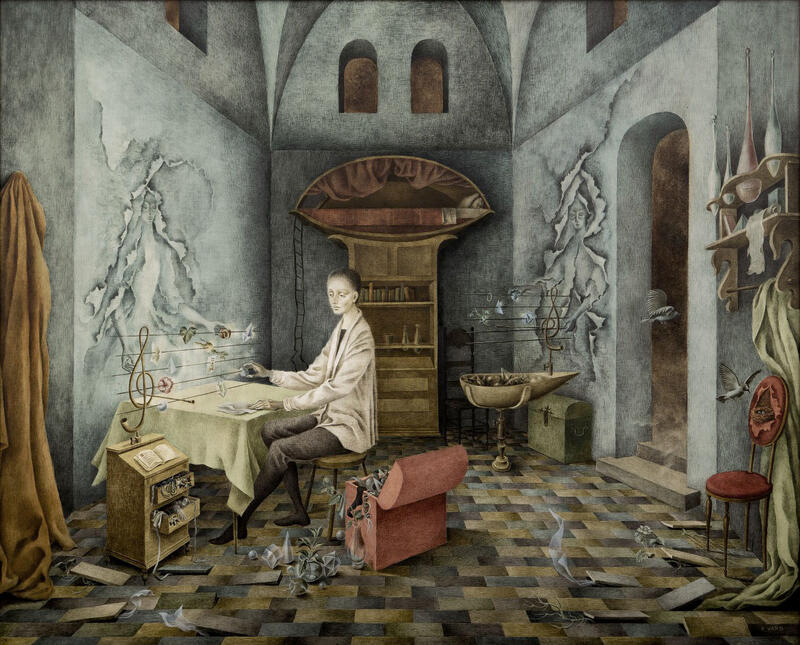 In the mid of the first pandemic year, precisely in June 2020 and simultaneously from New York, London and Hong Kong, Eduardo F. Costantini - founder of MALBA- managed to incorporate two masterpieces of Latin American art into his collection within the context of the first Sotheby's "livestream" auction. The works are Omi Obini, from 1943, an oil on canvas by Wilfredo Lam for USD $ 9.6 million and Armonía (Suggestive Self-Portrait), from 1956 by Remedios Varo for USD $ 6.2 million. The two pieces marked the maximum price for each artist.
"It is very difficult for this type of superlative works to appear in the open market and when they do, I try to buy them because it can take fifty years to see them again" explains Eduardo Costantini who, at the same auction, also bought Autorretrato (1951) by the surrealist poet and author Alice Rahon and Paisaje Cubano (1943) by Mario Carreño, a figure of the Cuban avant-garde together with Lam.
"With a focus on modern Latin American Art, my goal has always been to bring together outstanding pieces from the most pivotal periods by the most significant artists of the region " Costantini synthesizes.
With works that exceptionally appear for sale and under the motto "The spirit of Avant-garde", Sotheby's presented a unique set of works of Modern Art and American Surrealism.
Let's dive a little now into some of the latest acquisitions that will soon be accessible to the public along with the paintings of Frida Kahlo, Diego Rivera, Xul Solar, Tarsila do Amaral and Antonio Berni, among others.
Wifredo Lam. Omi Obini, 1943
Oil on canvas, 177,8 x 126,1 cm
Cubism and Surrealism are combined with the music and forms of the Caribbean. The work functions as a reaffirmation of Lam's interest in what he dominated "la cosa negra" and that ranged from the primitivism typical of the European avant-garde and its Afro-Cuban culture to the fight for the rights of the Afro-descendant population. Influenced by the theories of Carl Jung and inspired by primitive masks and African art after his time in Paris, where he was under the tutelage of Picasso, Lam presents in Omi Obini one of the most relevant aspects to understand his production and his life after his return from Europe during WWII.
Remedios Varo. Armonía (Autorretrato sugerente), 1956
Oil on masonite, 75 x 92,7 cm.
Made in 1956, Armonía is a canonical example of the complex visual system of Remedios Varo (Spain, 1908 - Mexico, 1963). Mimicking the principles of scientific illustration, Armonía's technical precision deepens the illustrations she produced during a scientific expedition to the Orinoco River in Venezuela a decade earlier. Varo presents his pictorial universe with a scientific sensibility as a method to explain what is mythical. This procedure, indispensable in the founding and iconographic wealth of her paintings, makes her one of the artists with the most significant contributions to the history of surrealism.
Victor Brecheret. Tocadora de banjo, 1925
Marble, 92 x 67 x 23 cm
Vicente do Rego Monteiro. Urso, 1925
Oil on canvas, 60 x 73 cm
Between February 13 and 17, 1922, the Semana de Arte Moderno began at the Municipal Theater of Sao Paulo. A night of "idéias novas" as explained in the speech by Graça Aranha. La Semana was intended to break with the colonial past alien to Brazilian realities and who best exposed these ideas was Oswaldo de Andrade in his book Macunaíma, six years later, considered one of the capital works of the Brazilian narrative of the 20th century, where through an act of cannibalism, ideas brought from outside had to be devoured to engulf what would become "the anthropophagic movement" or Brazilian Modernism.
Tocadora de banjo and Urso allow us to understand the Brazilian contributions of the early 1920s to global art history. With both artists participating in Semana de Arte Moderno, the works recently acquired by Costantini make the synthetic forms of cubism and the European avant-gardes their own. Urso, shows a great animal heir to the Brazilian cultural heritage and painted in the earth colors of the typical ceramics of the Marajoara culture, while Brecheret with his banjo player represents the national spirit of the time as an impulse towards new art.
Also from Brazil, pieces by Rubens Gerchman, Antonio Dias and Augusto de Campos stand out among the latest acquisitions. Likewise, Alejandro Otero adds two works to the Costantini Collection of his Coloritmos series along with artistic works by Alipio Jaramillo, Carlos Mérida, Rafael Barradas and Facundo Zuviría with his iconic Siesta Argentina (2001-2003), which is also part of the MoMA Collection.
Last but don't least, don't miss the conversation between Eduardo F. Costantini and Diego Costa Peuser, Executive Director of Arte Al Día and Pinta group. The exchange took place on the occasion of the LiveTalk experiences of Pinta Miami. In addition to these interviews with great collectors and gallery owners, there is also OpenFile, a series of short videos in which artists participating in the fair present their work.
Subscribe
to receive the latest news and articles written by experts
May interest you