OF YESTERDAY AND TODAY. HILARIO ONLINE AUCTION
The gallery Hilario. Artes Letras Oficios, from Buenos Aires, presents a new online auction, this time with seventy-eight lots, always with its boutique auction house style with highly selected and studied works.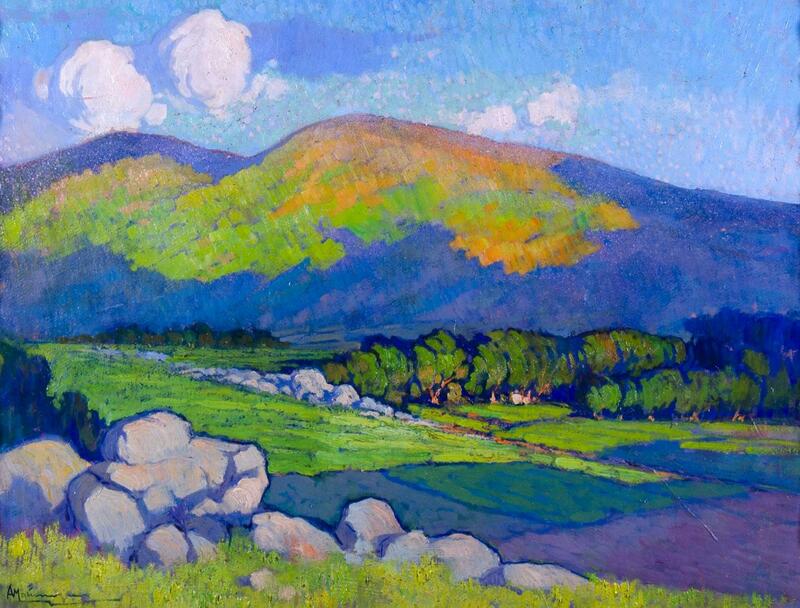 Among the selected paintings, two oil paintings captivate interest: a view of Aconcagua by the Parisian painter Andrée Moch (1879 - 1953), a committed feminist in her time, with a work difficult to find on the market. Today, A. Moch is present in "The accidental canon. Women artists in Argentina (1890-1950)", the exhibition at the National Museum of Fine Arts in Buenos Aires, curated by Georgina Gluzman. The other landscape that captivates in Hilario's catalog bears the signature of Atilio Malinverno (1890 - 1936), an oil given by the teacher to a student -an artist who will surely soon be a subject of study in the history of Argentine art- as a wedding gift in 1923. The painting was always kept in the family's possession.
Also in the art section, there is a woodcut that bears the signature of Víctor Delhez (1902 - 1985), Portrait of a Young Woman, which captivates with its straight lines creating suggestive curves.
Regarding photography, Hilario is a reference in South America in the category of vintage photography and will participate in the next edition of BAphoto 2021. On this occasion, a small carte-de-visite is exhibited with the presence of the gaucho in the Universal Exposition of Paris, 1867. In perfect condition, the image contains the figure of a pampas rider on horseback; It is a mannequin, only in the next edition of this great festival, Paris received the gauchos themselves as a curious human zoological garden that at that time attracted crowds and that today is the recipient of heavy criticism, even inspiring contemporary art. This can be seen in Zoo, the archive exhibition of the Chilean artist Voluspa Jarpa, today exhibited in Malaga (Spain) within the framework of BIENALSUR.
As always, antique maps captivate, one of them small and endearing, with the southernmost region of South America engraved around 1740, now the subject of a border conflict between Argentina and Chile. And among the antique furniture, the elegance of an ottoman (Argentina, first half of the 19th century) used in the man's private space in the house as a footrest.
And among other topics of interest, Creole silverware, old books and traditional textiles.
The bids are active on Hilario's site and close from 6.30 pm Argentina time, next Thursday, September 2.
Related Topics
Subscribe
to receive the latest news and articles written by experts
May interest you