"STOP PAINTING" - PETER FISCHLI EXHIBITS A PANORAMA ABOUT RUPTURE AT FONDAZIONE PRADA VENICE
Described by Peter Fischli as "a kaleidoscope of repudiated gestures", the project explores a series of specific ruptures within the history of painting in the last 150 years, intertwined with the emergence of new social factors and cultural values. The exhibition also intends to understand if the current digital revolution can also cause a new crisis of painting or, on the contrary, contribute to its renewal. Stop Painting is conceived by artist Peter Fischli with more than 110 artworks by international artists on view at the historic palazzo of Ca' Corner della Regina, Fondazione Prada's Venetian venue, from 22 May to 21 November 2021.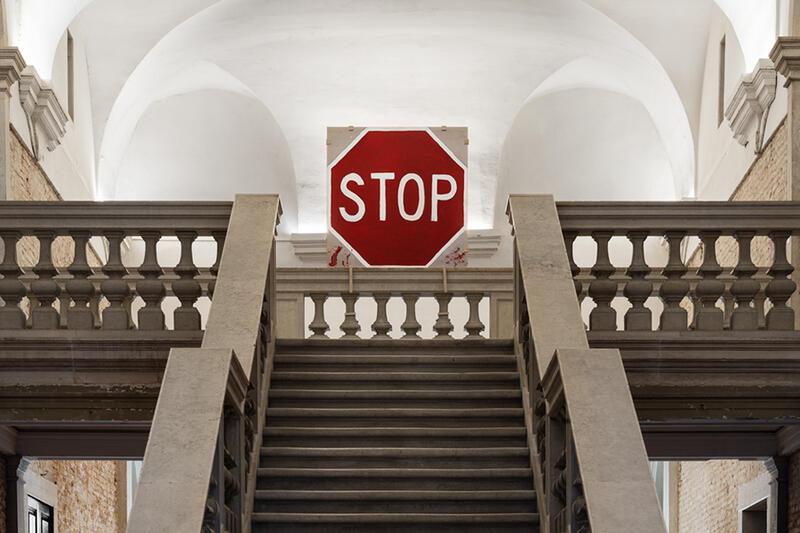 "Was the recurring ghost telling the story of the end of painting a phantom problem? And if yes, can phantoms be real?"
Peter Fischli
Fischli identified five radical ruptures caused by technological and social changes that marked artistic paradigm shifts through rejection and reinvention of painting.
The first rupture was provoked by the diffusion of photography. As underlined by Rosalind Krauss, "Photography calls into question the whole concept of the uniqueness of the art object, the originality of the author… and the individuality of so-called self-expression." This is the reason that led painter Paul Delaroche to exclaim for the first time around 1840 the famous and shocking sentence: "from today, painting is dead."
The second crisis is represented by the invention of the readymade and the collage that pushed painting to extend itself and "move beside itself in space through objects," as noted by David Joselit.
The third one was provoked by the questioning of the idea of authorship, or as defined by Roland Barthes in 1968 "the death of the author". In any case authenticity and originality issues had been addressed by artists several years earlier.
The fourth crisis can be identified with the critique of painting as a commodity, because of its mobility, its symbolic value, and its easy preservation, in the late Sixties.
The fifth rupture focuses on the crisis of criticism in the so-called late capitalist society, as formulated in the seminal studies by Luc Boltanski and Eve Chiapello. "Since the 1980s the idea of an avant-garde became obsolete and dissolved and, again, the end of a critical position in painting was proclaimed", as noted by Fischli.
Related Topics
Subscribe
to receive the latest news and articles written by experts
May interest you