PINTA SOLO PROJECTS - A NEW EMPHASIS
With the curatorship of Oscar Roldán and Luis Fumero, the Solo Projects section acquires a stronger protagonism this year. The section is dedicated to gallery exhibitions that consist of works by a selected artist; the perfect opportunity for visitors to relate more profoundly and personally with the artists.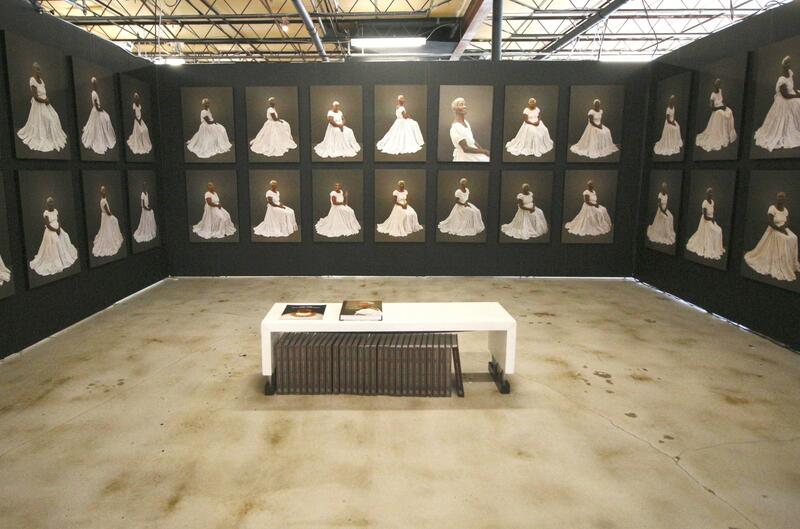 "This year, the Solo Projects section captures the artists' work in the aftermath of the pandemic" shares Fumero. "Now what?... Many ask themselves; we strive to assess and grasp the new places to which contemporary art has taken us. Are we still the same? Are we trying to go back to where we were? Or, has everything changed? Art has always been a visionary epitome of the road humanity eventually takes… so, what will we find in it? And what's behind it?"
Fotos 1--5
A special highlight is given in this section to Ruby Rumié, from the Nohra Haime gallery in New York. This Colombian multidisciplinary artist depicts the artist's responsibility towards the community in a photographic installation that embodies social and territorial heritage as a creative approach to violence and injustice. In the way she portrays her subjects, Rumié provides deep psychological insight and a powerful sense of identity.
Fotos 9-11
Participating artists and their galleries:
Mariana Cordoba (Art Concept Alternative) - Alejandro Pintado (Galería Ethra) - Alejandro Tobón (Galería José Amar) - Alix Born, Carola Albe, Carolina Tumbarello, Claudia Leonelli, Fer Zannol, Isabel Benítez, Lala Bocci and Vero Campos (GALLERyLABS) - Yutaka Mori (Llamazares Galería) - Teresa Pajares (Martín de Vidales Art) - Ruby Rumie (Nohra Haime Gallery) - Lucero Gonzalez Jameson (O Art Project) - Karina Skvirsky (Ponce+Robles) and Juan Raúl Hoyos (Tanya Brillembourg Art Partners)
Fotos 6-8
Oscar Roldán holds aMasters degree in Plastic Arts and is Magister in Political Science by the University of Antioquia. As an independent artist, he has held several solo and group exhibitions at national and international scales for which he obtained significant mentions and distinctions. In addition, he has led several cultural projects of a collective nature. In 2002, he began to develop cultural and curatorial research and between 2008 and 2014 he worked as Chief Curator at the Museum of Modern Art of Medellin. In 2010 he founded the ALBO Program, a cultural intermediation platform that promotes site-specific projects by young Colombian artists in the art gallery Casa de la Música, Medellín. Also, in 2013 he was one of the five curators of the 43SNA - Saber Desconocer, held in Medellin.
As a political scientist, he maintains an analysis and research activity that he presents with a focus in History and Art Theory for multiple publications and academic settings. His Master's degree research project is titled Art as the Constituent Power, Ten Cases in Colombian Art between 1995 and 2005.
Roldán currently directs the Department of Cultural Extension of the University of Antioquia, where he also participates in academic research in the Faculty of Arts, and is the Curator of Casablanca, Museo Débora Arango. Among his most recent curatorial research projects are: "Sociales. Débora Arango llega hoy…" by artist Carlos Garaicoa and "Medellín, transformación de una ciudad", which was presented as an exhibition and book at the Assembly of the Inter-American Development Bank - IDB.
Luis Fumero has developed programming and curatorial assistance works with curator Roc Laseca since 2010. During this period, he has carried out institutional projects and exhibitionS by artists such as: Kosuth, Garaicoa, Marcius Galán, Kounellis, Eugenio Espinoza.
He has also been in charge of the production of Los Encuentros Denkbilder, a biannual program of experimental artistic exchange that takes place in Tenerife, in which he has articulated initiatives together with the directors and academic directors of Tate Modern, London; École Nationale de Beaux-Arts, Paris; and MoMA, New York, among others. In recent years he has co-curated the Pinta Platform Section, where artists such as Esther Ferrer, Okumura, Gurvich, Espinoza have participated.
Related Topics
Subscribe
to receive the latest news and articles written by experts
May interest you