FONDATION BEYELER CELEBRATES ITS 25TH ANNIVERSARY
In 2022, the Fondation Beyeler's exhibition programme takes place under the banner of its 25th anniversary. It launches with a major retrospective on Georgia O'Keeffe, followed by the summer exhibition "Mondrian".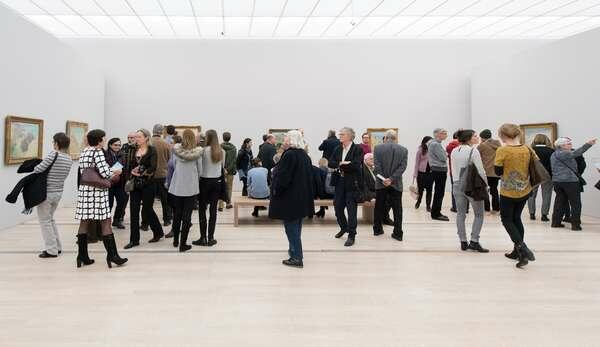 Exhibitions 2022
Georgia O'Keeffe
23 January – 22 May 2022
The exhibition highlights Georgia O'Keeffe's distinctive way of contemplating her environment and translating it into novel, unprecedented images of reality. From her earliest abstractions to her iconic depictions of flowers and landscapes from the American Southwest, the exhibition brings together a large selection of paintings from public and private collections, some of them only rarely displayed.
Passages – Landscape, Figure and Abstraction
12 February – 14 August 2022
The interplay between figuration and abstraction is a fascinating subject in modern art. The new presentation of the collection illustrates this by juxtaposing important paintings and sculptures from impressionism, classical modernism, and contemporary art.
Sondra Perry: Lineage for a Phantom Zone
13 February – 13 March 2022
The work imagines a dream about the artist's grandmother that Perry wishes she could have had, thereby exploring her personal history as the roots of dreams, her view of the erasure of Black history in the American South, and the dream space as a passage for reaching sites of heritage that are absent in reality.
Mondrian
5 June – 9 October 2022
As one of the most important artists of the avant-garde movement, Mondrian shaped the evolution of painting from figuration to abstraction. His early work was influenced not only by late 19th century Dutch landscape painting but also by Symbolism and Cubism. While the collection of the Fondation Beyeler focuses primarily on works from the later phases of Mondrian's career, the exhibition will look at his development as an artist up to the 1920s and the stylistic genesis of his later work.
Fondation Beyeler
Baselstrasse 101, 4125 Basel, Switzerland
Related Topics
Subscribe
to receive the latest news and articles written by experts
May interest you