MIAMI INTERNATIONAL AIRPORT EXHIBITS "THE EARTH LAUGHS IN FLOWERS"
As travelers walk near Miami International Airport's gate D29, Miami-based painter Yolanda Sánchez invites them to also walk through an imaginary garden of Korean-inspired, translucent fiber constructions in luscious, vibrant colors with The Earth Laughs in Flowers, the latest exhibition at MIA's "The Eye Has to Travel" Gallery.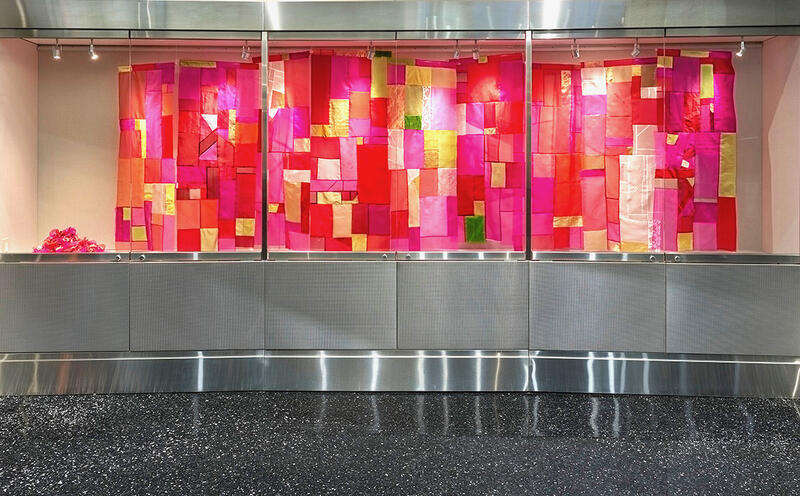 Sanchez's Korean-inspired Bojagi textile work extends and interprets the basic structure of Bojagi to a more contemporary form, varying in medium and size, and utilizing color compositions and stitching techniques that are less anchored to traditional methods.
Bojagi, a traditional Korean wrapping cloth created by piecing scraps of fabric, artfully re-stitched into functional forms, provides the framework for this site-specific installation. Bojagi was established in Korean culture through folklore that suggested that to have something wrapped is equal to having good fortune.
"Kudos to MIA for continuing to feature dynamic exhibitions like The Earth Laughs in Flowers, which provide passengers a colorful and entertaining diversion from the hustle and bustle of traveling," said Miami-Dade County Mayor Daniella Levine Cava. "I am always proud to see the work of our gifted local artists on display throughout MIA, where visitors get their first impression of the rich culture and artistic talent Miami-Dade County has to offer."
"The Earth Laughs in Flowers reflects the light and color of Sanchez's immediate, tropical environment," says Gendry Sherer, MIA Fine Arts and Cultural Affairs Director. "It is enthused explicitly by local color - a palette of rose, pinks, reds, and fuchsia -- native flowers such as hibiscus, ginger, heliconia, and anthurium. Her desire is to create a sense of place and to project a joyful, playful, and even spiritual atmosphere. Whether in painting or textiles, Sánchez's desire is to engage the viewer in a gratifying sensory experience that provides a moment of contemplation."
Born in Havana, Cuba, Yolanda Sánchez immigrated to the United States in February 1960. She obtained a Ph.D. in Clinical Psychology from Florida State University and has practiced and taught psychology at the graduate level for over 30 years. In her mid- thirties, Dr. Sánchez returned to school, obtaining a BFA and subsequently, an MFA from Yale University in painting. She is a Fulbright scholar, completing her fellowship as a painter in Spain. Most recently, she was a Visiting Scholar & Visiting Artist at the American Academy in Rome, Italy. Sánchez has taught at Florida International University, the University of Miami, Nova University and Yale University. Currently, Dr. Sánchez is a working artist, exhibiting nationally and internationally in numerous venues. In New York, she is represented by Kathryn Markel Fine Arts. She is also a curator and writer, and formerly Director of Fine Arts & Cultural Affairs at Miami International Airport, a position she held for 21 years.
Subscribe
to receive the latest news and articles written by experts
May interest you