MARCELO BRODSKY'S LA CLASE ENTERS THE MUSEO NACIONAL CENTRO DE ARTE REINA SOFÍA
Rolf Art announces the institutional acquisition by the MUSEO NACIONAL CENTRO DE ARTE REINA SOFIA (MNCARS) of the work La Clase, 1st year, 6th division, from the series Buena Memoria by Marcelo Brodsky (b.1954, Buenos Aires, Argentina).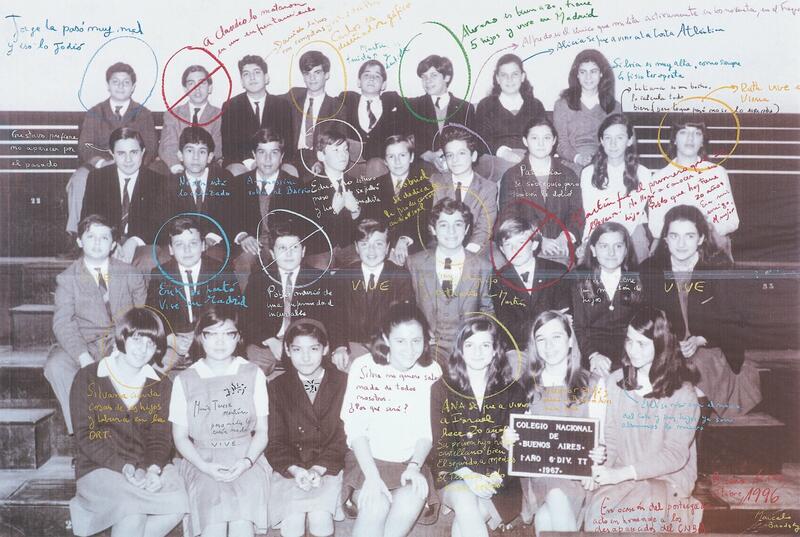 At the annual meeting of the International Patronage Council of the Fundación Museo Reina Sofía, held recently in Madrid, a series of donations of works that will become part of the Museo Reina Sofía Collection were approved. Among the selected works, the emblematic piece La Clase, 1st year, 6th division, from the Buena Memoria series by artist Marcelo Brodsky stands out.
Marcelo Brodsky's Buena Memoria series focuses on the times of Argentina's dictatorship during which the state systematically tortured and executed thousands of citizens, known as the disappeared. Led by General Jorge Rafael Videla, the military dictatorship seized power in 1976 and maintained its oppressive rule until 1983. Returning from exile in Spain to his homeland at the age of forty, Brodsky used family photographs as a starting point for a body of work that attempts to communicate the trauma of lived experience.
The work in the Buena Memoria series entitled La Clase, 1st Year, 6th Division, 1967-1996 is a large-scale reproduction of a photograph of his class taken that same year at the Colegio Nacional in Buenos Aires. On the surface, Brodsky has inscribed marks and notes in bright colors detailing the fate of his classmates. While some had married or emigrated, others were "disappeared".
Marcelo Brodsky's entire work is traversed by constitutive relationships between image and word. In Buena Memoria the laconic, archival tone of the information alludes to the impersonal discourse of history; the calligraphy, untidy and urgent, to memory, which can only reveal itself in the presence of a body. By transposing familiar vernacular materials and personal testimony into the public sphere, the artist provides an opportunity for others to identify with and be moved by, allowing an understanding of distant events. Brodsky explores photography's capacity to provide a meditative space between private memory and collective histories.
Marcelo Brodsky's project offers a subjective narrative in which photography acts as memory. Committed to the struggle to defend social causes related to human rights, his work is largely related to situations inherent to the violence in the times of military dictatorship in Argentina (1976-1983), the persecution and disappearance of citizens, echoing in the international panorama, representing the voices of the people who denounce organized state terrorism in any territory. Photography in his work is a witness, a sort of "documentary service" as it is worked by combining archival material and documentation that the artist inscribes on the images, condensing traumatic experiences, traces of experiences linked to horror and exile.
Subscribe
to receive the latest news and articles written by experts
May interest you