HEAVEN'S GATE - MARCO BRAMBILLA'S EXHIBITION AT PAMM
A lavish, satirical and vertigo-inducing meditation on the Hollywood 'Dream Factory,' Heaven's Gate is a work of digital psychedelia employing the same state-of-the-art computer compositing technology as the films it references. On view at the Pérez Art Museum Miami until early 2022.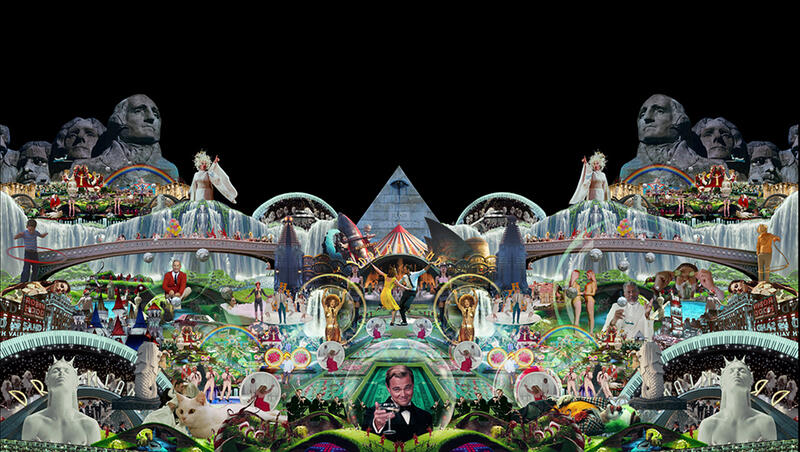 In a totem-like display of screens, the viewer travels through a vertical landscape of infinitely-looping and collaged film samples, led upwards through a series of seven surreal landscapes. The panoramas are arranged vertically into a digital totem, in which the monument of our worship questions human nature's relationship to consumption and excess. Film characters and fantastical set pieces are transformed into infinitely looping memes, trapped in time as media sculptures removed from their original context; now inhabiting a hyper-sensory parallel universe where the lines between gaming, news, reality TV, and Hollywood are part of the same human epic.
The title "Heaven's Gate" refers to Michael Cimino's 1980 film whose excessive production costs bankrupted United Artists and effectively brought to an end the era of director as auteur, paving the way for the studio domination of the medium, which has continued to the present-day. The work re-appropriates the language of pop culture to depict the tensions present in religion, industry and celebrity: ascension and fall, innocence and experience, vanity and pageantry, sexuality and awakening, simplicity and excess.
Marco Brambilla (b. 1960 in Milan, Italy) is no stranger to Hollywood, having directed the 1993 film Demolition Man, a sci-fi meditation on a dystopian future, perhaps one not unlike our own. Based in London, Brambilla's work has been internationally exhibited and is in the collections of the Museum of Modern Art, Solomon R. Guggenheim Museum; San Francisco Museum of Modern Art; ARCO Foundation, Madrid; and the Corcoran Gallery of Art,Washington DC. His work has been exhibited at the New Museum, New York; Seoul Biennial, South Korea; Broad Art Museum; Borusan Contemporary, Istanbul; and Kunsthalle Bern, Switzerland. His retrospective took place at the Santa Monica Museum of Art. Brambilla has worked with Creative Time and Art Production Fund in New York to present public art installations, including his Nude Descending Staircase No.3 (2019) presented at Oculus WTC by Art Production Fund during Frieze New York. Brambilla is a recipient of the Tiffany Comfort Foundation and Tiffany Colbert Foundation awards. His work has been featured at the Venice Film Festival and Sundance Film Festivals, as well as Fondation Beyeler in Basel, Switzerland.
Subscribe
to receive the latest news and articles written by experts
May interest you