GUADALUPE MARAVILLA: TIERRA BLANCA JOVEN
The exhibition Tierra Blanca Joven at the Brooklyn Museum, draws from the artist's own experiences as an undocumented immigrant and cancer survivor to weave together themes of displacement, illness, recovery, and healing in new and existing works; objects from the Museum's Maya art collection; and a Healing Room.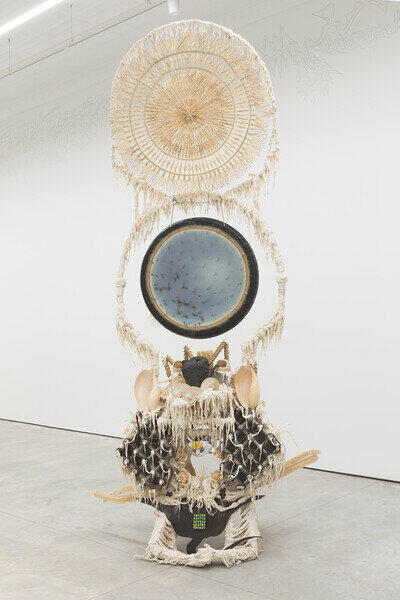 In the 1980s, eight-year-old Guadalupe Maravilla fled the violence of El Salvador's civil war and made a perilous, unaccompanied journey through Central America to the United States, where he reunited with undocumented family members. Nearly two decades later, while preparing for his M.F.A. thesis exhibition at Hunter College in New York City, he learned that he had stage-three cancer and began a grueling course of treatments. To combat residual pain from the treatment, he was introduced to many types of ancient healing practices including a form of sound-as-medicine, which employs the vibrations and frequencies of gongs to release toxins in the body. Following his recovery, Maravilla devoted his artistic practice—which includes sculptures, drawings, paintings, choreography, sound, and performance—to healing. In his work, the artist engages particularly with the cancer and the undocumented communities of which he is a part, and whose collective trauma has given rise to a great need for care.
Maravilla titled the exhibition Tierra Blanca Joven to evoke an intergenerational experience of displacement from El Salvador: from the fifth century C.E., when an enormous eruption of the Tierra Blanca Joven volcano (now Lake Ilopango) forced the Maya people out of the region by depositing a thick layer of ash over the land, to the artist's own displacement as a result of the 1979–92 civil war and that of undocumented, unaccompanied child refugees who have fled the country's growing violence and are currently being held in detention centers in the United States.
Guadalupe Maravilla is deeply inspired by the art and rituals of his Maya ancestors. For this exhibition, he selected twenty-three artifacts from the Museum's collection of Maya art that exemplify this connection, as well as the cultural and physical displacement of Maya objects and people (much of which he learned about through books and magazines in the United States, and playing among neglected Maya ruins as a child). Many of the selected works are powerful healing instruments and showcase the Maya belief in rebirth and transcendence as well as the legacy of Maya artistry.
"Tierra Blanca Joven addresses displacement of my people and our ancestors from the same land across several different points in history; the civil war, gang violence and government corruption, cataclysmic natural disasters, and the trade of cultural artifacts have all exiled Salvadoran and Maya peoples from present-day El Salvador," says Maravilla. "The exhibition brings together representations of past, present, and future into one room—where the latest sculpture from my Disease Thrower series will meet ancient terracotta healers from the Museum's collection, for example—as a reflection on intergenerational communal healing. Together, they share our history of displacement, while creating new visual narratives for the entangled genealogies of other border crossing communities."
Guadalupe Maravilla: Tierra Blanca Joven
Until September 18, 2022
Robert E. Blum Gallery, first floor
Brooklyn Museum
Related Topics
Subscribe
to receive the latest news and articles written by experts
May interest you