ART IN THE TIME OF CLIMATE CHANGE
The Blanton Museum of Art at the University of Texas at Austin presents a special two-part exhibition that explores the history and contemporary urgency of climate-related issues.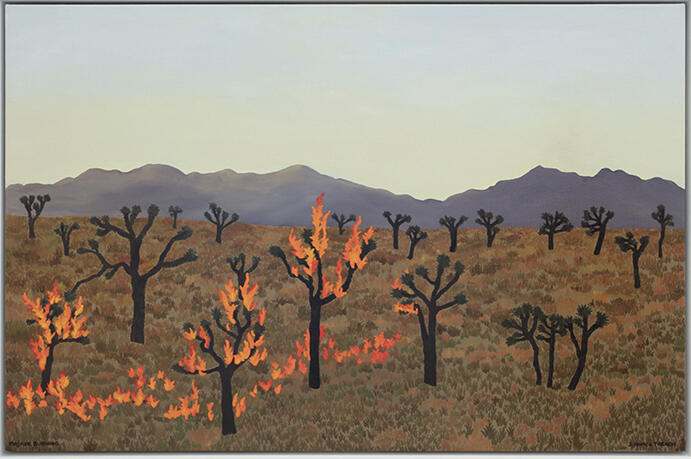 Guest curated by journalist Jeff Goodell, who has written extensively on the topic, If the Sky Were Orange is the first exhibition at the Blanton to explore one topic across several of the museum's temporary gallery spaces.
If the Sky Were Orange is presented in two parts: the first features work by contemporary artists that address climate change, accompanied by the responses from the climate and energy experts.
The second part incorporates art from the Blanton's collection that spans a range of genres and time periods. While most of these works were not created to address climate change, Goodell selected them to represent climate-related themes and issues, further contextualizing the conversation. For example, the title of the show, If the Sky Were Orange, is inspired by a large painting in the Blanton's collection by Aaron Morse. Cloud World (#3) (2014) features jarring, hot-orange clouds floating above a massive seascape—a striking visual metaphor, Goodell suggests, for the greenhouse gases that are causing temperatures to rise on our planet. He notes that if those gases were such a visible color, as the title proposes, we would be far more aware of their presence in our atmosphere and their impact of on our environment.
A hotter planet and the related rise in sea levels are the two best-known issues around climate change, but the exhibition explores the complex interrelatedness of climate disruption and human knowledge and culture, including such benefits as the advancement of scientific research and related solutions like renewable energy and human and environmental adaptability.
Contemporary artists featured: Julian Charrière, Jessie Homer French, John Gerrard, Amy Globus, Joan Jonas, Christine Sun Kim, Cannupa Hanska Luger, Sandra M. Sawatzky, Nyugen E. Smith and Jamey Stillings.
Writers featured: Amitav Ghosh, Jeff Goodell, Katharine Hayhoe, Elizabeth Kolbert, Sy Montgomery, Julian Brave, Noisecat, Olúfẹ́mi O. Táíwò, John Vaillant, Michael Webber and Amy Westervelt.
Related Topics
Subscribe
to receive the latest news and articles written by experts
May interest you