JUAN HENRIQUEZ'S FINDS HIS WAY BACK WITH MAPA HISTERICO
Henríquez, Venezuelan artist based in Miami, sets up a psychographic landscape of mixed traits. In that territory there are no fixed coordinates, no preconceived ideas; just signs of an itinerary full of expectations, where the familiar and the strange cohabit. This new solo exhibition, curated by Felix Suazo, will encompass a selection of works made on fabric, paper, and wood between 2018 and 2021. The exhibition will take place at Laundromat Art Space.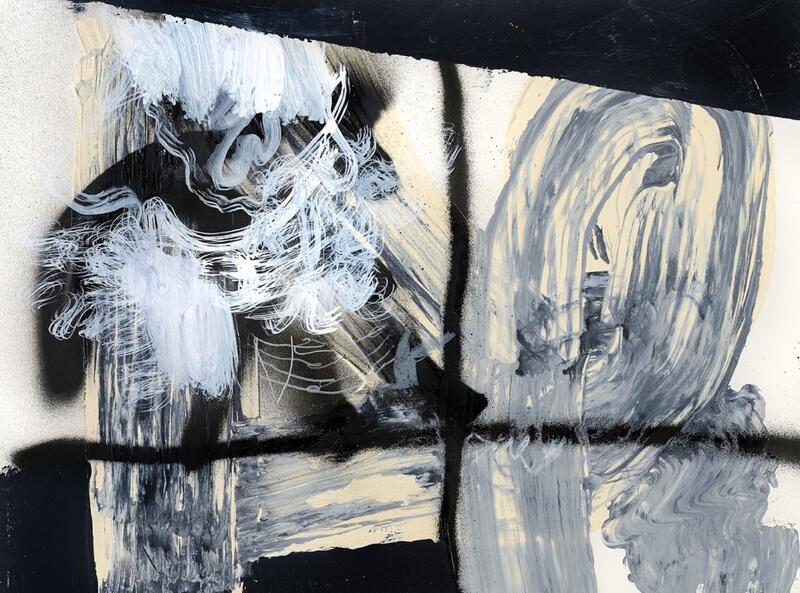 The title Mapa Histérico (Hysterical Map) suggests a mapping of the painting process, as a speculative vehicle and psychic introspection device. Curator Felix Suazo says about this work: "Juan Henriquez's pictorial work originates from that psycho-sensitive duplicity that allows us to look without rules and perceive carefully at the same time. It is all a matter of accepting the undertaking of seeing in its double condition of being a playful event but also a cognitive vehicle."
In these works, the artist shares his visual explorations, which are also testimonial tours in which shapes and ideas are linked in a continuous flow. The gestural impulse prevails with the overlapping of layers and the superposition of pigments and strokes. However, in each case the author gives equal attention to the totality and details, concatenating large areas of color and calligraphic interventions of accurate making
The staging of the works is complemented by an on-site intervention and the projection of a video made in collaboration with Carlos Pedreañez.
Juan Henriquez started his studies in art in 1995 at Julio Arraga Art School and then at Neptalí Rincón Superior Art Academy, both in Maracaibo, Venezuela. He continues with experimentation workshops in graphic arts, art restoration, photography, cultural promotion, acting and art direction for cinema. He was a co-founder member of La Tintota Art Collective developing public art projects, art labs and collective exhibitions with the support and mentoring of art masters José Ramón Sánchez and Victor Fuenmayor. His work has been featured in national and international art exhibitions, solo art shows in Belgium, Romania, Brazil, Argentina, Colombia, Peru, the Dutch Caribbean and the United States. In 2002 he received the "Young Artist" award at the 27th National Art Salon of Aragua, Maracay. He is currently a represented artist of D'Museo, featuring his work in international art fairs such as Art Lima in Peru and Barcú in Colombia.
Laundromat Art Space is an artist-run studio and exhibition space which focuses on the development of local artists and provides innovative curatorial opportunities and artistic programming for the community. The venue houses 10 artist studios and a gallery where LAS holds contemporary art exhibitions showcasing local and national work. Resident artists have also the unique opportunity to be part of an environment which fosters collaboration between multidisciplinary creatives.
MAPA HISTÉRICO
Until June 15th , 2021,
Laundromat Art Space
185 NE 59th Street Miami, FL 33137
Related Topics
Subscribe
to receive the latest news and articles written by experts
May interest you