ROSALES-SILVA'S PERSONAL APPROACH TO BORDERS
From 04/01/2023 to 05/15/2023
Sargent's Daughters
Los Ángeles, Estados Unidos
Sargent's Daughters gallery presented Border Logic, Carlos Rosales-Silva's debut on Los Angeles.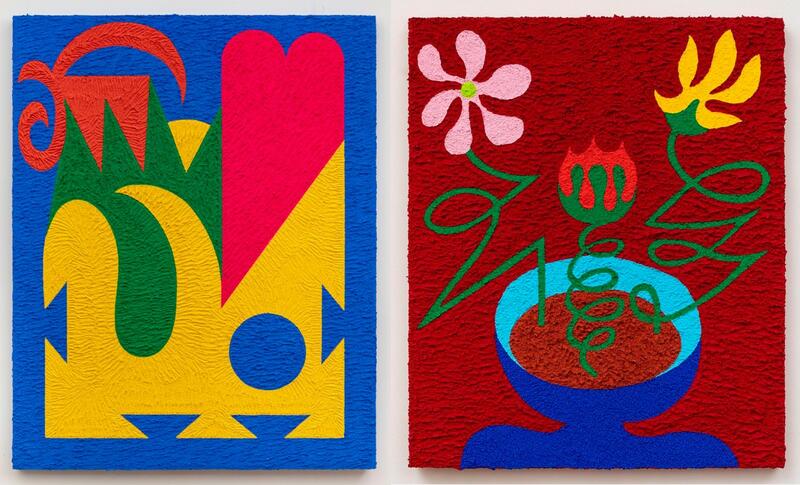 Based in New York but born and raised in El Paso, TX, Rosales-Silva's abstract and highly textural work references the complex visual histories found in the architecture, landscapes, and vernacular cultures of the Mexican-American borderlands.
Rosales-Silva's works juxtapose a variety of textures, further defined as fields of saturated color and inter-locking abstract forms. These varied surfaces include the stucco-like impasto of acrylic paint blended with particles of glass and stone, the hard edge of machine-cut plastic, and the roughness of individually placed rocks. Though the compositions are occasionally on the edge of being recognizable as architecture or landscape, the shapes resist categorization as foreground or background and instead produce a space of disorientation.
For Rosales-Silva, this disorienting abstraction is a means of shattering the logic of binaries and borders. As the artist states, "Having grown up a child of immigrants along the border of the United States and Mexico, alongside the Tigua Indigenous people's reservation, I am overly familiar with the brutal logic of borders and categorization. I am comfortable crossing definable lines. Abstraction is a space where the binaries created by a border logic can be shattered."
Rosales-Silva is deeply interested in and inspired by the artists and architects who worked in the mid-twentieth century and cited European modernism's original sources in Indigenous design, referencing traditional Mexican craft and material culture. In particular, Rosales-Silva references Max Cetto, who fled Nazi Germany and continued his Bauhaus-trained architectural practice in Mexico, Juan O'Gorman, who adorned UNAM with its iconic stone mosaics, and Ricardo Legoretta, student of Luis Barragan, who built one of the most influential and sought after commercial architectural firms in North America. Josef Albers, a student of the Bauhaus and one of the most recognized modernists in Western art history, was obsessed with Mexico and in his work on color theory, influenced by Mexican art, he posited that the way we perceive a color is by seeing the colors which surround it. In turn, Rosales-Silva has been profoundly influenced by this concept of interdependence.
These cross-cultural practices and histories inhabit a space between categorizations and are often under-recognized and overlooked by mainstream art history. They are the epitome of the "anti-border logic" that Rosales-Silva strives to illustrate through his interconnected and interdependent compositions.
Carlos Rosales-Silva was born on the border of the United States and Mexico in El Paso, Texas. His studio practice considers the vernacular culture in the American Southwest, the western canon of art history, and the political and cultural connections and disparities between them. Carlos has exhibited throughout Texas, and in Mexico City, New York City, Los Angeles, Miami, Minneapolis, Chicago, and Kansas City. He has been an artist in residence at Abrons Art Center in New York, NY, Residency Unlimited in New York, NY (2020), Artpace in San Antonio, Texas (2018) and at Pioneer Works in Brooklyn, NY (2017). Recent exhibitions include a solo exhibition at Ruiz Healy Art in New York, NY, and group shows at the Latinx Project at NYU, Texas Tech University, Beverlys in New York, NY, and Left Field Gallery in Los Osos, CA. Carlos graduated from the School of Visual Arts with a Masters in Fine Arts. He currently lives and works in New York, NY.
Border Logic. Individual exhibition by Carlos Rosales-Silva.
Sargent's Daughters. 538 N Western Ave, Los Angeles, United States.
Subscribe
to receive the latest news and articles written by experts
May interest you