RED STAR'S REASERCH ON HISTORICAL PHOTOGRAPHS
From 04/07/2023 to 05/20/2023
Sargent's Daughters
New York, Estados Unidos
Our Side is the third solo exhibition of artist Wendy Red Star at Sargent's Daughters.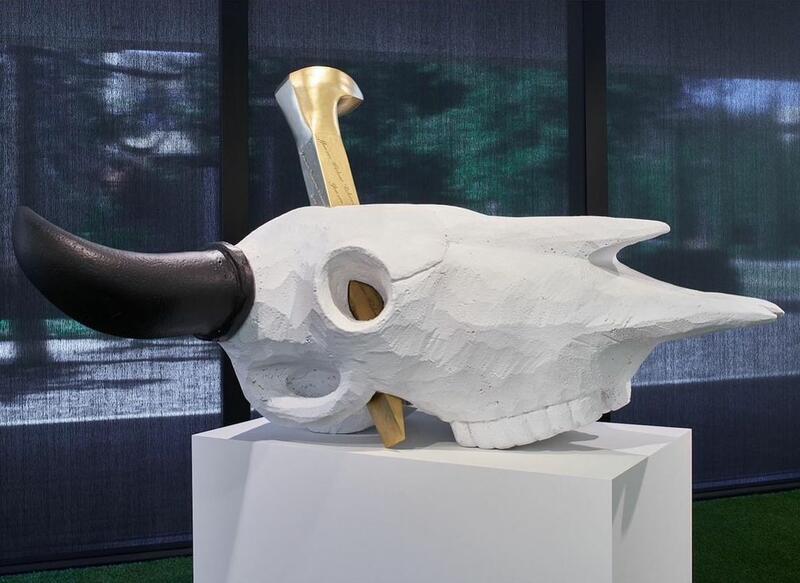 This exhibition is presented in conjunction with the release of Red Star's monograph Bíilukaa featuring interviews with the artist, members of her extended family and scholars. The book's title, Bíilukaa, is in reference to what the Apsáalooke (Crow) call themselves: Our Side.
Our Side builds upon Red Star's research into historical photographs of Apsáalooke individuals and objects, with the artist drawing on both her personal collection and works held in museums and archives across the country. Red Star notes, "Since the time I left the Crow reservation I have encountered my tribe's material culture in every city I have exhibited or occupied. It is incredible that so much of my community's history and material culture is kept in the vaults of these institutions hundreds of miles away from their source." In this exhibition, Red Star revives these objects, often rendered inert in institutional collections, by making them accessible to her audience and incorporating them into new narratives.
The exhibition includes two distinct bodies of work; the first are photographic prints originally produced for Bíilukaa, reimagined as a dynamic installation in the gallery. Drawing entirely from images sourced from Red Star's personal archive, the works in this series layer together images taken by the artist of cultural objects and photographs found in public collections. Images of dresses, moccasins, fans and other items are contextualized with historic black and white images of Apsáalooke people putting similar objects into use. Surrounding them, Red Star's annotations, and occasionally images of her hands or notes, interpret, contemporize, and comment on these archival traces.
The second body of work consists of large-scale unique collages, which layer photographs on top of fabrics typical of Apsáalooke regalia. Once again drawn from Red Star's archive, these works feature photographs of intricate Crow beadwork and plateau pictorials, many of which are in the artist's personal collection. The images are enlarged and repeated, producing abstract compositions.
Both bodies of work serve to expand Red Star's research-based practice by sharing and recontextualizing archival materials in the form of stylized and serialized compositions. By delving into the artist's own records, the works depict a snapshot of her research and personal collection, restaging the processes through which Red Star has traced the textual and tangible history of her community into the present.
Wendy Red Star (b.1981, Billings, MT) lives and works in Portland, OR. Red Star has exhibited in the United States and abroad at venues including the Metropolitan Museum of Art (New York, NY), Brooklyn Museum (Brooklyn, NY), both of which have her works in their permanent collections; Fondation Cartier pour l'Art Contemporain (Paris, France), Domaine de Kerguéhennec (Bignan, France), Portland Art Museum (Portland, OR), Hood Art Museum (Hanover, NH), St. Louis Art Museum (St. Louis, MO), Minneapolis Institute of Art (Minneapolis, MN), the Frost Art Museum (Miami, FL), among others.
Her work is in over 60 public collections, including the Museum of Modern Art (New York, NY), the Metropolitan Museum of Art (New York, NY), the Whitney Museum of American Art (New York, NY), the Guggenheim Museum (New York, NY), the Amon Carter Museum of American Art (Fort Worth, TX), the Denver Art Museum (Denver, CO), the Ruth and Elmer Wellin Museum of Art at Hamilton College (Clinton, NY), the Baltimore Museum of Art (Baltimore, MD), the Fralin Museum of Art at the University of Virginia (Charlottesville, VA), the Nasher Museum of Art at Duke University (Durham, NC), the Birmingham Museum of Art (Birmingham, AL), the Williams College Museum of Art (Williamstown, MA), the Memorial Art Gallery of the University of Rochester (Rochester, NY), San Antonio Museum of Art (San Antonio, TX), The Seattle Art Museum (Seattle, WA), and the British Museum (London, UK), among others.
Our side. Solo exhibition by Wendy Red Star.
Until May 20th, 2023.
Sargent's Daughters. 179 East Broadway. New York, NY 10002, United States.
Subscribe
to receive the latest news and articles written by experts
May interest you