RAQUEL RABINOVICH EXHIBITS "PORTALS" IN NEW YORK
Presented by Hutchinson Modern & Contemporary, the exhibition features a selection of the artist's work from the 1960s to the present. Over the course of a seventy-year-long career, New York-based Argentinian-American artist Raquel Rabinovich (b. 1929, Buenos Aires) has been concerned with the paradox of making the invisible visible. Her interest in mythology, existence, poetry, nature, and transcendence is reflected in her monochromatic paintings and drawings, as well as in her sculptural practice that encompasses large-scale glass environments and site-specific stone installations along the shores of the Hudson River.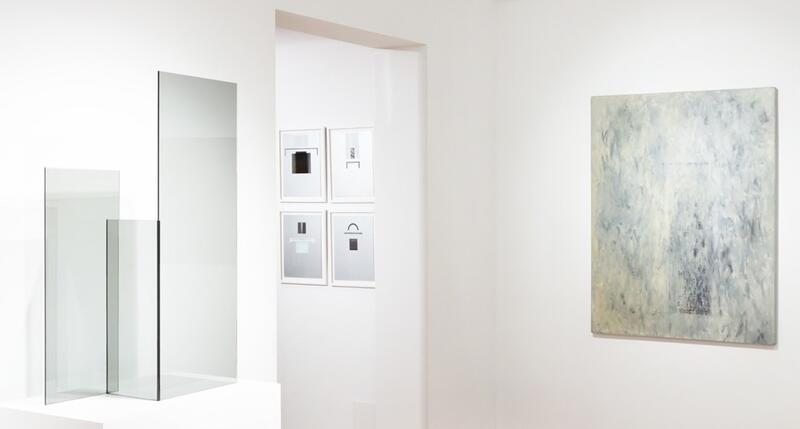 This exhibition centers around the artist's fascination with the concept of portals, liminal spaces that invite the viewer to metaphorically enter into the universe of her work. In the early 1960s, Rabinovich began a series of near-monochromatic works titled The Dark is Light Enough; these textural abstract paintings, realized in a spectrum of grays and earthy hues, marked the beginning of a lifelong investigation into what Rabinovich calls the "dark source." For Rabinovich, the dark represents neither negativity nor absence but a rich realm of knowledge and wisdom. Each subsequent body of work continues that investigation while attempting to access the "concealed aspects of existence which lie behind the appearance of things, thoughts, language, and the world."[1]
Spanning painting, drawing, and mixed media, this exhibition features a selection of works from series made throughout Rabinovich's prolific career and across different geographies. Shown together, they reveal how her practice has evolved from her early years working in the cultural hub of Buenos Aires, to her immersion in the experimental art scene of 1970s New York City, to her time spent in rural upstate New York as a mature artist, all while in pursuit of creating portals to the elusive "dark source."
Born in Buenos Aires in 1929 into a Russian and Romanian Jewish immigrant family, Raquel Rabinovich was raised in Córdoba, Argentina. A political prisoner under Juan Domingo Perón's regime, Rabinovich later moved to Europe where she would reside and study throughout the mid-late 1950s. She eventually settled in the United States in 1967 and currently resides in Rhinebeck, New York.
The artist's travels to India, Nepal, Indonesia, Ecuador and Peru have had a profound impact on her practice, as she is repeatedly drawn to ancient spaces of silence and darkness such as temples and caves, deeply connecting with the authentic and rooted ancient traditions. This idea of silence and darkness, both literally and metaphorically, have led her to explore the ground's relationship with spirituality, its history and its usage, using mud and glass as metaphors for the passage of time and the ephemeral nature of existence. Her work is also informed by her love of poetry. She connects her practice to the liminal space between the lines found in texts by Latin American writers such as Jorge Luis Borges, Pablo Neruda, Gabriel García Márquez, and Luisa Valenzuela, as seen in her ongoing series of works on paper titled When Silence Becomes Poetry.
Rabinovich has been the recipient of numerous grants and fellowships, including the 2011–2012 Lee Krasner Award for Lifetime Achievement from The Pollock-Krasner Foundation, and is included in the Oral History Program of the Smithsonian Institution Archives of American Art.
[1] Artist statement
Raquel Rabinovich: Portals
Until November, 5th
Hutchinson Modern & Contemporary
47 East 64th Street
New York, NY 10065
Related Topics
Subscribe
to receive the latest news and articles written by experts
May interest you