METAVERSE EXHIBITION. DREAMS OF MALE POWER: A FABRICATION NARRATIVE
From 02/25/2023 to 04/25/2023
Arrièrre-Garde
London, Reino Unido
The exhibition Dreams of Male Power: A Fabrication narrative by artist Marcelo Amorim launches on the website of the Arrièrre-Garde Gallery. The show takes place in the metaverse through the Spatial platform.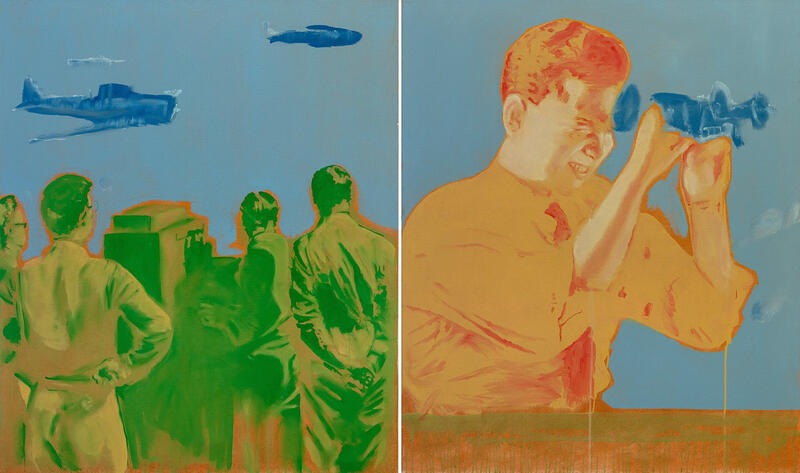 Politically charged yet visually nostalgic, Amorim's work depicts the historical and institutional construction of white male hegemony in the West. His practice is a reflection on the media's glorification of normative man throughout the 20th century, which also functioned as a form of queer repression. Through a sequence of virtual environments that emulate a nursery, a classroom, a gym, an army dormitory, culminating in a factory, the visitor is immersed in a narrative through which the artist observes the institutions and structures of power constructed in western societies to shape the dominant white man throughout his life, from his birth.
In his first solo exhibition for Arrière-Garde, a London-based art gallery, Marcelo Amorim will present a retrospective that encapsulates more than two decades of archival research, resulting in a body of work composed of oil on canvas, prints and drawings. His artistic production draws on a collection of images taken from newspapers, magazines, textbooks and the like, appropriate to create narratives about the historical, cultural and behavioral construction of the white and dominant man.
The curatorship is led by Kalinca Costa Söderlund, curator and director of the Arrière-Garde. A PhD in Brazilian art from the University of Essex, she firmly believes that the implications of today's technology will affect our lives that will increasingly diverge from the limitations of our bodies. In the same way, she also thinks that the implications of the metaverse can affect curatorship, now no longer tied to the limitations of the exhibition space: "Curating in the metaverse can mean much more than attributing meaning to works of art through a narrative that obeys the material configuration of places. Thus, in this project, it is the (virtual) space that is curated and idealized to correspond to the qualities of a body of works of art and not the other way around".
Dreams of Male Power: a fabrication narrative. Exhibition in the Metaverse by Marcelo Amorim.
Curated by Kalinca Costa Söderlund.
Launched on February 25, 2023, at 6 pm GMT on https://www.arriere-garde.co.uk
Virtual reality: Bruno Macedo (rito.cc).
Expography and 3D environments: Carlos Rodrigues.
Soundtrack: David Balica.
Subscribe
to receive the latest news and articles written by experts
May interest you