A BUTTERFLY FLYING ACROSS THE AMERICAN CONTINENT
Reynier Leyva Novo: Methuselah exhibited in El Museo del Barrio, reproduces through digital artwork the 6000-mile transnational migratory journey of a single monarch butterfly.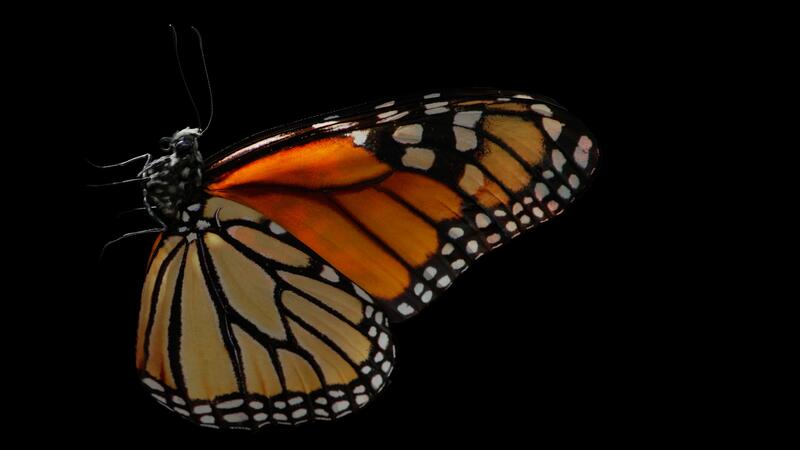 The butterfly's travel from southern Canada acrodd the United States to Mexico is embodied through the life of a virtual avatar, the epic journey is hosted and reproduced in real time on a specially designed, open-access dedicated website. It is an in-person mixed-reality exhibition commissioned by El Museo del Barrio.
Methuselah debuted to the public on September 22nd, 2022, coinciding with the northern hemisphere Fall equinox and the start of the monarch's migration. Viewers can follow the virtual avatar 24 hours a day via a website, observing as the specimen makes its way south across changing terrain, weather patterns, and other variable physical conditions.
Museum visitors will be able to observe and experience the monarch's movements and behavior in a shared environment, where they can follow the butterfly as it flies around them. Along with the specimen's flight pattern, viewers will have access to up-to-date data, such as the butterfly's geographic coordinates, time, and weather.
Working with butterfly experts, taxidermists, animators, computer modelers, and software designers for over a year, artist Novo translated the monarch butterfly from an analog specimen into a digital animation. At any given time, the software program determines the butterfly's movements in space, drawing upon numerous data points related to monarch migration patterns. No single observed motion is the same. This presentation offers viewers a privileged and unprecedented look at a day in the life of a single monarch butterfly, a phenomenon that until recently was impossible to observe or track.
Reynier Leyva Novo (b. 1983, Havana, Cuba, and based in Houston, Texas) is one of Cuba's leading conceptual artists. Novo's practice challenges ideology and symbols of power, challenging notions of an individual's ability to affect change. His multidisciplinary practice includes mining historical data and official documents, the content of which he transforms into formally minimalist and conceptually charged sculptures and multimedia installations. Novo's artwork has been presented at the Liverpool Biennial (2010), Venice Biennale (2011, 2017), Havana Biennial (2015, 2019), Shanghai Biennale (2018), Ghetto Biennale in Port-au-Prince, Haiti (2019), Aichi Triennial (2019), among others. His art is collected by international museums and arts institutions such as the Art Gallery of Ontario, Toronto; Bronx Museum of Art, New York; Hirshhorn Museum and Sculpture Garden, Smithsonian Institution, Washington, DC; Pérez Art Museum, Miami; Museo de Bellas Artes de Habana; and the Walker Art Center, Minneapolis, among others.
Related Topics
Subscribe
to receive the latest news and articles written by experts
May interest you